Let's take a look how I did with those winter goals and spring goals will be set!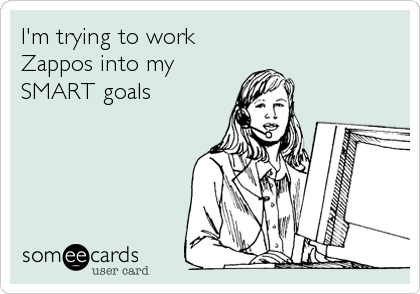 Winter Goals
Body 
1. Complete a 21 day food challenge – I think I lasted a week on my food challenge? I decided that a challenge where you cut a lot of food groups out just doesn't work for me. I usually live by the eating 80/20 rule and that is where I need to stay. Except, I may try to up it to 85/15 and eventually 90/10. fail
2.Finish up Jillian Michael's 30 Day Shred – I did complete the 30 Day Shred and wasn't as happy with it this time around as the times before. pass
3. Come up with a new cardio plan- We bought a treadmill and I have started the C25K program.pass
Mind 
1. Complete the Stephanie Plum Series – I literally finished on the first day of spring! I really enjoyed this series, you can read some of my thoughts here. pass
2. Read Jillian Michael's Master Your Metabolism – I detoured my reading goals to read Yeah, Maybe by the lovely Joey! Also, I found a new book that I want to read first so I may still read this one down the road. fail
3. Watch two new movies – The Interview half pass
Home 
1. Collect items for gallery wall – I have one new item for the wall. Half pass?
2.Continue working on the dogs room/office area – I purchased a few things for my office area but the room still needs work. A big purchase of a desk will still need to take place as well. pass
3.Find a ladder shelf or other idea for living room entertainment area – We looked at a few, but none stood out that we just had to have. I don't like to rush purchases like this because I want to love it if I have to look at it every day. While we didn't really find what we were looking for, we did try and I wont call it a fail simply because I will not settle 🙂
Food
1.Complete 14 weeks of eliminating processed food challenge – I have been following along with it. Most of it was too simple, things that I already do to be honest. pass
2. Make three new recipes – Stephanie's Energy Bites, Asian Zoodles, Turkey Meatball Zoodles, Sweet Potato Noodles with Sage, Mozzarella and Spinach Flank Steaks (the steak was too tough and we weren't really thrilled with it) pass
3.Try three new restaurants – Little Italy's Pizza, Chicken Salad Chick, Jefferson's and I got to try Silverton Cafe, DG and Bob Syke's BBQ at Eat Drink Birmingham.pass
Goals for this spring!!
Body
1. Finish the C25K program
2. Find a new work out for Thursdays
3.Schedule an appointment for the dermatologist
Mind
1. Read The Body Book
2.Read 5 books
3.Watch a documentary
Home
1. Continue collecting things for the gallery wall
2.Find a way to get my china cabinet to my house (it is currently sitting in my mom's garage)
3. Purchase some plants for inside, start a garden outside
Food
1. Try 3 new recipes
2.Visit 3 new restaurants
3.Work on IIFYM plan
Do you do seasonal goals? What is on your list for this spring?