I know….I know. You carb lovers are like STOP WITH THE ZOODLES! I promise this will be my last one for a little while. Maybe. Some of you have commented on my last two posts that you just aren't sure if you would use the spiralizer enough. I think three Tuesdays in a row worth of recipes is proof that you really would! You can literally recreate any pasta dish using veggie noodles.
Either way, the meatballs turned out fabulous and could be paired with regular noodles or served as a side with something else. Or heck, if you are getting crazy…make a meatball sub.
Be sure to check out the special deal at the end!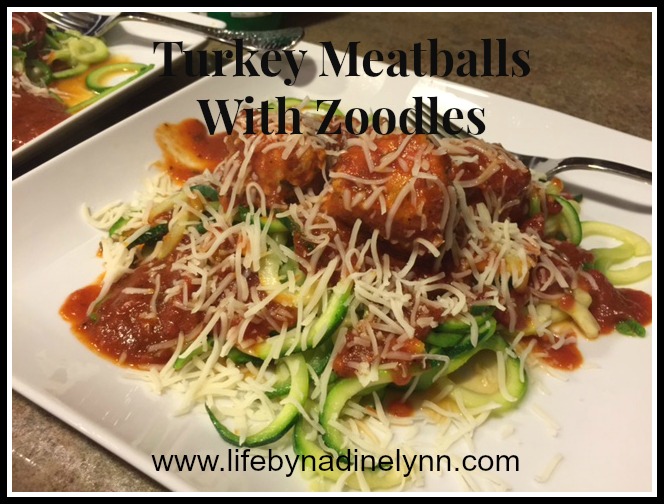 What You Need:
For the meatballs…
1 lb ground turkey
2 tbsp panko crumbs
1/2 diced onion
2 cloves garlic or 1 tsp minced garlic
1 egg
2 tbsp of Parmesan cheese
1/2 tsp crushed red pepper
Italian seasoning (most of this, probably around 2 tbsp)
sage (to taste)
basil (to taste)
oregano (to taste)
Other items needed…
1 and 1/2 jars of Red Sauce – I use organic tomato basil from Bertolli, you can even make your own.
4-5 zucchinis for the zoodles
olive oil
What You Do:
1. In a pan with olive oil, cook the onions for 5 minutes. Add the garlic and seasonings and heat for an additional 2 minutes.
2. While the onion is cooking, combine turkey, panko crumbs, egg, and Parmesan cheese. Also, spiralize the zucchini into noodles.
3. Combine onion mix with meat mix and form meatballs.
4. Add olive oil to the onion pan, heat over medium heat and add the meatballs. Cook until browned on each side.
5. Transfer the meatballs into a sauce pan and add tomato sauce, heat on medium-low.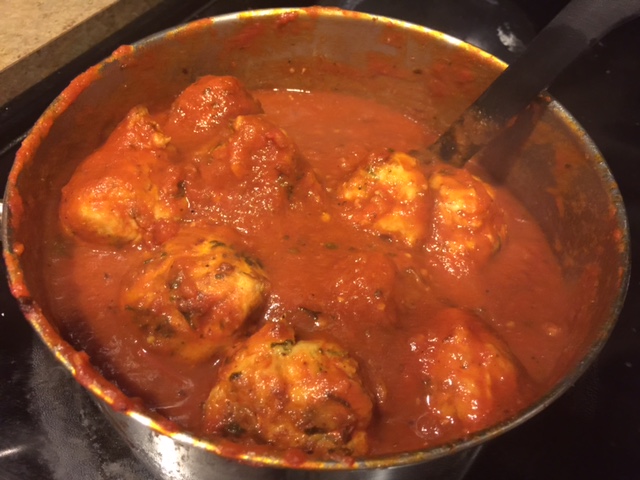 6. Heat olive oil in a large pan and cook zucchini noodles, about 7-9 minutes for a pasta like texture, less if you want them crunchier.
Spoon sauce and meatballs over each place of zoodles, sprinkle with cheese if desired and enjoy!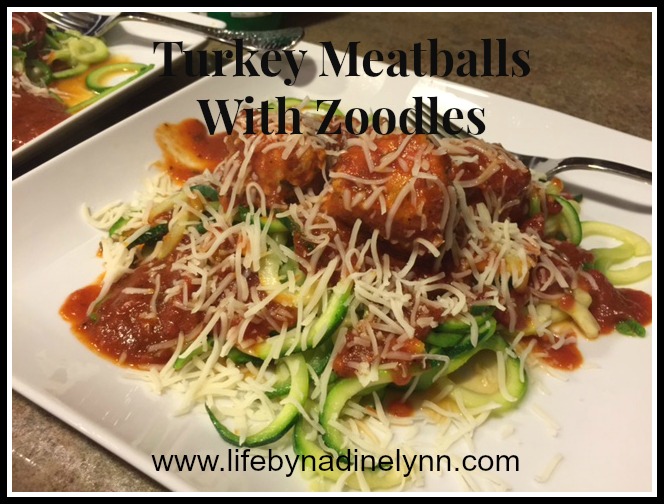 In other news, my friend Joey has her book on sale for $1.99 this week! Be sure to scoop it up, I sure did and can't wait to read it!
For quiet, reserved, and focused 15 year old Annie Mackey, school was a sanctuary.  But when her bubbly and beautiful neighborhood best friend joins her at Willow Point High for freshmen year, her world is turned upside down.
Everything Annie could count on for stability is shattered, and she's left feeling more alone than ever before.
Just when she's about to lose all hope, someone unexpected swoops in and gives her a much needed lesson in perspective.