Some people have told me that they just can't get on board with zoodles. I get that. Perhaps zucchini does not appeal to you. Enter Sweet Potato Noodles. You guys, I can't even begin to tell you how delicious this dish is!!! This is such a simple recipe with just a few ingredients that delivers a lot of flavor!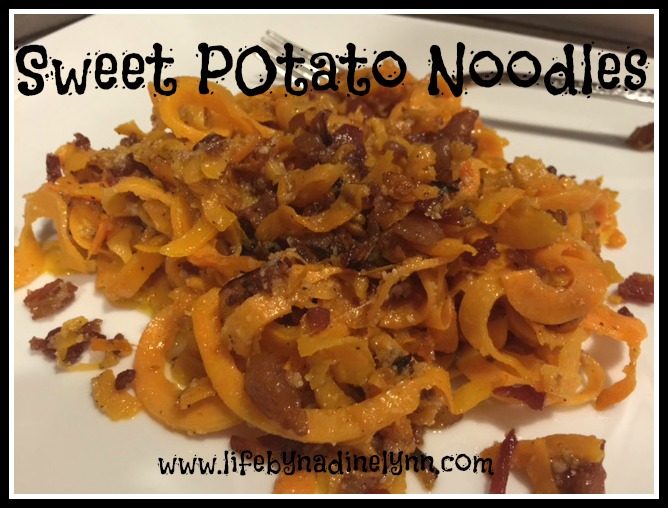 What You Need
2 large sweet potatoes, spiralized
2 tbsp olive oil for sweet potatoes plus 1-2 tsp for sauce
1/2 to 3/4 of a bag of real bacon bits
2-3 tbsp of red onion, chopped fine
1/2 stick of real butter (I use unsalted to keep sodium down)
1/4 cup of grated Parmesan cheese
2 tbsp of shredded mozzarella cheese
1 tsp of sage
1/4 tsp of ground nutmeg
What You Do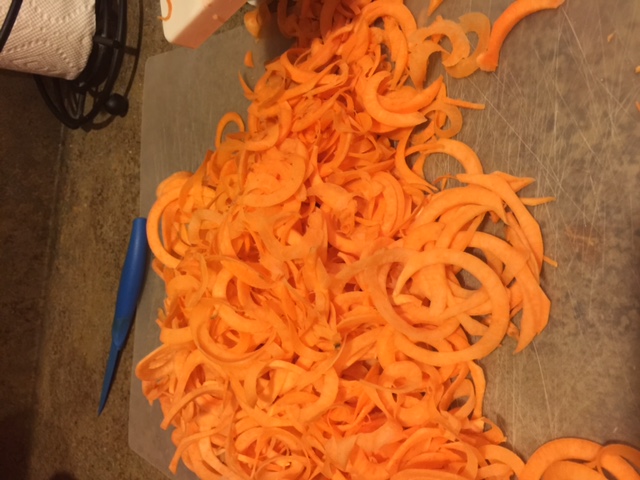 –Heat 2 tbsp of olive oil on medium high in a large skillet. Add sweet potatoes. Saute for 8-10 minutes. If they start to brown, turn the heat down to medium.
–Toss bacon bits in a small separate skillet and cook for 5 minutes until hot and crisp.
–In a small saucepan, heat 1 tsp of olive oil and cook red onions for 2 minutes. Add butter and stir continuously until melted and browned. About 3 minutes.
–Add sage, nutmeg, Parmesan and mozzarella cheeses to butter mixture until cheese is melted.
–Add bacon to sweet potatoes and toss the sauce over it. Serve immediately.
Enjoy!!
Have you ever had sweet potato noodles? Have you made other veggie noodles with your spiralizer other than zucchini or sweet potato?