This was a super quick and easy recipe that tasted delicious! I didn't miss the flour tortillas at all. You could make this so many different ways, we used chicken. I think having black beans and other veggies would be a great meatless Monday meal. Or doing some beef would be good too! Whatever you have on hand.
What You Need
cooked shredded chicken breast – I had bought a package around a pound, maybe a little less, of thin chicken breasts from the grocery store and cooked them in some chicken broth in the crock pot on low for 8 hours while we were gone during the day. You could also use a rotisserie chicken to make it even easier! Or boil some on the stove.
2-3 zucchini
1 can enchilada sauce
2 cloves minced garlic
2 tsp chili powder
2 tsp cumin
1 tsp salt
shredded cheese – I used a cheddar jack mixture
What You Do
–Preheat oven to 350 degrees and spray your baking dish with cooking spray.
–Heat chicken in skillet along with the salt, minced garlic, chili powder, cumin, 1 cup of cheese and 1 cup of the enchilada sauce. Stir for around 5 minutes.
–While that is cooking, using a veggie peeler and slice out your zucchini
–Take three zucchini slices and lay them horizontally flat, overlapping them just a little. Spoon in the chicken mixture to the middle, and close up the enchilada by wrapping the sides around. Lay them with the wrapped side facing down into your baking dish.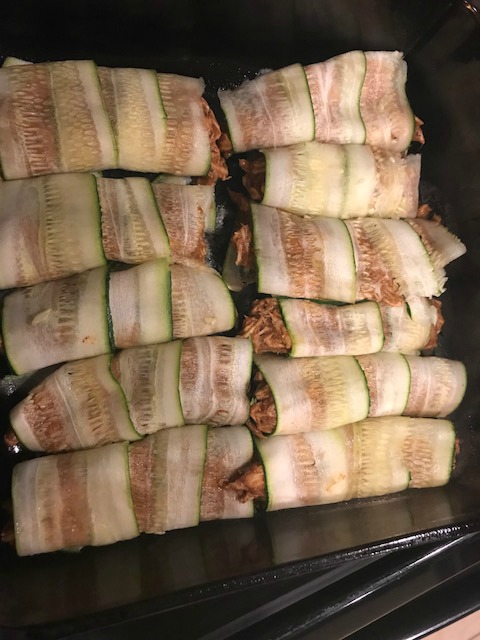 –Once they are all rolled up, drizzle the remaining enchilada sauce and sprinkle with some additional cheese.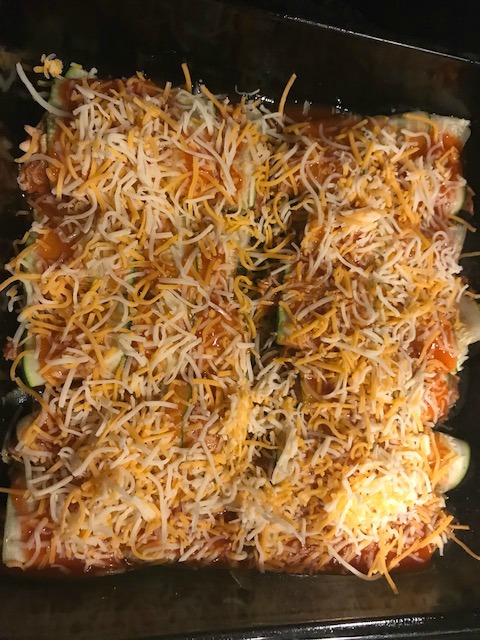 –Bake at 350 degrees for 20 minutes.
ENJOY!!!!