For the month of January, the Choose Your Own Adventure Challenge theme was "complete."
Let's take a look at the goals I set out to complete and how I actually did.
1. Make eye doctor appointment – LOL yeah, no. In my defense, I received a heads up from my insurance company that I would owe almost $300 for some lab work I had done in December so any other medical appointments have been put on hold. I never in my life have seen a bill so high for some blood work. WTF?!?!? Don't get me started on health insurance. I have serious RAGE.
2. Finish cleaning out the dog room/my office – I did do some more work but am not completely finished. We ended up focusing more on the basement this month. I also need to figure out what I am going to do with my three boxes of glasses sitting in there. So there's that.
3. Gather research on plants that purify the air inside the home – I did a good bit of research and will start composing a post regarding this as promised! It might be awhile, there is so much to share!!!
4. Gather information and start planning spring garden – I started gathering information on herbs but not veggie plants yet. I will get to this and share as well. I want to sit down with my sister and get her opinion on what is feasible for me to be successful with given our space and such.
5. Purchase at least two things for the gallery wall – I did get one thing, so we will call that half done! It is better than nothing, OK!!! Again, we focused on the basement this  month.
I did complete a few other things this month that weren't even official listed goals! One of them was removing 24 shirts from my closet that either currently do not fit or I will no longer want to wear. While I have a lot more to go through with clothes, I felt really good about this!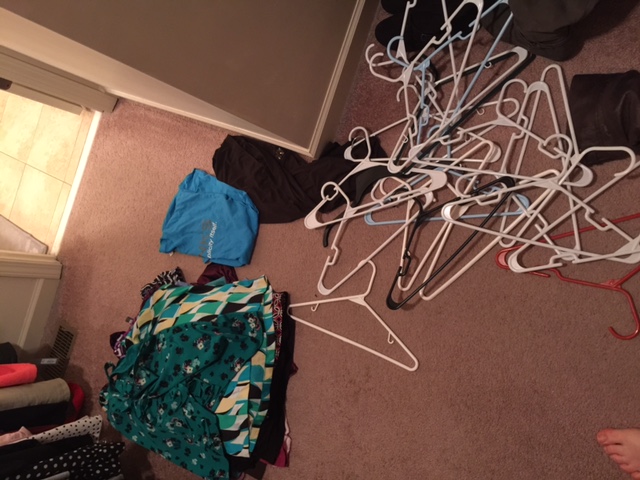 The theme for February is "create." This is probably my weak area right now. I can organize the shit out of a room. Finishing my craft projects and stuff? I need to focus better on this, they always seem to take the back burner. I have so many awesome ideas and I need to work on them.
Anyways, I am babbling. My goals for create will be:
1. Create a completely new to me recipe with something that I do not have much experience cooking. I try lots of new recipes, but they usually revolve around the same basic ingredients of chicken, beef, turkey, mexican, italian, or asian food. I want to branch out even more.
2. ?? I am in the middle of designing something that I will share at a later date. It needs to be done in the next week or two so I am putting it up here to hold myself accountable.
3. Work on a DIY project for my office decor. 
4. Create a DIY project piece for the gallery wall.
5. Create a work space in the office area.
On a side note, I think this in pretty, sparkly letters might be my DIY for my office…
These five goals are quite lofty for me. I am hoping I don't crap the bed on this month!
Are you linking up for February? What do you want to create? I would love to hear! I may add more creative projects to my seasonal goals.