It is no secret that fall is my favorite time of year. I think I have only mentioned it about a thousand times. The temperatures cool down, all my favorite jewel tones can be found in stores, the TV shows start back, we have football every weekend, the leaves turn colors, the fall scents are everywhere. Do I even need to keep selling it??? Today I am linking up with Andrea for TBB Asks for some fall themed questions! (Yes, I know I am a day late. I always have this post finished but like to share it on Tuesdays since I talk about my weekends on Monday.)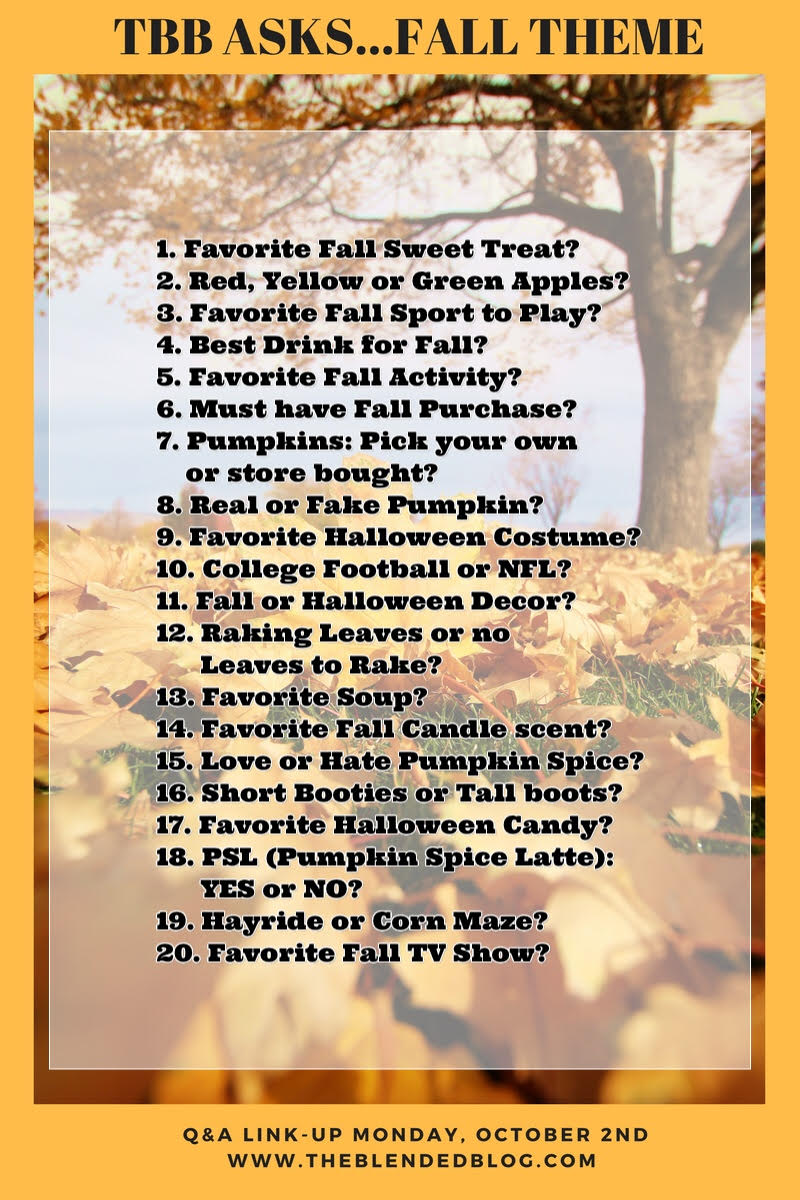 Favorite Fall Sweet Treat? 
I have to say that apple pie is my absolute favorite fall treat. There are so many delicious things that come with the season, but there is nothing better than my mom's homemade apple pie. It is my goal this fall for her to come over and teach me how to make it so that I can start a tradition for Zoe to have some every year.
When my sister and I were young, we had our very own apple trees in our backyard at our house in Pennsylvania. I remember going out there and picking lots of apples to bring in for my mom to make us pie. She always had leftover crust and would put it in a small pan and sprinkle cinnamon and sugar over it and get it crispy and perfect and let us snack on that while we waited for the pies to cool.
Red, Yellow or Green Apples?
Granny Smith green apples are my absolute favorite, but I also enjoy Pink Lady, Gala and Honeycrisp.

Favorite Fall Sport to Play?
Me play sports? LOLOLOL

Best Drink for Fall?
Are we talking coffee? Alcohol? Let me share my favorites that I look forward to.
Salted Carmel Frapuccino, apple cider and pumpkin beers

Favorite Fall Activity?
Watching football. I want to start some traditions with Zoe like going to a pumpkin patch or fall festival.

Must have Fall Purchase?
Cozy cardigans and boots!

Pumpkins: Pick your own or store bought?
I don't usually go pumpkin crazy, but now that we have Zoe, I would love to make it a tradition to go pick our own each year!

Real or Fake Pumpkin?
Real

Favorite Halloween Costume?
I don't really dress up for Halloween anymore. In recent years, I did get a little festive when Chris DJ'd at an annual Halloween party, but it isn't my favorite holiday. I guess it depends on how much Zoe gets into it when she is older.

College Football or NFL?
College Football is a must for us!! I think you all know that we are Alabama fans in our house. Roll Tide!!! I also pull for Georgia. I occasionally watch NFL and my heart belongs to the Steelers and the Falcons. Even if I don't many of their games, I do keep up with how they are doing.

Fall or Halloween Decor?
I don't go crazy decorating the house for fall, I save most of the energy for Christmas. I do plan to get a little more festive for each season when Zoe is older. I prefer fall decor over Halloween stuff.

Raking Leaves or no Leaves to Rake?
Nope. We don't have a lot of trees in our yard so we just leave them. I love looking at them. And honestly, we still have to cut the grass after they start to fall, so the lawn mower takes care of most of them. We do have lots of woods behind our fence, but luckily the leaves stay back there.

Favorite Soup?
Chili

Favorite Fall Candle scent?
Marshmallow Fireside and Flannel. We have Marshmallow Fireside candles in our house year round and I have Flannel in my car right now. I also love Leaves.

Love or Hate Pumpkin Spice?
I enjoy a few PSLs every year, but I don't get crazy about all the other pumpkin spice treats that come out. I also love to get one pumpkin scone.

Short Booties or Tall boots?
I love both, depending on the outfit. Though, I don't wear boots above my knee because my calves are too muscular and they never fit right.

Favorite Halloween Candy?
Pumpkin shaped Reese Cups and candy corn

PSL (Pumpkin Spice Latte): YES or NO?
Yes (but I love the salted caramel more)

Hayride or Corn Maze?
Hayride.

Favorite Fall TV Show?
I can't just mention one. I live for fall TV! Our regular shows include Grey's Anatomy, Law and Order SVU, Big Bang Theory, South Park, Chicago Fire/PD/Med/Law, Modern Family, This is Us, Scandal, Jane the Virgin, Lucifer and The Good Place. I think that is all of them that come back?? I think we might try The Good Doctor too. And I kind of wouldn't mind watching Will and Grace since it is coming back.
What are your must watch fall shows?