Sometimes it is nice to read a book that inspires you. One that really gets you thinking. One that shares stories of people that give everything they have for their dream and come out winning on the other side. For me, that is The Power of Broke.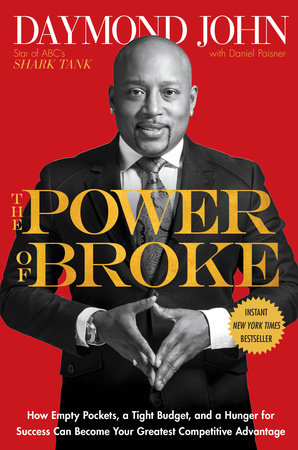 I won't lie, this book initially stood out to me because it was written by Daymond John. Maybe you have heard of him? He is the founder of FUBU and "the peoples man" on Shark Tank. I love Shark Tank!!!
When I read the synopsis for the book, I thought that maybe it would inspire me. And it did! I love the way the book was written. Daymond starts out with his own history, how he grew up with a single mom and had a dream of catering his fashion sense to people in his neighborhood. He took that dream and made it a realty. Daymond claims that when you have nothing, no financial means…it forces you to be more creative.
Several chapters in the book were dedicated to different people who worked hard and now have amazing, thriving businesses. He speaks with:
DJ Aoki

Acacia Brinley-social media and the queen of selfies

Rob Dyrdek-skate boarde/realty tv
Christopher Gray -founded company that helps students find grant money, was on Shark Tank)
Gigi Butler -Gigi Cupcakes
Jay Abraham -marketing guru
Kevin Plank -founder of Under Armour
Moziah Bridges -founder of Mo's Bows, was on Shark Tank
Tim Ferris -author of 4 hour work week
Josh Peck -actor
Linda Johansen-James -entrepreneur
Ryan Deiss-digital marketer
Loren Ridinger-fashion
Mark Burnette -TV producer
At the end of each of their chapters, there are Shark Points that review the highlights of the message. Also throughout the book there are Power Facts that are really interesting and inspiring.
Daymond shares wise tips like "rise and grind" and says instead of  the power of broke is really that one reason you keep going.
If you are looking for some inspiration, or some interesting tales of entrepreneurs that had to work hard to get where they are…then this book is for you. If you are thinking about starting your own business, then this is for you.
For more information about this book, go here.
Read the author bio here.
I received a copy of The Power of Broke from Blogging for Books but all opinions are of my own.