I am beyond excited to finally do the nursery reveal. You guys, I am obsessed with this room! I am so happy with the way everything turned out and it is seriously my most favorite room in our house. And honestly, the best looking one too! The moment we found out we were having a girl, I started dreaming about her nursery and how I wanted it to look. I started out wanting to do various shades of purple but could not find purple bedding that I liked. Then I found this bedding at Buy Buy Baby and fell in love with it. Our entire nursery was built around this  bedding.
The theme is blush pink, gold, silver, gray and hearts. I didn't want it to look too child-like. That is just not my style. Every single piece in her nursery can grow with her as her tastes change. Her crib converts into a toddler then full size bed. Her dresser is of the best materials and has beautiful hardware and isn't just a "kid dresser." The glider could be transferred to any room in the house if she doesn't want a chair in her room when she is older. I am so in love with the furry ottoman and metal side table that I found to go with the chair. Again, pieces that could go in other rooms later if she wanted to change them out.
I spent months collecting pieces for her walls. Most of the items came from Hobby Lobby, were gifted by my sister or made by my sister (the bow holder and measuring board) and sister-in-law (the ribbon garland above her crib.) And those gold dots. Aren't they perfect to go with the bedding? I spent way too long hanging those "just so."
I will let the pictures do the rest of the talking!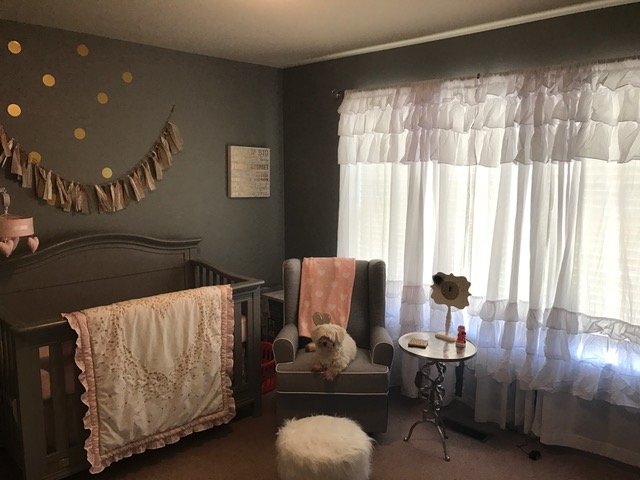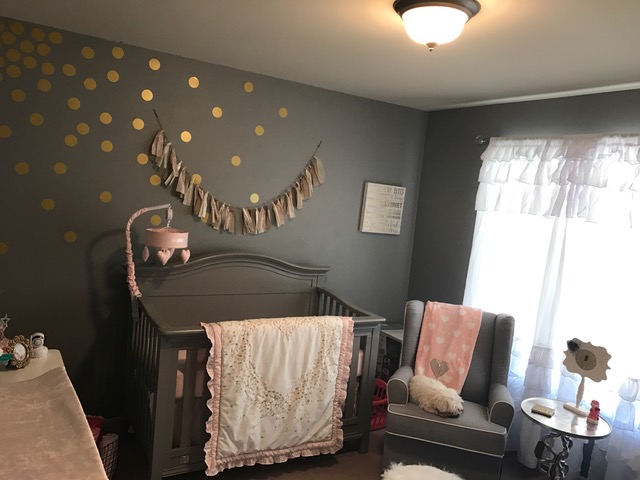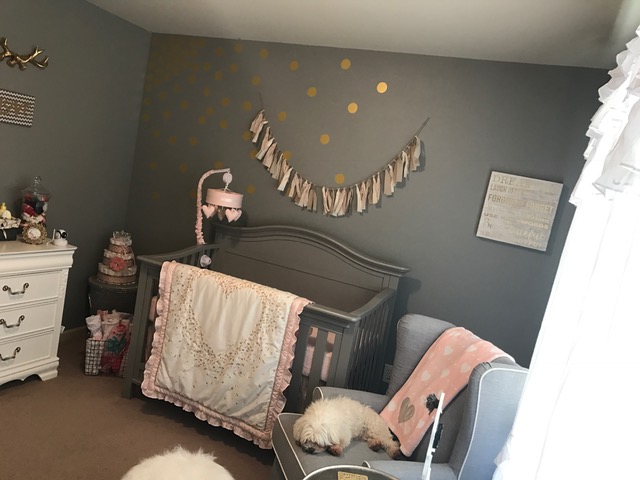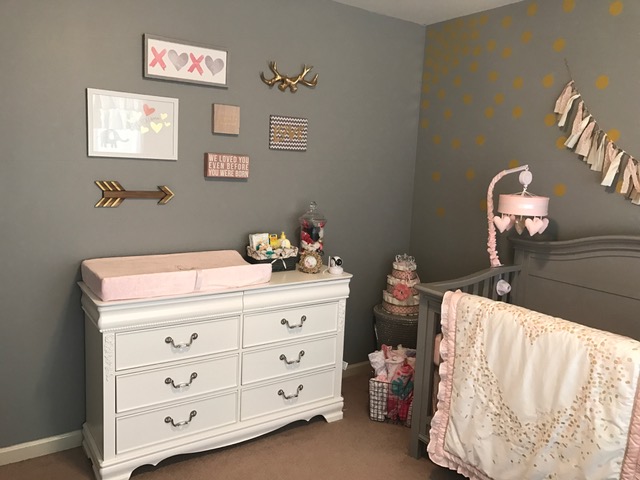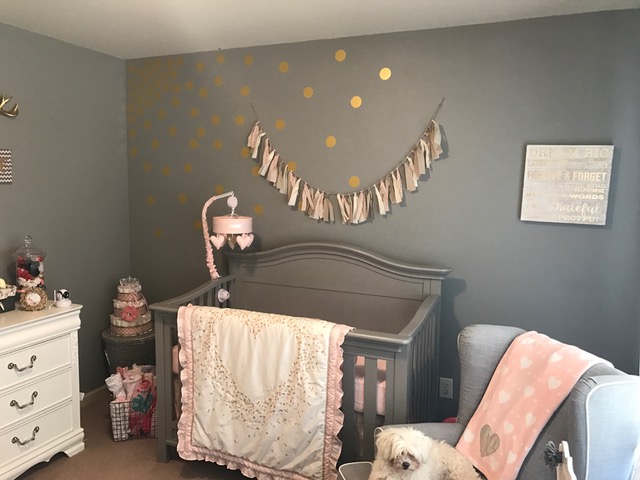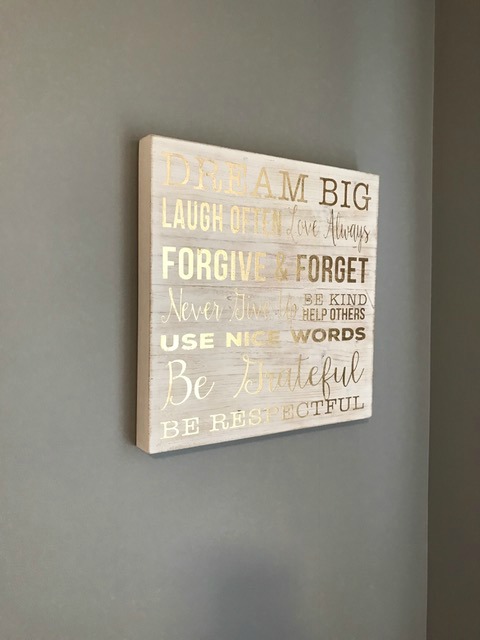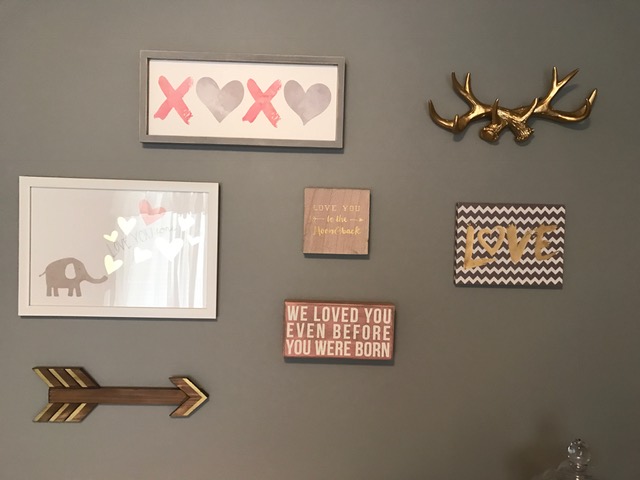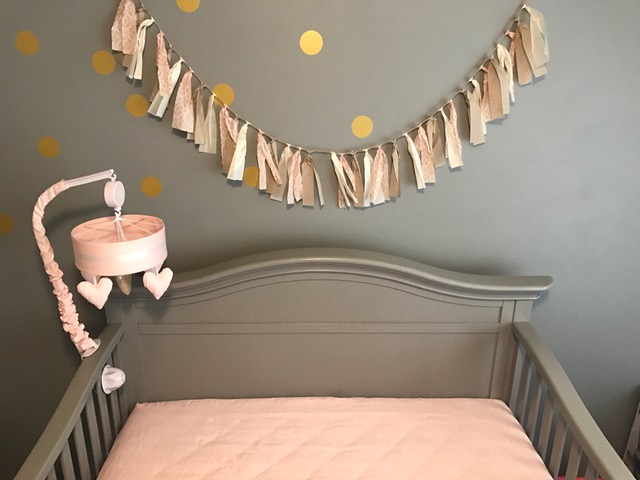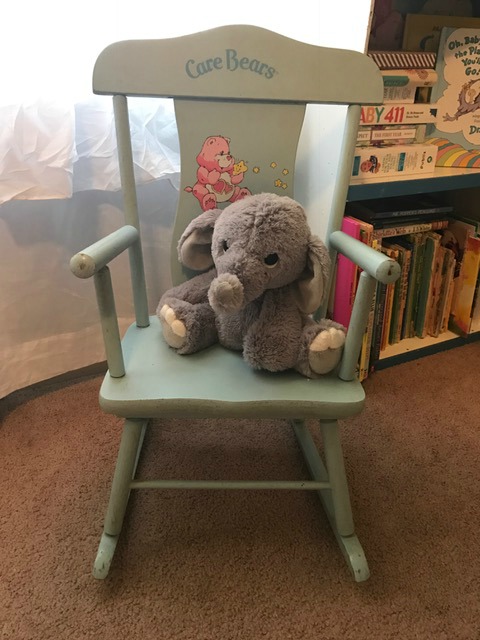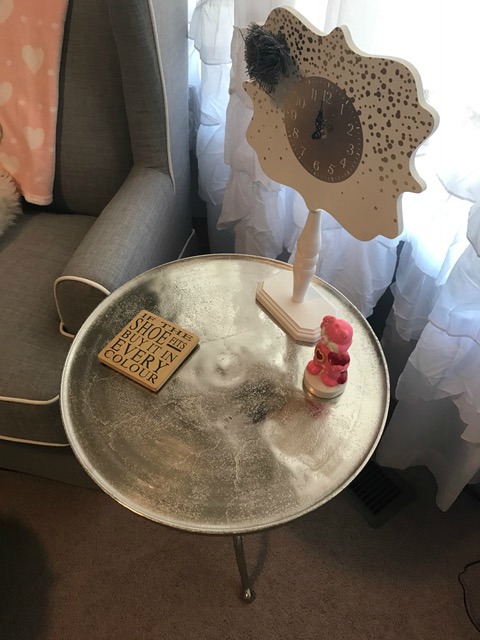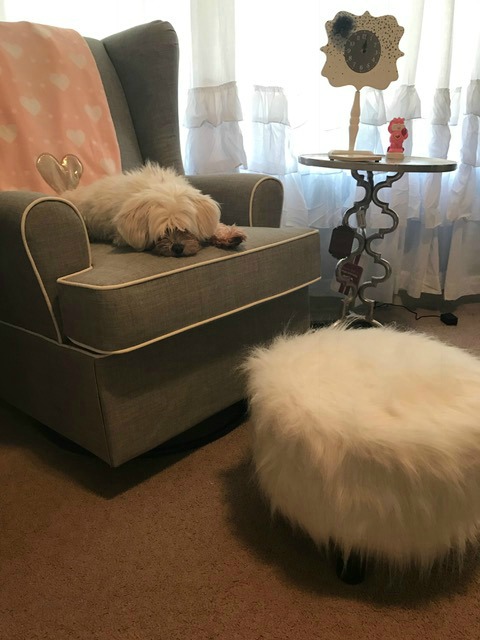 Here are all the details on where everything is from. There are a few things in the room that were gifted or were mine from when I was a child. That care bear on the side table? My mom painted that for me when I was 3 or 4 years old.  The care bear rocking chair is also an anitque of mine from years ago as is her book shelf. A few of these links are affiliate links where I might earn a penny or two if you were to click on it. Gotta buy those baby clothes! I tried to do everything as affordable as possible because I like to get good deals. If you have any quetions about anything in the room, feel free to ask! I would be happy to share the details. The paint color on the walls is Benjamin Moore Storm.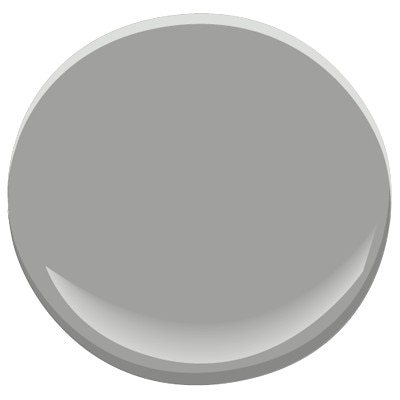 Furniture
crib / glider / ottomon / side table (similar mine came from TJ Maxx / dresser / cube shelf in closet / mattress
Wall Decor
Gold Dots / antlers / love you tons elephant art / arrow (similar mine came from Target on clearance several months ago) / dream big (similar)
Accessories
curtains / table clock (similar) / bedding / gold heart throw / crib mobile / sheets / wire basket for blankets / metallic hamper / gold canvas closet bins / gold and pink dot canvas closet bin / diaper bag
Oh, and before I go. Baby girl has her very own Christmas tree waiting on her!!! My mom bought me this Disney Princess tree many years ago and over the years I have collected princess ornaments for it and I thought it was just perfect for her room! I plan to let her use it until she decides what kind of tree she wants in there 🙂