Baby must haves vary from mom to mom. There is a lot of baby gear out there you guys. A lot. It is so overwhelming when you walk in to Babies R Us or Buy Buy Baby for the first time. Not to mention the pumped in to the air system baby powder scent that assaults your nose and hurts your ovaries the moment you walk in the door. Am I right??? I swear if I hadn't have already gotten pregnant when we went to Buy Buy Baby, that scent would make me want to hold a newborn stat! There are also a million blog posts out there of the must have baby essentials. What I have learned? Every baby is different, obviously. So what might be a must have for one mom could be a joke for another. I wanted to share with you what got us through the first three months with Zoe, and why it worked. So here we go!!!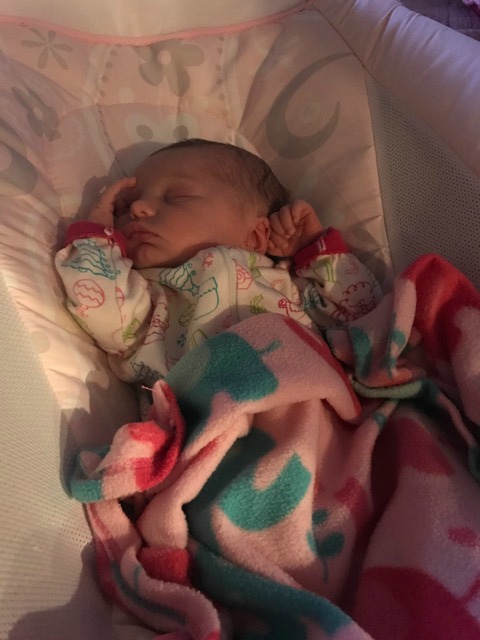 Sleep – When you first come home with baby, you can pretty much kiss your sleep goodbye for the first several weeks. I don't know a single mom who came home with a baby that slept through the night. What did finally help? The Rock n Play. The Rock n Play is the most amazing thing ever invented if you have a baby with acid reflux who cant lay flat to sleep. Other advantages? It can go anywhere. Your living room, bedroom, grandma's house. Genius! If I could only have one baby item, the Rock n Play is it.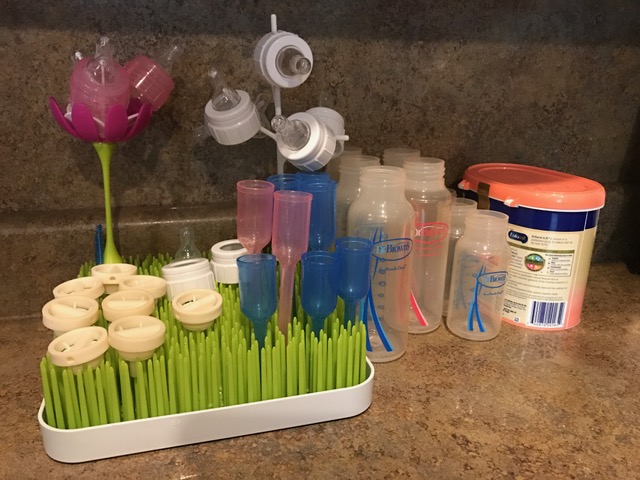 Feeding – If you aren't exclusively breast feeding, you need bottles. Dr Brown's worked best for us. I have tried four other kinds and none of them beat Dr Browns. All the others gave Zoe more gas, there were lots of bubbles and air when she took them, etc. I know that Dr Browns has about a million parts to clean, but it is worth it. Hands down.
Other items pictured: Boon Grass, Boon Flower, Boon Twig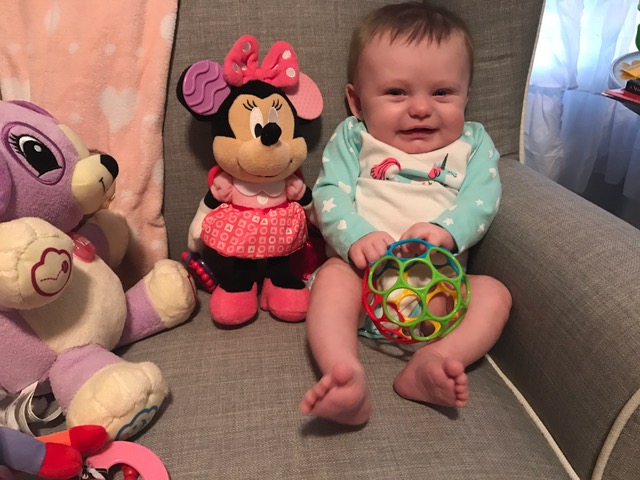 Play – There are so many baby toys out there and most of them entertain the kid for about five minutes and then they are done. The ones that Zoe keeps picking up or wanting to look at each and every day? O-Ball, My Pal Violet from Leap Frog, Minnie Mouse and her The Very Hungry Caterpillar soft book.
Another amazing thing to have, a play mat like this one! Zoe can lay there for a long time just staring up at the birds spinning or trying to grab at the lower hanging toys. Most recently she has been rolling over and using the mat for tummy time too. This is another item you can find on sale often at  Target.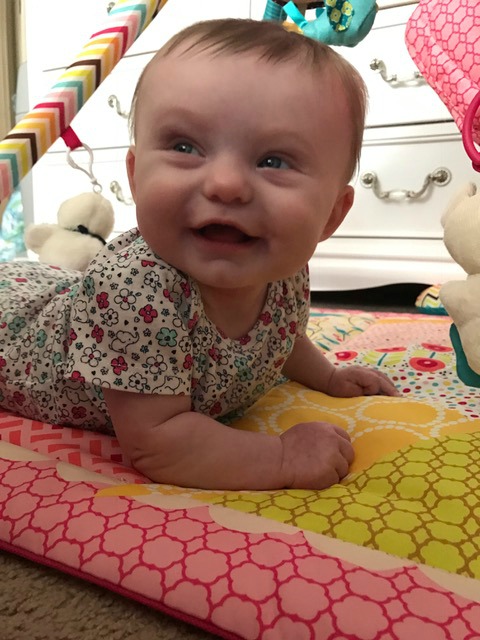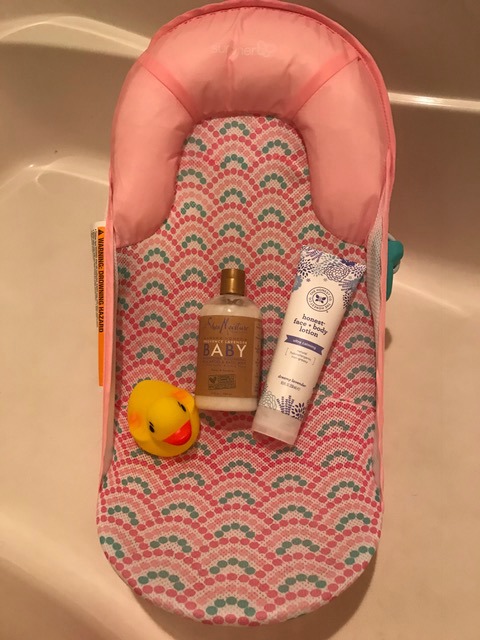 Bath – I have one of those tubs with the sling that I used for the first month. But honestly, it was such a hassle and Zoe hated every minute of it. I then discovered this bath seat and it is genius! Zoe loves it because she is more submerged in the water. (The sling left her freezing.) She can spread out a little and it is easier to clean her because I am not having to move her around on a sling. This thing is on sale at Target quite often for around $15 and that is when I grabbed it.
Other items pictured: Shea Moisture Shampoo/Bath, Honest Lotion, Rubber Ducky was a gift but um they are everywhere!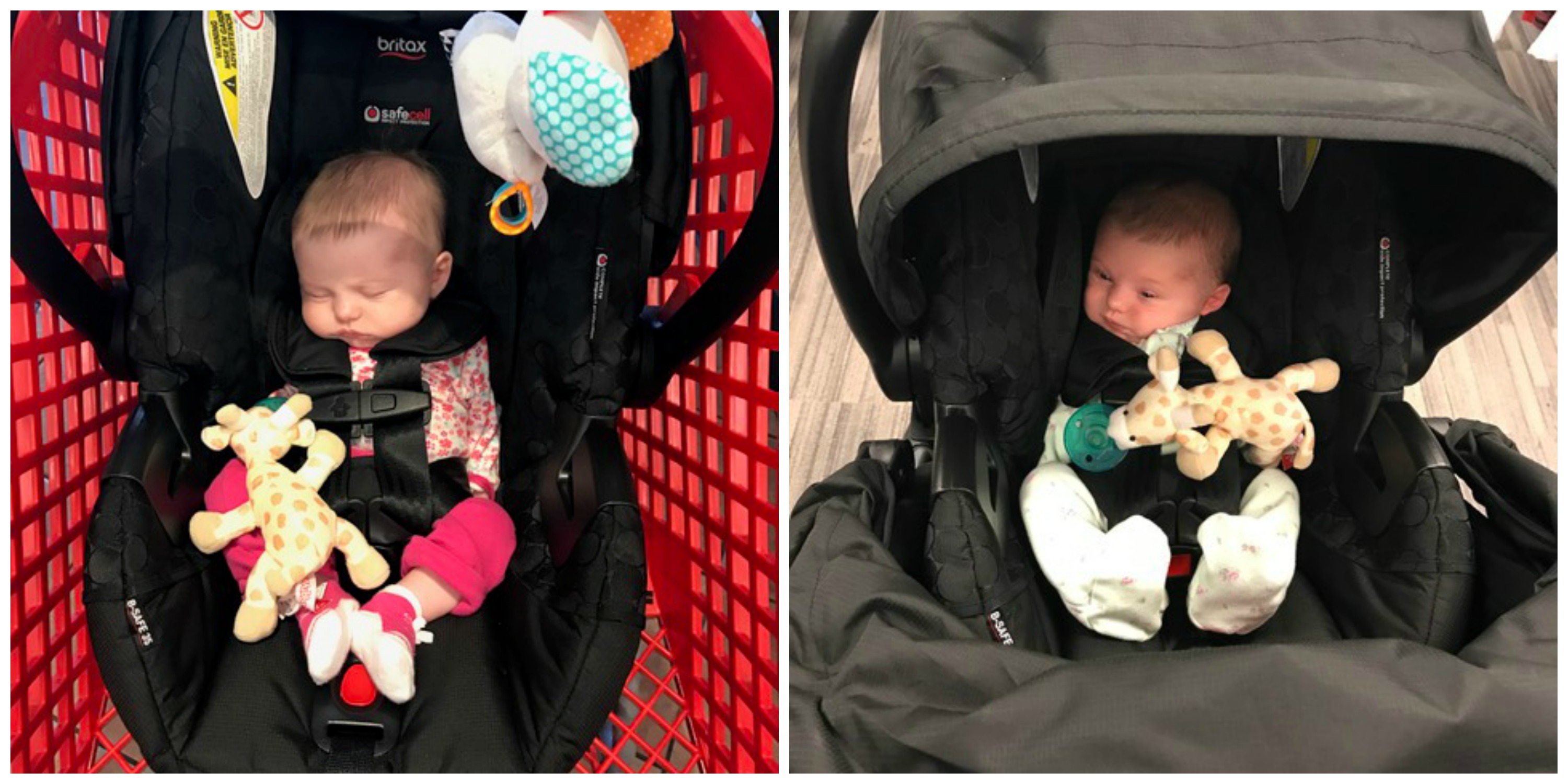 Travel – Obviously, you can't leave the hospital without the nurse seeing that you have a car seat. After a ton of research, we decided on the Britax B-Safe 35 travel system. I chose this because it is near the top of every safety review I read. Safety was an absolute first priority for me. I also asked several mom friends and the ones who raved most about their travel system were the moms who had the Britax. What I like now that I have been using it? It is fairly simple to strap Zoe in. It is a breeze to click in and out of her base, and I can literally open or close her stroller with one hand. All the grandparents cant get over how much easier strollers are these days.
Also, there are several moms that have horror stories about how their babies hate being in their car seats and fuss the entire time. Zoe does none of that, she loves her car seat. She falls asleep in it easily and is happily amused when we are out just looking around from the safety of her seat. The only negative? On hot days, she is sweaty when I pull her out of it. But I am pretty sure that is the case with most car seats, no? Zoe doesn't seem to mind.
Obviously from my pictures I share, you can tell we have a lot more things. These are just the things we had to have to get us by easily. Or as easily as one can get by with a newborn. Am I right? If you want to see what all we registered for, you can read my post on that from my Mommy Babbles blog that I sort of quit posting on here. We pretty much either received or purchased everything on the list except the bouncer. My SIL let us borrow the one she had for our nephew.  And if you want to see Zoe's nursery reveal to spy some other items you can see that here.
So what items do you recommend for the next few months?