Linking up with Lauren and Bre again to talk about some more things I think you should check out! I have had so much fun saving things for this link up every month, and seeing what everyone else is loving. I still keep my book reccomendations for the Show Us Your Books link up though, so you wont see any of that here.
Food: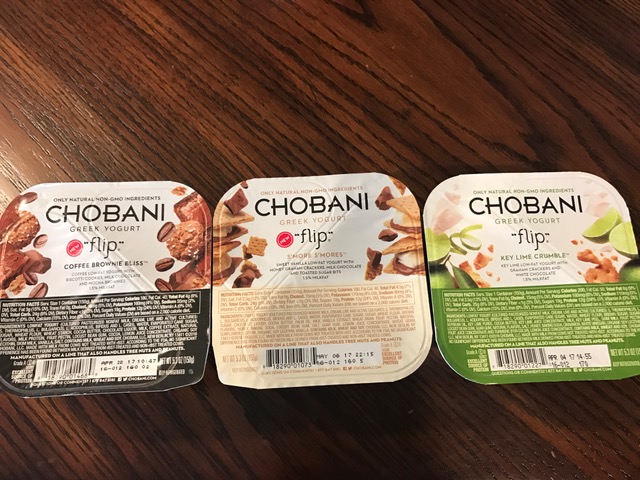 Have you tried the Chobani Flips? I have gushed about the Key Lime Crumbles one for at least a year or two now. But Target started carrying a ton  more flavors. My new favorites are Smores and Coffee Brownie Bliss!!! SO GOOD!
Beauty:
This Revlon Juice Peach Kiss Balm is so fun. First of all, it is under $5. It smells amazing!!!!!! And it gives the slightest sheer color and makes my lips feel super soft. It doesn't last all day or anything, but I wasn't expecting it to. If I am wearing this and my Too Faced Peach palette shadows, I smell peaches all day and I love it.
This coconut oil OGX shower gel smells sooooooo good and has me dreaming of the beach! I don't like to pay a lot of shower gels, so I grab fun stuff I see at Target. I am still loving my Soap and Glory one I shared last month too. I just like to switch it up with a few options because I get bored.
TV:
Have you heard of Riverdale? It is based on the characters from the Archie comics. I never really read the comics growing up, but I knew the characters names and stuff. The first episode or two I was like ehhhh I dont know. But now? I am hooked. It freaking sucks you right on in to their messed up world.
Also, Season 3 of Grace and Frankie is here!!!! YAY!!!! I love this show. And this picture pretty much sums up the season so far…
App:
Think Dirty is an app where you can scan beauty and body products in your home and see how natural or harmful they are to you. Which is what led me to pull the trigger on the baby items below. I have been scanning allllll the things in our house and when I am out at the store. It's not 100% because some products (like the Aveeno baby lotion) weren't on it. But when something isn't on there, you can take a picture of the front and back of the item and get them to add it.
Baby:
–I know that Johnson and Johnson isn't known for the best ingredients in their products. My mom used that stuff on Tracy and I growing up and we turned out ok. And the smell!! Straight up baby. It's what the hospital used on Zoe when she was there, and what I had on hand when I brought her home. Truth is? Zoe's skin is still pretty dry. It's so soft, but I have to lotion her up quite often. I picked up Shea Moisture Honey Lavender Soothing Shampoo/Body Wash and Honest Lavender Face and Body Lotion this past week and YES!!!! I can actually see a difference already. And she still smells amazing and scrumptious, as babies do. I feel so much better using these products on her instead.
Think Dirty says Johnson and Johnson is a 9 (10 is the worst) and this particular Shea Moisture and Honest product are both a 3.
So have you tried any of this? What do you suggest I add to my list?