I have switched up some of my routines and I thought I would share them with you today. I always love reading product posts because there is usually something that I haven't heard of or wanted to try and the post gives me the final push to do so.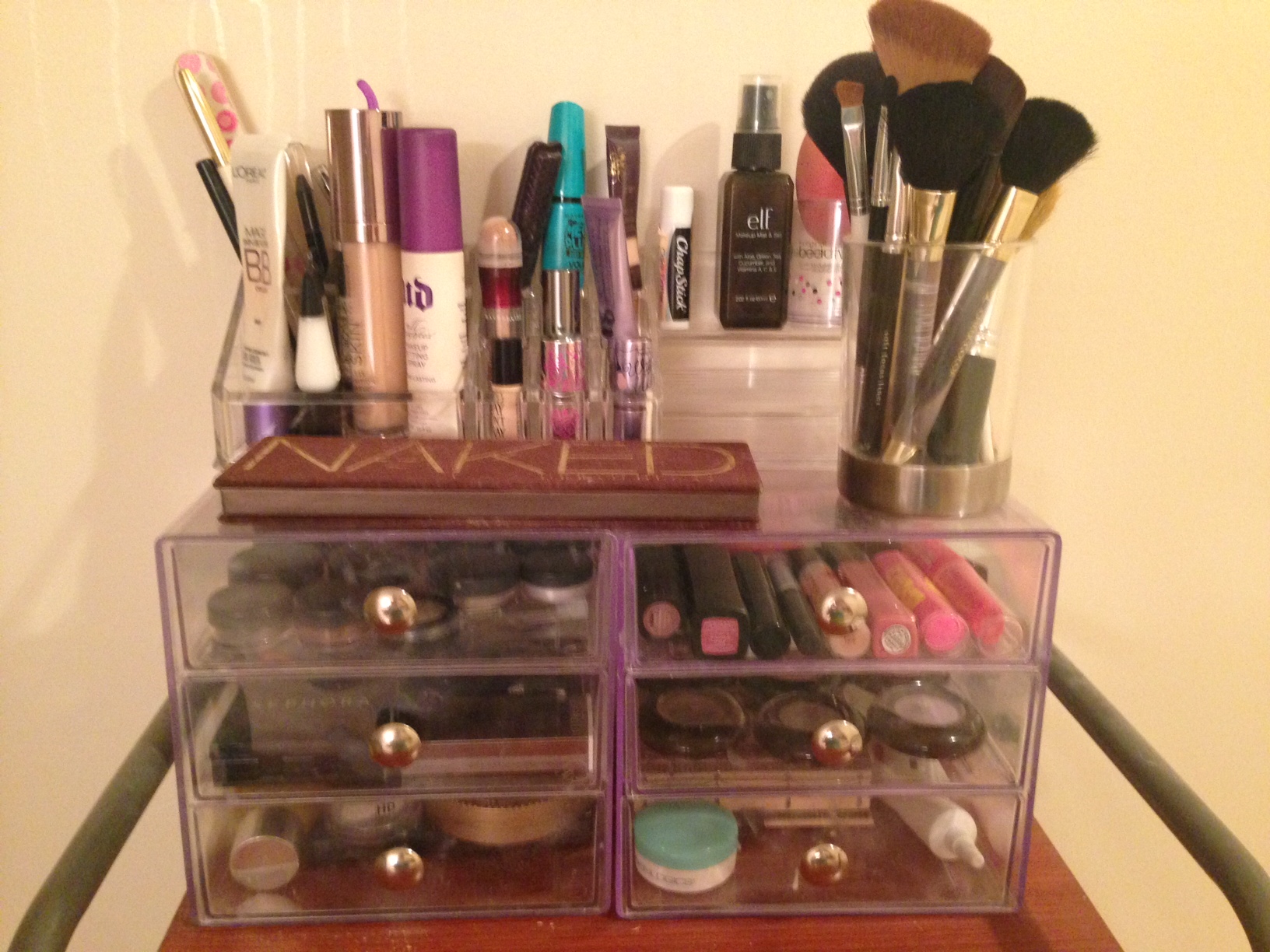 Let's start off with storage! I purchased the bottom two acrylic drawer sets at The Container Store when I lived in Atlanta, they are about six years old and I believe I payed about $15 for each. Well worth it? I think so! I bought the top acrylic organizer at TJ Maxx last month for $7.99. A steal if you ask me!!! This holds all of my make up perfectly! My skin care items are shoved in a basked under the sink. I might need to work on that next.
As you know from yesterday, I was at Sephora this weekend and got a new foundation and moisturizer. I am in love with both of them for sure!
My favorite concealer that I have tried so far is Maybelline Age Rewind. And that is saying a lot, because I feel I have tried just about every other concealer out there! There is a Tarte one that I like as well, the CC Under Eye Corrector. It is pricier than the Maybelline one at $24, but is pretty awesome as well.
I just adore the milk chocolate bronzer from Too Faced. I use the light/medium and it is perfect for contouring my face and giving this pale girl a little color! It is the perfect shade and doesn't have that fake orange look that some bronzers give. I have had this for several months now and it still looks brand new, so a little goes a long way and the product is worth the price!
My favorite mascara has always been Benefits They're Real. Hands down. However, because it is a bit harder to remove and I have received a few free samples of other kinds, my favorite every day mascara is now Tarte Lights, Cameras, Lashes. I have noticed a vast improvement in the actual health of my lashes. They look much longer and healthier now that I have started using this again. It was a tried and true back in the day, and call me nostalgic but I am glad it is back in my arsenal.
My favorite eye palette is the original Naked palette. There are so many amazing colors, they all blend together to create so many different looks. I have had mine for a really long time, and there is still so much product left too, so at the $54 price point I will say it is well worth it.
My favorite eye liner are the Loreal Infallible Eye Liner. This stuff lasts all day and doesn't budge. I have repurchased this stuff several times in both brown and black and I don't see myself changing anytime soon.
I received Paula's Choice Vitamin C Super Booster about a month or so ago. I love it! You can use it under any other serums you have or just your moisturizer. I use it under my eyes, on my forehead and I also dab some on my cheeks. I had a sun spot on my cheek that was pretty dark and I will say it is about half gone now! Also, I noticed the few fine lines on my forehead are less noticeable as well. This will be a repurchase when I am out!
I liked the Vitamin C booster so much, it caused me to order some more Paula's Choice stuff! I tried the Resist line which is for acne and wrinkles. Because life isn't fair as it is, I have to worry about both! I love the face wash and the BHA that I ordered. The moisturizer that I picked from this line isn't moisturizing enough for me though, and that will be going back. I have been using these two products with the new moisturizer I got on Sunday and I am happy with them. I really like the Paula Choice website because she has reviews on pretty much any product you want to try both her brand and all the other brands out there.
 I am still completely in love with the Vaseline Rosy Lips. I use it every morning and every evening and my lips have never been softer. It smells great, and it gives you a little color too!
My go to spot treatment is the Kate Somerville Anti-Bac lotion. I usually have hormonal break outs around my chin, and every now and then I have a patch on my cheek that likes to flare up at the worst times. I use this every morning and evening around my chin, and I use it as needed on the cheek area. The bottle lasts me about six months, so it is certainly worth the price! I ran out of it for a few weeks a month or so back, and my whole face blew up. So I know this stuff works!
My favorite fall/winter body lotion is the Vitamin E lotion from The Body Shop. They are 50% off today, I am stocking up! It kept my skin from completely cracking last winter and nothing in the past has ever been able to do that. The scent is rather neutral, it has a little bit of a rose scent to it…but nothing offensive and it blended nicely with the perfumes I wear. I honestly find the scent very soothing at night time before bed too!
Have you tried any of these products? What are some of your favorites?