Friday!!! For some reason, I couldn't keep the day straight this week. I don't think we have anything major planned this weekend. We have a few little errands to run and my sister mentioned taking my dad to breakfast one morning. She said that she has to see Zoe at some point this weekend…so I am sure we will figure something out.
Favorite Moments: Laura and I had lunch yesterday at Urban Cookhouse. I love that in addition to the many guilty pleasure restaurants we have here in Birmingham, we can still get a healthy DELICIOUS lunch to keep ourselves in check too. It is all about balance, am I right? I forgot to snap a picture of my salad, we were too busy catching up since she was out of town last week.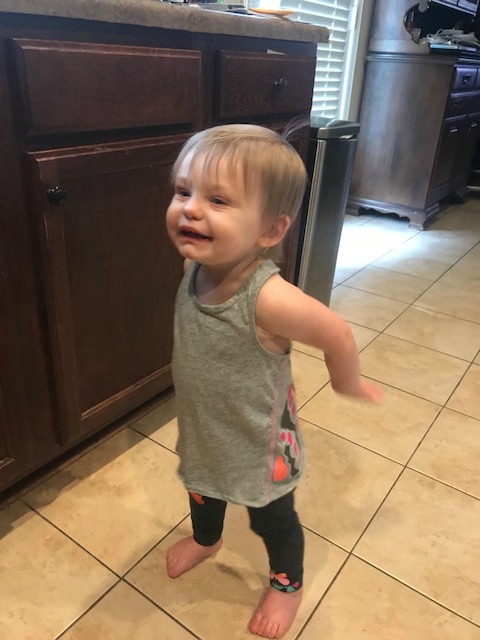 When I dropped Zoe off on Thursday, her teacher was chatting to me about how she is doing so well in class. Zoe is the second youngest in there, and I was so worried when we moved her up at the beginning of the year that she might not be ready for the big kid class just yet. They are treated much more like toddlers than babies in that class. I have to say, after the initial adjustment period, she has just thrived!!! Last month they did some testing with the older kids, but Zoe was too young for the test to matter so I didn't have a parent/teacher conference scheduled. Yesterday her teacher told me that there is nothing specific that she can pinpoint that I need to work on with Zoe. She does great sitting in her desk, eats her lunch with a spoon and no assistance, enjoys craft time, participates in circle time (when they learn), is the biggest helper in the class at clean up time and naps great. She doesn't throw her food on the floor and they aren't having to get on to her about being mean to other kids. Her afternoon teacher always tells me she is such a delight. This makes my mama heart swell so big! I know that Chris and I are so very blessed to have such an amazing little kiddo. It really has been so fun looking back over the last several months and seen how much she has grown and develop. I am going to be sad when she moves up in August, all of her teachers have been so amazing this year.
Favorite Recipe: How delicious does this look? I love that more grocery stores are carrying different kinds of veggie noodles already spiralized! Saves so much work, time and cleaning. The ingredient list for this recipe isn't too long.
Favorite Purchase: I have a confession to make. I had never been in Athleta before. I just assumed it was tailored towards skinny fit people who worked out a lot. I was wrong. I mean, it is mostly workout type clothing…but their sizing is more than generous and their quality is amazing!!! I went in there the other day not sure what to expect. Honestly, I was nervous to walk in. How silly is that??? I thought for sure I would feel so out of place. The two sales people that I interacted with were so inviting and friendly. I was surprised by how many things I liked as I looked around. They were running a huge sale on swimwear and I found the most amazing swim shorts!!! I have some tankinis that I plan to wear in the pool and stuff, but I wanted something that provided more coverage for chasing a toddler around on the windy beach. These shorts were a price I expect to see at Target, but made so so so so much better!!!! I seriously cant sing their praise enough, and I definitely plan to be a regular shopper now.
Favorite Link: The Every Girl did a post earlier this week on all there is to see and do in Birmingham. It really shows our city off well. Though, I will say, there are a TON of amazing restaurants that do not get mentioned in here. All the more reason you all need to come visit me!!!
Favorite Funnies:
Linking up with Amanda. I hope you all have a wonderful weekend!