All of the empties I am sharing today can be found at Target. You know, because you need an excuse to go to Target.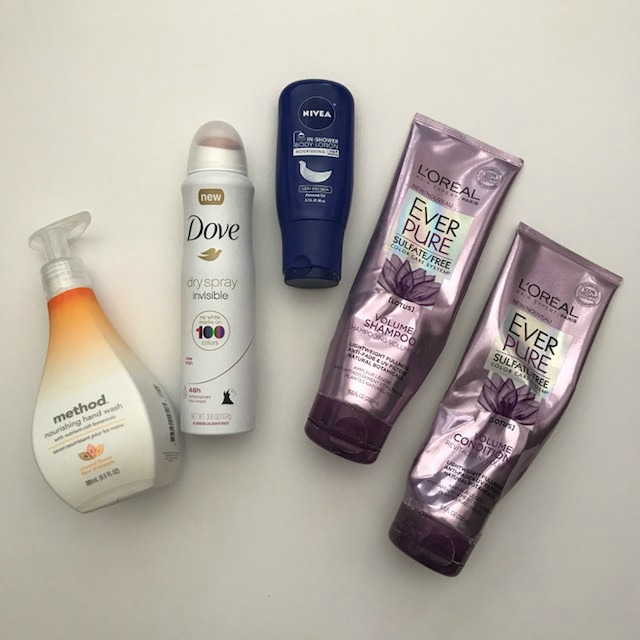 I have the hardest time with deodorants. At some point, they all stop working for me and I have to constantly switch up the brands, scents and kinds I am using. One that I have been loving this summer is the Dove Dry Spray!!! It goes on easily, it dry so you dont have the gross wet feeling…or have to wait for it to dry before getting dressed, and the best part is that it leaves ZERO marks on any of your dark clothes. Perfect for me, the girl who wears black and navy sleeveless dresses all summer long. I really love this specific scent, Clear Finish. It has a light pink top and it says no white marks on 100 colors on the can. It smells so good!!!
I used to love the Bath and Body Works hand soaps, and I still do. But I just as soon buy my soaps at Target and save the trip. I really love the Method line of soaps and household cleaners. This Almond Flower one is one of my absolute favorites because the scent is wonderful for a light, neutral smell and it doesn't leave my hands feeling dry like some soaps. I almost use this exclusively in our master bathroom.
Who has time to lotion up after a shower when you have a baby? Not this girl. I love this option and plan to repurchase! It is a neutral scent so it wont compete with your shower gel or perfume that you use. I am thinking it probably isn't rich enough for the winter for me, but suits me just fine now. It is so hot here that I am sweating while getting ready and the last thing I want to do is put on a thick lotion and have another layer on me, you know?
I received these in a voxbox a long time ago and had them in regular rotation in my shower along with a higher end set that I love, and another drug store option. I really liked this and would repurchase again. I liked the scent and how my hair felt when I used them and I noticed that it didn't have any adverse effects to my hair color like some other shampoos I have used. At the price, you cant beat it!
Have you used any of these? What are you finishing up right now that you plan to repurchase or are glad that it is gone and wont be using it again???