I have a bag of empties I have been adding to for several months now. I thought maybe I was going to do a video with them, but I need to figure out how and where I want to film and all that so for now I am just going to break them up into several posts. When I say a bag, I mean it! I randomly grabbed six items out of it, so here we go!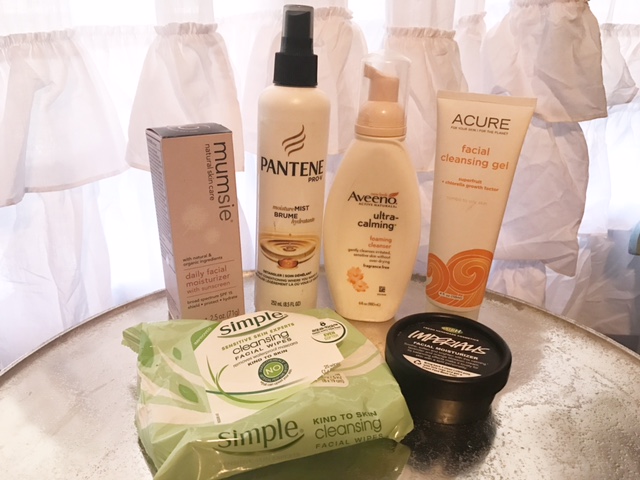 Simple Sensitive Skin Facial Wipes – Of all the facial wipes I have tried, and trust me when I say I have tried them all, I think these are my favorite. They are on the cheaper side of all the wipes, easy to find and they are paraben free with no harsh chemicals. They work just as good as any of the others out there and I have repurchased them several times.
Lush Imperials Facial Moisturizer -I have enjoyed all the Lush products I have tried and I would recommend them if you are looking for more natural, cruelty free items. This moisturizer wasn't enough for me in the winter (I have combination skin), but was a great spring/summer option. It was really awesome during my pregnancy when I had to be careful what ingredients I was using. It has a heavy lavender scent, so as long as you are ok with lavender you should be good to go. It is a very spa/natural lavender scent. I would repurchase this, but it isn't my absolute favorite. Clinique Moisture Surge Intense is my holy grail moisturizer. Unfortunately it is not natural or cruelty free, but it is just what works best for me and my face is feeling amazing right now.
Mumsie Natural Skin Care Daily Facial Moisturizer – This item Laura gave me to try because she had received it after she had her baby and didn't need mom friendly stuff. I enjoyed using this, but again it wasn't moisturizing enough in the winter time. I didn't have any adverse reactions to it, it wasn't really scented so it was awesome when I was staying away from anything with scents that bothered me. I dont have any negative opinions about it and I used it up, but I probably wouldn't repurchase it again. There was nothing "wow" about it, you feel me? I will say if you are pregnant and need something unscented, it is fairly inexpensive as far as moisturizers go.
Aveeno Ultra-Calming Foaming Cleanser – This stuff I have been buying for years and years. Chris and I both use this in the shower. It is always what I turn to if I use a product that upsets my skin, or I need a reset. It is inexpensive, easy to find, doesn't have much of a scent and has never had a negative impact on my skin. I bet this was my 50th bottle of this stuff.
Pantene Pro-V Moisture Mist Detangler – You guys, my hair is fine. Baby fine. You know what happens to fine hair in the shower? It tangles like crazy and is a real bitch to brush out. Before I got a wet brush, this stuff was in my daily rotation. It was cheap, easy to find, smells amazing and worked like a charm. I still keep a bottle on hand for when I am at the beach or have real tangles, but the wetbrush is pretty effective these days. I have repurchased this stuff several times and it lasts a good while. I recommend it to anyone needing a detangler.
Acure Facial Cleansing Gel – When I was pregnant, I was looking for natural items that didn't have ingredients that were dangerous to my baby. I cant tell you how many hours I spent researching ingredients and looking at labels in stores. This brand showed up several times in my search so I thought, why not? You can find it at Target and it is cheap compared to some other stuff out there. But you guys?? The smell was just awful!!! I dont know if it was because I started using this early on in my pregnancy when I was overly sensitive to smells, but I cant even open the bottle now to tell you what it smells like because I will throw up from previous experience. I think the brand is great, and it didn't have any adverse reactions on my skin but dont try it if you are sensitive to smells. Just no. I had gotten some shampoo by this brand it it was alright. Nothing special but good for natural ingredients if that is what you need. This was a did not finish for me.
Have you tried any of these things? Is there anything you want me to change about my next empties post? Format or other information? I have several I will do over the next few months so let me know what you think. Happy Tuesday!