I just love Giada De Laurentiis so when I saw her cookbook, I knew I would have to have it. What I really think stands out about this cookbook compared to others out there is that it is more than recipes. You actually get to know Giada a little bit. There are pictures of her throughout the book and she is giving tips for different social situations and actual glimpses into her life. There are even pictures with her daughter.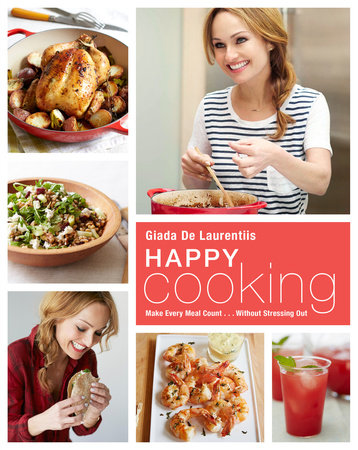 The recipes are focused around clean, healthy eating which is perfect for me! Some are simple and anyone can make them, but there are a few more complex ones as well to practice your skills with. I like the balance that is offered.
One of my favorite tips is buying a really good whole grain loaf of bread and keeping it in the freezer and just pulling out a slice or two as needed versus a new loaf that you throw out every week because you only needed a few pieces.
Some of the recipes that I have my eye on are:
"Nutella" Milk
Mediterranean Chile Chicken Wings
Buffalo Grilled Shrimp with Goat Cheese Dipping Sauce
Brown Butter Tortellini
Cupcake Shake
Citrus Chile Acorn Squash
Tis the season for soups, so I wanted to share the Italian White Bean, Pancetta, and Tortellini Soup recipe from the book!
3 tbsp olive oil
4 ounces pancetta, chopped
3 large shallots, chopped
1 carrot, peeled and chopped
2 garlic cloves, chopped
1 can cannellini beans, rinsed and drained
4 cups of Swiss chard (1 bunch trimmed)
6 cups low-sodium chicken broth
1 (9 ounce) package fresh cheese tortellini
1/2 tsp kosher salt
1/4 tsp ground black pepper
In a large heave soup pot, heat the olive oil over medium high heat. Add the pancetta, shallots, carrot, and garlic and cook, stirring occasionally until the pancetta is crisp, about 5 minutes.
Add the beans, Swiss chard, and broth. Bring the soup to a boil over medium-high heat, then reduce the heat to a simmer. Add the tortellini and cook for 8 minutes. Season with salt and pepper and serve.
Serves 4-6 – Packed with protein and filling enough to make a meal.
There is a great mix of breakfast, lunch, dinner, snacks, desserts, cleansing drinks, fun shakes/smoothies and plenty of party hosting ideas too. Plus if you like photography, there are some great pictures of the food.
If you are in the market for a new cookbook, I would certainly give this one a look!
View more information about the book here.
Learn more about the author here.
**I received this book from Blogging for Books but all opinions are honest and of my own. **