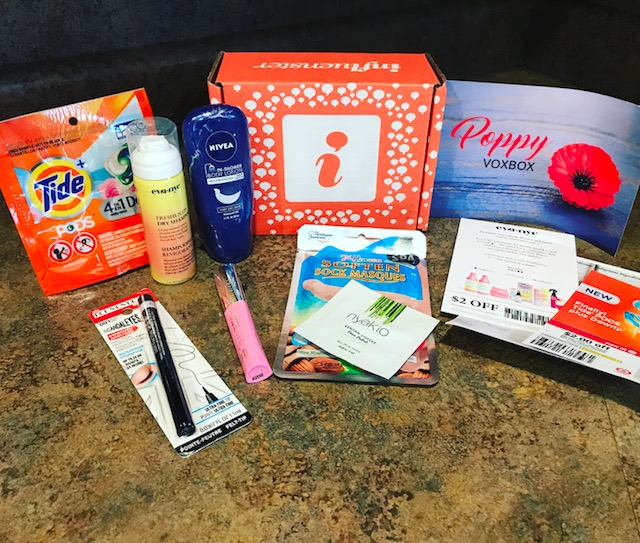 1.I was excited to receive the Poppy Vox Box from Influenster this week! I even did an Instastory about it! Anyone else feel awkward talking on Instastory or is it just me? Anyways, there is some really great stuff in this box!!! I am a huge fan of Rimmel lip products and I received a full size Oh My Gloss in the shade Master Pink! The smell reminds me of something I used to use when I was a lot longer and I sort of love that! It glides on smooth and leaves my lips feeling soft for a few hours. The color is sheer, but pretty.
There was also a Rimmel Scandal Eyes liner! I am a big fan of drugstore liners, and I had never tried a Rimmel one before. I like how precise the application is and the color is a deep black which I appreciate. The only thing is, I feel like it smudges some and it is most certainly NOT waterproof!! I was able to wipe it away with a wet qtip. I cant even do that with most regular liners.
I was really excited to try the Nyakio Kenyan Face Polish!!! This is a Kenyan Coffee scrub and it left my face feeling super soft!
I didn't take care of my feet when I was pregnant. Mainly because the last few months I couldn't reach them comfortably. They are still a disaster. The worst they have ever been, honestly. The 7th Heaven Sock Masque couldn't have come at a better time! I haven't actually used this one yet, I will report back.
Who doesn't love a good in shower body lotion? I can always use the one from Nivea! It has a pleasant smell and I really love how soft my skin feels after using it. Works great for those mornings I am in a rush to get out the door because I can confidently skip putting on additional lotions.
I had never heard of Eva NYC, so I was intrigued when I saw the dry shampoo. I have pretty heavy opinions about the ones I like and dont like. I have to say, I like this one!!! The scent was pleasant and it didn't leave a white film on my dark hair. I would consider purchasing this, it is half the price of the one I usually buy!
And yay for Tide Pods! The ones I received had downy in them and they smell heavenly! I usually use Honest Company laundry detergent for all of our clothes, but I love these Tide pods for our towels!
Have you used any of these items before? Thanks Influenster!!!
2. For you mamas out there, what is the best sunscreen you have used for your kid??? I wont be putting any on Zoe until after she is 6 months old, but that is right around the corner. I know my mom used Coppertone baby stuff on me and my sister but I have read so many horrible articles about regular sunscreens. It's hard to know what the right thing to do is? I used Babyganics on myself last summer when I was pregnant at the beach, but I burned in splotches. I am worried it isn't as good as some other stuff.
3. We finished watching Big Little Lies this week. SO GOOD! It didn't follow the book exactly, but I really loved the casting and the few new twists to it. Some of you commented that there might be a second season in the works. That would be pretty cool! We have 13 Reasons Why on our list to watch, what else are you guys loving?
4. Did you know that there glitter paint for walls????? I basically want to glitter everything in my house now. Well ok, not everything. But how fun would a glitter accent wall be in my office?!
5. Some funnies to get you through the day! I hope you all have a fabulous weekend!
Linking up with Amanda.