I went to schedule this post and realized it is St Patrick's Day! Happy St Patrick's Day!! Since I am part Irish, clearly I need to celebrate it in some way right? I feel like this week just went rushing right on by. Even work hours. I was busy busy busy. Let's get to it, shall we?
Favorite Moments:
–A few coworkers and I headed over to the new Pizitz Food Hall downtown to check out the food court there. It was really cool. While I wasn't super impressed with the meal I ordered from Choza, I am sure to go back and try some other things!!! I got three tacos, a chorizo, chicken and steak. I hate corn tortillas and didn't realize that is what they would be. Despite that, the chorizo taco was good and had a real kick to it. The steak one was alright. The chicken one was really  bland. I think next time if I go to that particular place, I would get a bowl instead. There is a bar set up in the middle of everything and several other restaurants I am dying to try!!! There are both an Ethiopian and Jerusalem place that I want to try, as well as a fish place that has sushi bowls that Laura has convinced me I need in my life.

–Speaking of Monday, I put on pre-pregnancy clothes and they fit!! Of course, not everything in my closet fits. But my stretchy jeans and the flowy tops do and I am calling that a freaking win!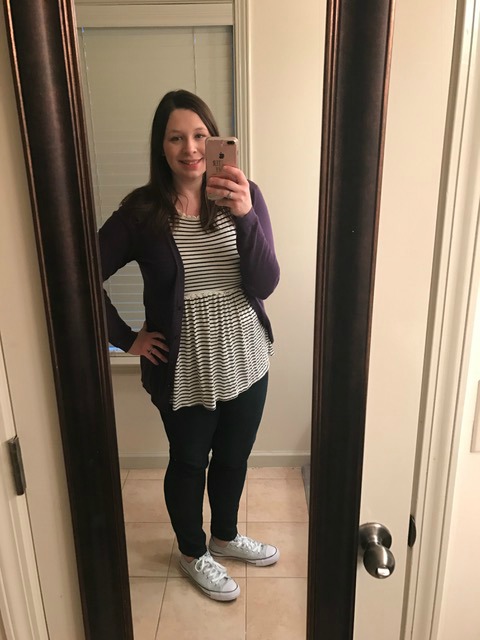 –Another win? When I met up with my Friday lunch club girls that haven't seen me since the week before I had Zoe. They finally got to meet her and made the comment that I don't even look like I recently had a baby. Biggest compliment there ever was.
–This Very Berry Good Salad from Urban Cookhouse is what dreams are made of. I always order it with grilled turkey and citrus vinegerette. YUM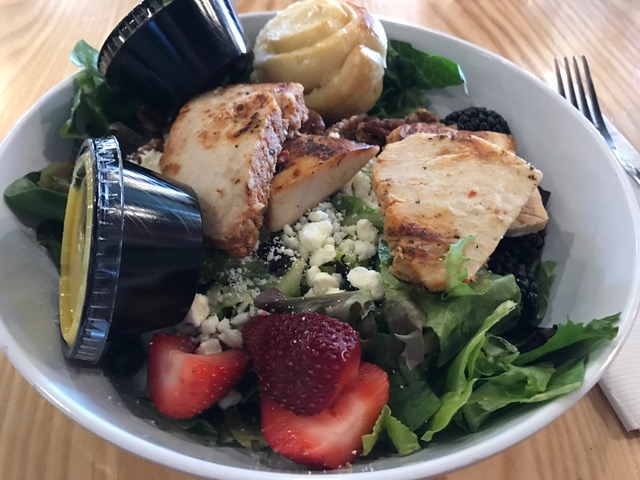 –I took Zoe to Babies R Us to use a gift card that we received from a sweet friend. I wanted to get her some new toys because we are both bored with all her current ones. Check out her haul!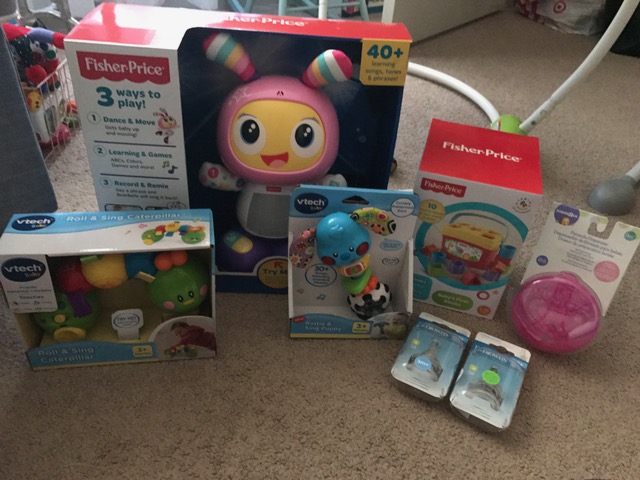 –That dancing robot thing that lights up??? I save it for tummy time. Now look who likes it!!! Check out that neck strength! (The lights are reflecting on her face, she isn't really a pink baby lol.)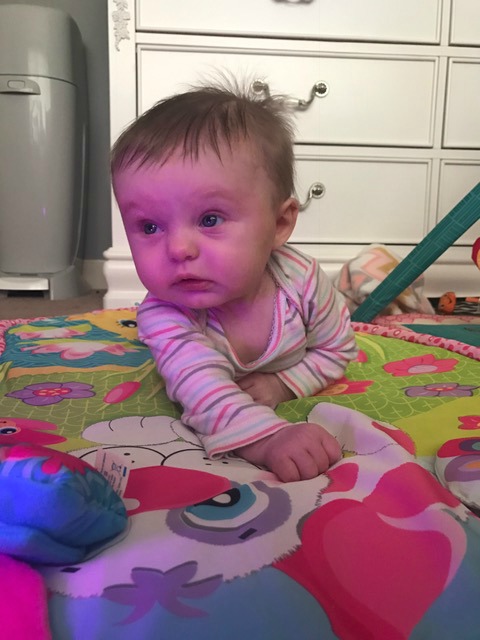 –Zoe's high chair has been sitting in the box in a corner of her room since we received it before she arrived. I decided to go ahead and put it together yesterday because she really likes sitting up. (And I am tired of looking at the big huge box.) Look at her loving it like a big girl!!!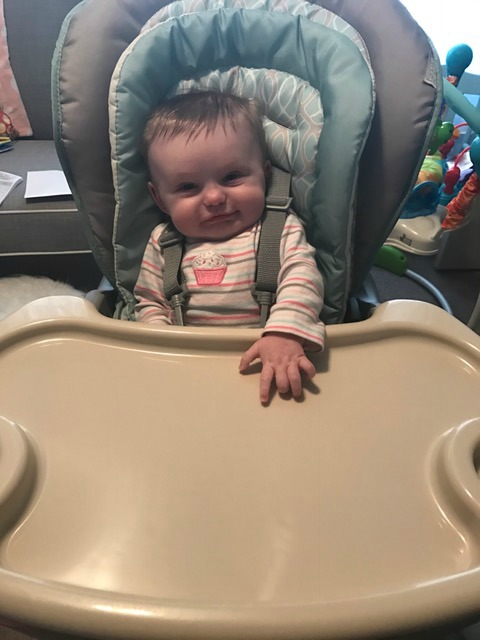 Favorite Recipe: I am still trying to stay Whole 30/paleo the majority of the time. I have expressed my hatred of eggs many times. Here is the perfect non egg whole 30 breakfast! I cant wait to try this.
Favorite Mini Haul:I had to stop at Walgreens the other day and they were having a sale on their Wet n Wild stuff. Their brushes were 2 for $5. Um, ok!!! These brushes feel amazing and are so pretty!!! I got the blush, flat top and eyeshadow. Remind me of some higher end ones. I also have been dying to try the Lancome cushion highlighters. I didn't want to pay the price for them, so I grabbed this one from Wet n Wild instead. It is super pretty!!!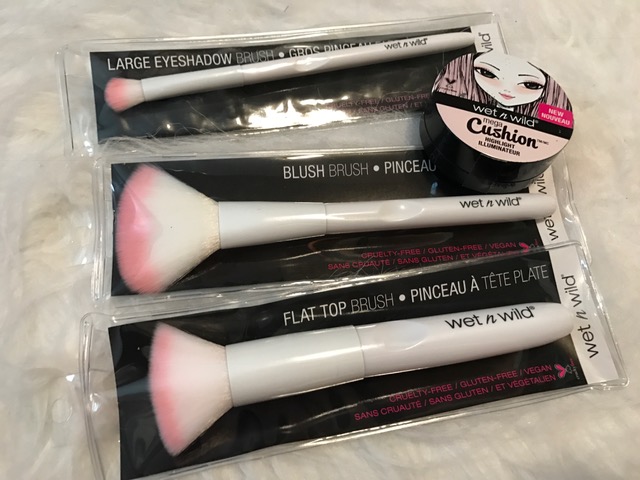 Favorite Lusts: Even though this week has been cooler, overall it is starting to warm up around these parts. Time to start thinking about spring/summer clothing. I needed some new dresses last  year, but since I was pregnant I just wore the crap out of the few flowy ones that I had. Basically I am started from scratch now and need at least a few to get me by this coming season. How perfect is this cold shoulder one from Loft??? My issue with a lot of dresses is that the arm holes are way too big for me. Ummmmm this tie shoulder strap would be PERFECT!
I fell in love with these sandals from Target. I am just patiently waiting for their shoes to go BOGO or at least on sale. There were a few others I wanted to scoop up also. Like these. And these. And maybe these.
Favorite Purchases: Speaking of shoes at Target, I did scoop these up last week. There was only one pair left in my size, and only about five pairs total in my store. I was afraid to wait for them to go on sale and they run out. They were insanely comfy and totally matched one of the four shirts I have that fit me right now. So yay! They look cuter on than in this picture. Much fancier than my usual flip flops.
Favorite Funnies:
TJ Maxx, I am looking at you….
My life struggle….
Linking up with Amanda. I hope you all have a great weekend!!!