Have you heard or tried the Formula X polishes? I have seen them around before and have always been intrigued but never actually picked one up. Formula X has released a new system that is supposed to create a gel like manicure that lasts at least 10 days with no chipping. Ummm 10 days? Sign me up! I am lucky if I get through one day without chipping any other polish I have ever tried!!!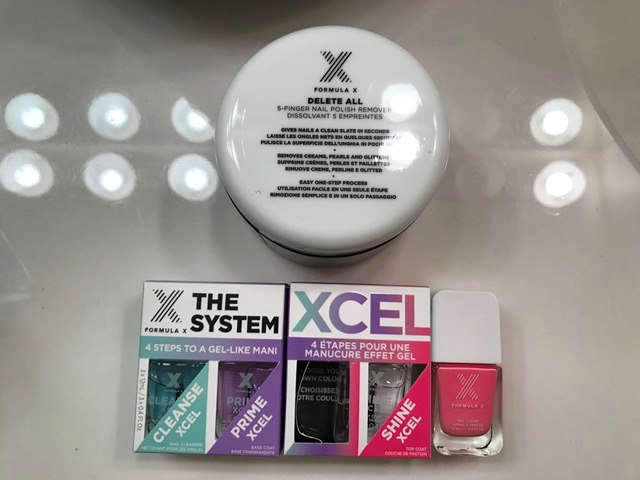 Enter The System Xcel. Now, systems sometimes annoy me because there are always several steps and I start to get impatient. But you know what, if it works I am totally fine with the time…you know? This system has four steps to it.
Cleanse
Prime
Paint
Shine
Simple enough, right? What is even better? When you purchase the set you get to chose the exact color you want!!! There are so many to chose from!!! The idea is that the system should extend the wear of any Formula X nail polish for up to 10 days of flawless color.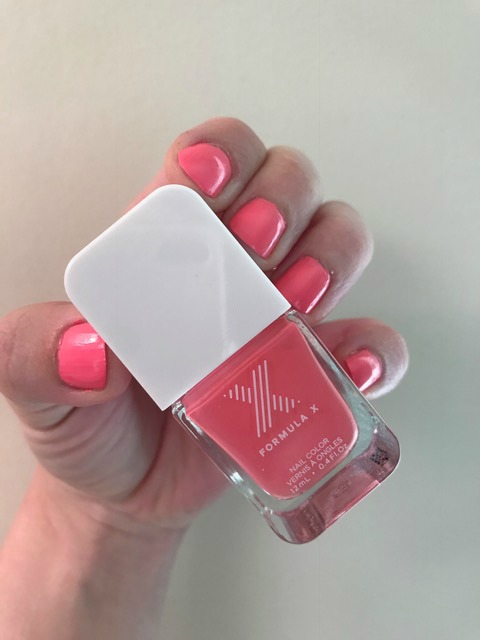 I received the color TGIF which is a gorgeous coral pink color. Perfect for spring and summer! I went through the entire system, doing two coats of color to ensure there were no streaks. I actually really liked the formula of the color and would certainly purchase more! I liked how easy it went on and you can tell it is a higher quality. As far as how long this lasted for me? Well, I was going on about a week before I painted a room and got paint on my nails. Whomp whomp. I had to take it all off after that, but it was looking good until that point! It definitely lasted longer than any other polish/system I have tried. I will say that! Plus you are getting four products at the price point, so I think that is a good value.
Side Note: Did you know that Formula X polishes are 3 free? I very much care about that right now being pregnant and feel better knowing I am not putting all those chemicals on my nails!!! They are also cruelty-free.
I also received the Delete All – 5 Finger Nail Polish Remover. This was very intriguing to me because I hate to remove polish and with this? You literally just stick your fingers in to it and its magic and the polish comes right off! I hated messing with the pads and the remover and spilling things and cotton pieces getting torn and stuck to me and ugh what a mess! This makes things so much better!!!
Have you tried this system or Formula X? I would recommend them if you are looking for a higher end option that is 3-free, cruelty free and works.
**I received these products from Influenster in exchange for my honest review. All opinions are of my own.**