Favorite Song: Kid Cudi Erase Me – I just love this song 🙂

Favorite Moments:
–Tuesday I got to hear baby girl's heart beat just beating away at my doctor appointment. And I had my first appointment in a long time where I wasn't drained of blood and pricked with needles, so that was exciting! She told me not to get too excited though because my next appointment in two weeks involves a flu shot. Ugh! I have never had one in my life but since I am having a baby in the middle of flu season who will have zero immunizes I will take one for the team. Needles are the least of my worries these days I suppose.
–Wednesday night Laura, Morgan and I met up at Skycastle for a girls night! We shared a delicious appetizer and I ordered a burger because….do you know me at all?? The food was wonderful and the company was even better. A girls night is good for the soul!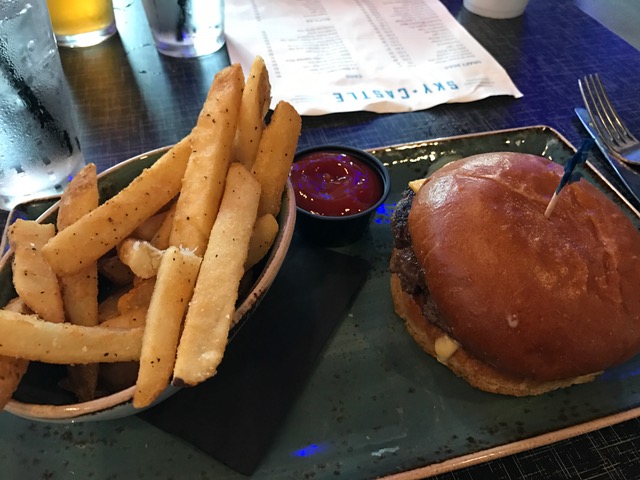 –This guy and his need to sit in a tray like a cat.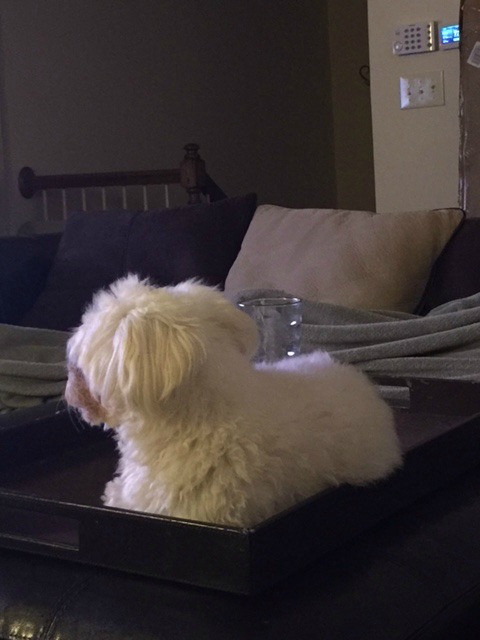 I said to him, "Mac you look ridiculous watching TV in the ottoman tray!!!" This is the look he turned around to give me….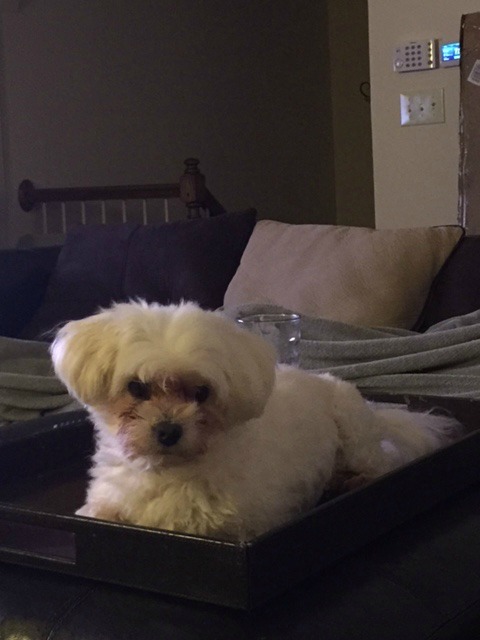 Favorite Recipe:How delicious does this pineapple fried rice look??? Great for a meatless Monday and get your protein with the eggs and cashews.
Favorite Beauty Purchases: This pregnancy skin business is a tricky one you guys. One moment my skin is oily AF and the next minute it is dry and no matter what it is always broken out everywhere. The only pregnancy glow I am getting is from all the sweating in this 90+ degree weather as I waddle around in my maternity dresses with an extra 20 pounds up front. Woof. I had to do something for my skin. My face literally hurt. Because I am trying to stay as natural as I can and avoid bad for baby chemicals and stuff…I decided to turn to Caudalie. Since I can't drink wine, the least I can do is spread it around on my face right? (It's not actual wine, ok.)
I picked up the Caudalie Vinosource Moisturizing Sorbet. I really like how soft this makes my skin feel! It gives me enough moisturizer, but it still sinks in to my skin and just leaves everything so soft! Plus, it smells wonderful! And who doesn't love pretty pink packaging?
I also picked up the Caudalie Grape Water. For the price, you get a lot and I really like how it is working for my skin too! I am using it as a toner in between my face wash and moisturizer.
I have changed my skin care up a couple of times during this pregnancy and I am hope this is the last change until after she is here. I feel like these products are working together with my face wash and spot treatment for the better now though and I am happy. At least my face doesn't hurt anymore and it feels soft again!
Favorite Gadget:Chris picked up a rose gold 128gb iPhone 7 Plus for me on Wednesday!!! How sweet is he??? He even brought it to my office for me and  helped me get the phone set up going. He really is the best 🙂 I am loving the new phone!!! Everything seems so fast, I like the feel of the new home button, and I am excited to play with the new camera.
Favorite Links:
–Go ahead and add these to the TBR! New book releases for Fall 2016.
–The 67 coolest iOS features you didn't know about. This was seriously a big update change!!!
–Lindsay always has inspiring posts at the right time. This one is a reminder to celebrate the every day things!
–And in a world where all the news is negative these days, Jenn managed to find some happy stories to share! If you only have time to read one, please make it the dog and the duck!!!
Favorite Funnies: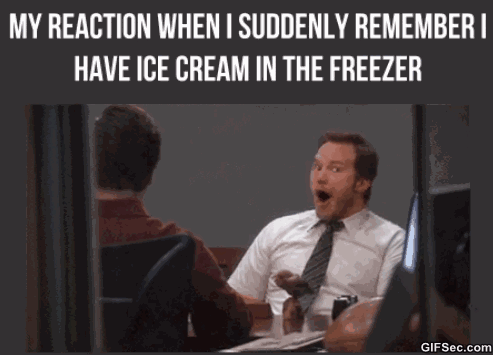 How I am going to feel when it is no longer seasonally appropriate to wear all these flowy dresses…
When guys don't understand the pregnancy struggle…
Me trying to get up these days…
I hope you all have a fabulous weekend!!!
Linking up with Amanda.