This month's beauty box had all kinds of fun goodies and was appropriately named Day at the Beach!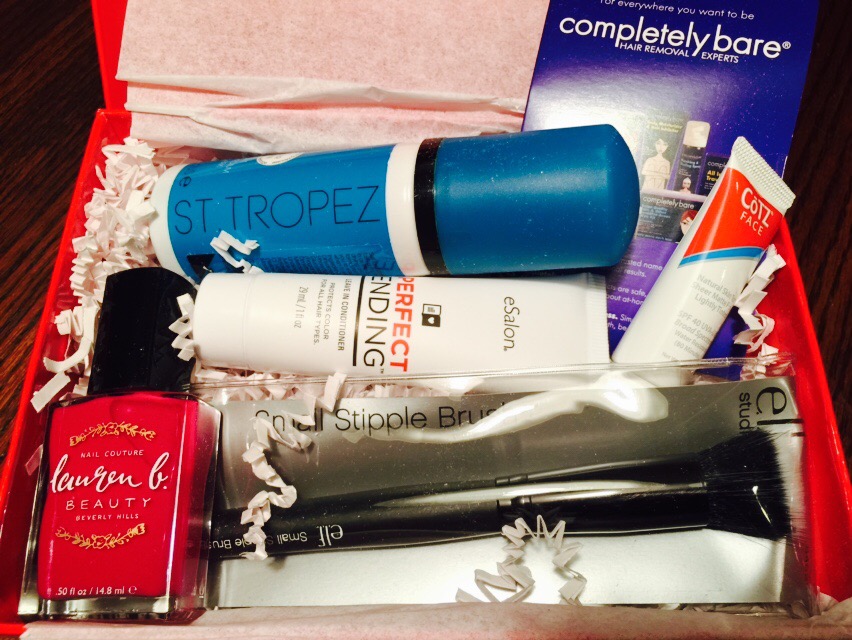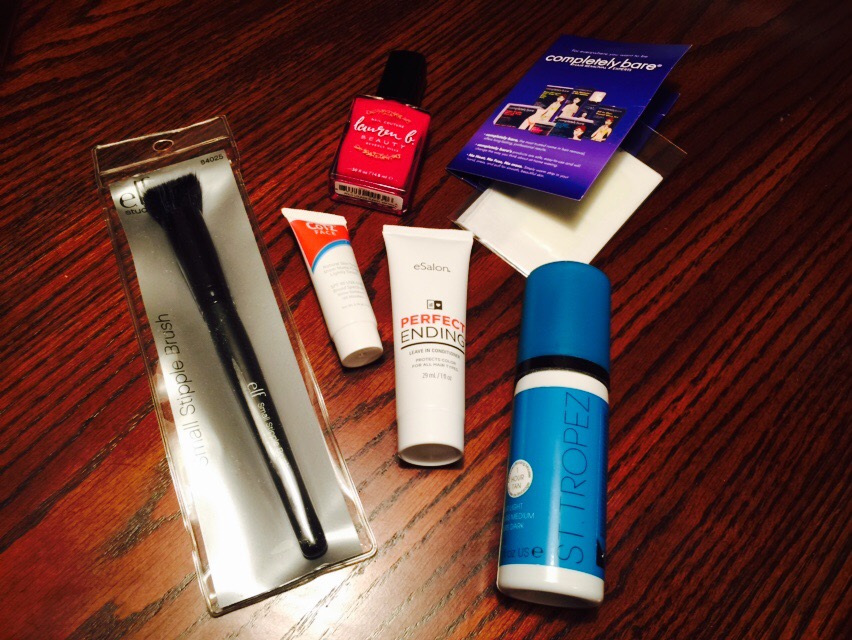 What's the Deal: For $15 a month, Allure sends you 5 deluxe size beauty samples, a mini magazine about the samples and a $10 off your $50 purchase on beautybar.com. I figured that was a decent deal for 5 deluxe samples!  I pay for this on my own, and all opinions are my own. This is not a sponsored post, a girl just likes to talk beauty sometimes, ok?! You can see the box from last month here.
I didn't have time to take individual pictures up close this month, but you can see above that everything was a decent size.
St. Tropez Self Tan Express (full size $44)
This tanner allows you to customize the depth of your tan by rinsing off after an hour, two or three. To be honest, I haven't used this yet because I don't really have time to apply this shit and wait an hour to shower. During the week I shower right after my work out and then have to get ready for work, and on the weekends I clean the house and cut the grass before showering and ummm I need to shower after those activities and putting tanner on then isn't smart. I hope to try this maybe one Sunday when I don't have plans, but that hasn't happened this month.
eSALON Perfect Ending Leave in Conditioner (full size $19.95)
This is a leave-in conditioner for color-treated hair. It restores the shine and moisture, making hair smooth and detangles.
My thoughts: With my thin, tangly hair…this stuff was perfect! I just put a little bit in my hands after my shower and ran it through the ends, then started combing through the ends and working my way up. The tangles were so easy to navigate and this stuff left my hair feeling soft and hydrated. Oh, it smells good too!
E.L.F. Studio Small Stipple Brush ($3)
This brush is great for liquid and cream application of foundation, blush and bronzers.
My thoughts: I love E.L.F. so much that I actually already had this brush. But I never complain on having more! Can you have too many brushes? Surely not.
Lauren B Beauty Nail Couture in Polo Lounge Punch ($18)
This polish is a deep pink with a wet looking finish. The formula is free of DBP, toluene and formaldehyde.
My thoughts: I am like an addict with nail polish. Another thing you can never have too much of, for sure! This color is super pretty and great for any season. This was a streak free finish after two coats.
Completely Bare Wax Strips for Face, Bikini, Body ($12.99)
These are prewaxed hair-removal strips that remove hair when warmed with your hands. These are thin and small and would be easy to control in any area.
My thoughts: I am not a fan of wax strips and stuff, I basically shave everything from the waste down and do just fine so I wont be using these and can't really give a review.
Cotz Face Sunscreen SPF 40 in Natural Skin Tone (full size 19.99)
This is a water resistant sunscreen with a sheer tint that provides long lasting sun protection while minimizing shine. The formula reminds me of a make up primer, which I love. The color is sheer and perfect, would be great for days you don't want to do any make up at all, either.
My thoughts: I have heard great things about Cotz from several bloggers so I was really excited to receive this. They also made the best sunscreen list, which is always reassuring. I really love this, and can you get more serious than SPF 40 as your daily face protection? This will be a repurchase for sure! Sunscreen is so important, I don't want to look like a leather handbag.
Overall:
I was really happy with the size of everything this month. Even though I am less than thrilled with the waxing stuff, everything else I was excited about! And if you think about it, that full size polish that I received is worth more than I pay for this subscription alone, so it was totally worth it! What is your favorite subscription box? Have you considered this one before?