I read some really great books this month! Joining the book challenge and the book club has me really focused. If you click the title of the book, it will take you to Goodreads where you can add the book to your list and see what it is about.
Now as I do my happy dance because I love discussing books…
Words cannot describe my love for this book. And trust me, I was super skeptical when I read about what this book was about. I even saw others write about how the math and science talk was a little  hard to get through but they still loved it and I thought…no….there is no way this is for me. But Kristen recommended the audio book to me and I trust her tastes dearly. I became obsessed with the story. So much so that I made Laura start listening to it, and I even told two of my co-workers that they had to listen to it too. This is hands down the best book I have read this  year.
The first line will hook you right in.
Bottom Line – Listen to this immediately!
Sometimes I wonder if there is any humanity left in this world, and then I read a book like Rescue Road.  I love dogs and want to save them all. Talk about pulling at my heart strings. This book follows a man who drives a rescue trailer from Ohio, down south to gather dogs from shelters and rescues and brings them back up north to be adopted. You get to hear about his story, along with three rescue groups who are doing amazing things. You wouldn't believe the amount of people who touch the life of a dog before they find their forever home. All the nameless angels. It really is amazing.
My favorite quote from this book is "As the miles melt away so do a lifetime of bad memories" – Greg Mahle
Bottom Line – I cried, I smiled, and then I cried some more. If you are an animal lover in the least bit, this book is for you.
I  received a copy of this book from NetGalley in exchange for an honest review.
This is the book club book. It was an easy, but enjoyable YA read. I loved the story line and most of the characters. I also loved that the characters in this book grow as time goes on.  I felt like Sydney's guilt and loneliness were well executed throughout this book.
Some of the things that I didn't like? I felt like there were several plot lines that didn't really go anywhere or were abandoned.  The Mariposa girl that was flirting with Mac. The whole creepy thing with Ames could have been worked out more. I wanted more from the carrousel that is on the front cover of the book. And Sydney's obsession with David Ibarra. I was left wanting a little more, especially with the David plot line.
One of my favorite quotes in this book was "The future is one thing that could never be broken."
Bottom Line – This was a great read. Nothing mind blowing, but I am glad I got the chance to read it and would recommend it.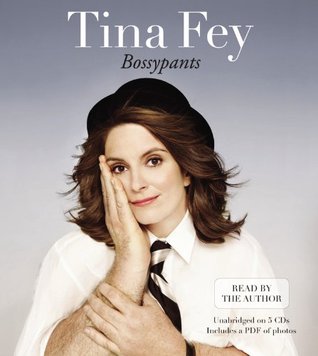 I did this one via audiobook.  Tina is hilarious and I really liked this book. The combination of sarcasm, humor, stories, and real life lessons was enjoyable.
Some of my favorite life lessons from the book include how improv is a lot like real life, how parents should want to instill the gift of fear and anxiety in their children for discipline purposes, to wear what the fashion designers are wearing…not what they tell you to wear. And for woman in the work place, if someone is giving you a hard time, ask yourself "Is this person in between me and what I want to do? If not, ignore them."
Bottom Line – If you like Tina Fey, SNL, or memoirs in general, then this book is for you! I recommend audiobook for books like this, but to each their own.
To be honest, I had no clue what this book was going to be about. I remember seeing a few bloggers reviewing it and they always rated it really high, so I figured why not?! Basically, this book is just as the title says, it is snippets of AJ Fikry's life. Fikry owns a bookstore and he is a bit of an eccentric guy who is living a depressing life after loosing his wife. One day his life changes when something is left behind for him. Now he has the will to want to be happy.
Favorite quotes and take aways from this book would be:
You learn everything about a person with the question – what is your favorite book?
Most people's problems would be solved if they would only give more things a chance.
Things we respond to at twenty are not necessarily the things we respond to at forty and vice versa.
Bottom Line – Absolutely read this book! I loved it!
Other books I read which I reviewed separately:
I am currently reading The Closer You Come by Gina Showalter and will have a review for it up soon. Have you read any good books lately? What are you reading now?