First, let me enlighten you on what Bittersweet is about…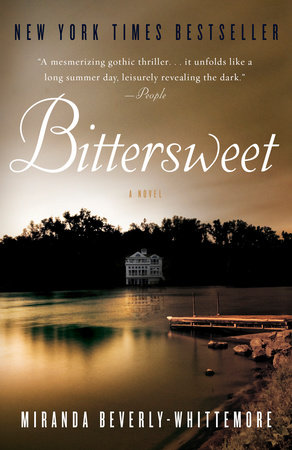 From Penguin Random House:
Suspenseful and cinematic, Bittersweet exposes the gothic underbelly of an idyllic world of privilege and an outsider's hunger to belong.
   On scholarship at a prestigious East Coast college, ordinary Mabel Dagmar is surprised to befriend her roommate, the beautiful, wild, blue-blooded Genevra Winslow. Ev invites Mabel to spend the summer at Bittersweet, her cottage on the Vermont estate where her family has been holding court for more than a century; it's the kind of place where children twirl sparklers across the lawn during cocktail hour. Mabel falls in love with midnight skinny-dipping, the wet dog smell that lingers near the yachts, and the moneyed laughter that carries across the still lake while fireworks burst overhead. Before she knows it, she has everything she's ever wanted:  friendship, a boyfriend, access to wealth, and, most of all, for the first time in her life, the sense that she belongs.
   But as Mabel becomes an insider, a terrible discovery leads to shocking violence and reveals what the Winslows may have done to keep their power intact – and what they might do to anyone who threatens them. Mabel must choose: either expose the ugliness surrounding her and face expulsion from paradise, or keep the family's dark secrets and make Ev's world her own.
My Thoughts:
Bittersweet was an interesting read. This has to be one of the first books that I read that I didn't really care for the main character the whole way through. Mable Dagmar is your classic poor girl taken under the wing of her rich roommate (Ev) for a summer at Winloch. Winloch is the lake cottages that Genevra's (Ev) family owns. Each cabin is named after a plant, Bittersweet belonging to Ev.
The author really provides a lot of details about everything, some of which could probably be left out to cut down on the books 381 pages. Each of the character's names is different, a feeling of another era or the old money that comes with the Winslow family. Athol, Galloway, Lu, Tilde, Birch, Indo, etc. I did enjoy that the names were different.
But let's get back to Mabel, shall we? I didn't realize it until I was about half way though the book, but this girl is selfish. Everything that happens in the book, she always wonders how it affects  her. What about the people it is happening to? Let me see if I can give some examples without giving away too much. In the beginning, Mabel wonders how the house inspection will go and whether or not she will get to stay at Winloch or have to go to her aunt's for the summer. Innocent enough. But then, Ev has a certain condition, Mabel instantly gets upset about what will happen to her now.  She worries about how others' troubles will change things for her. There was even a line about how the tree tops rubbed against each other making a creepy sound as if they were telling secrets…ABOUT HER. Maybe it is just her being a teenager.
There are so many twists and turns in the book and you learn lots of Winslow family politics. So many secrets, lies, betrayals. So this isn't a light, fluffy book. I liked the change up from my norm. It was really quite an interesting read. The theme of the book would be dangerous desire.
Bottom Line: I enjoyed reading this book. I was looking for something that I might not normally grab for, and this delivered. With all the twists and turns in the book, it kept me interested the entire way through. Though the main character wasn't always likeable for me, I certainly empathized with her and enjoyed how the book ended.
You can read about the author, Miranda Beverly-Whittemore here.
I received Bittersweet from Blogging for Books in exchange for my review. All my opinions are of my own.