I am not going to lie, I absolutely judge a book by it's cover. When I saw the Apartment Therapy Complete and Happy Home cover I thought….I want to live in that living room!!!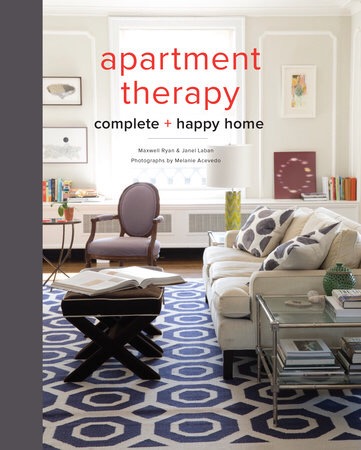 This book is full of beautiful home decor pictures that will inspire great ideas for your own home! The book is broken down in to three main parts: Setting Up Your Home, Living in Your Home and Maintaining Your Home.  It helps you chose the right type of house, and different styles of decor to fit your lifestyle and tastes. Don't let the title fool you though. This isn't so much about an apartment as it is a house. But the concepts can apply to both.
There are sections of the book that break down how to have a good flow through the home, what the appropriate type and size light fixture is for a bed side table, even framing unexpected pieces like sports equipment or functional items to create a differnent vibe and added storage space!
Not all of the design styles are my taste, but it provides great ideas to apply to things that I do like. It talks about what to do with small rooms to make them look larger, how to chose paint and floor finishes, etc. Plus, there is an outdoor section! Learn how to have a garden with minimum acerage, set up your deck to entertain  and maximize your small patio space.
One of my favorite sections of the book is in the back. There are useful guides with home repair tips and other great information. When you first purchase your home, you are just so excited and overwhelmed with the newness of it all that you're not quite thinking what it is going to take to maintain it!!! And the best part? There is a yearly guide broken down by months to keep you on track with keeping your house clean, healthy, and happy! Starting January 1, 2016, I plan on writing down each month's goals in my planner and see how the schedule works for me. I think I am going to love it!
You can read more about the author here and read more about the book here.
**I received this book from Blogging for Books but all opinions are honest and of my own. **