Most of you know by now that I am fairly health conscious through the week. Of course, my weekend shenanigans posts will tell a different story. Hello food porn! But in general, over the last few years I have been much more aware of the types of foods I am putting in my mouth, the cleaners that I use have less to no chemicals now and I have been slowly converting my rubbermaid containers to glass.
I believe that what you eat can dictate how you look and feel. The healthier I eat, the better my body feels. Simple enough. But did you also know that certain foods can help different areas of your body function better? When I read about The Longevity Kitchen, I instantly thought about Chris. He suffers from chronic back pain and inflammation. He also has to watch his blood pressure. I suffer from asthma, can have a crappy immune system at times and I have to keep my sweet tooth in check. We both have pretty bad allergies.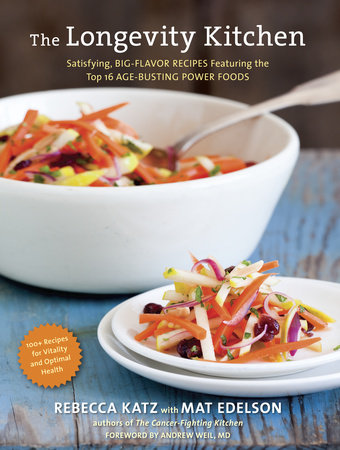 The Longevity Kitchen has 125 recipes using the top 16 foods proven to fight the most chronic conditions. There are menu plans that you can follow for your main concerns. I plan on incorporating these 16 power foods in our weekly rotations to see if there is going to be any improvements. I am really excited to try out some of these recipes. I have my eyes on:
Gluten-Free Blueberry Mini Muffins
Bento Box Soup
Minted Guacamole with Pomegranate Seeds
Yogurt Berry Brulee with Maple Almond Brittle
Insanely Good Chocolate Brownies (that have no added sugar and use almond flour!!!!)
There are also lots of recipes for different marinades, dressings, sauces and even directions for how to make your own almond flour!
What I really love about this book? It is more than just a cookbook. At the beginning, there are a few chapters talking about the science behind the foods we eat. It goes in to length about the main functions of our bodies and why certain foods are important. There is even a culinary pharmacy section that breaks down certain foods and tells you beneficial facts of each food. Like did you know that almonds are antioxidant, blood sugar regulators and help with heart health? Or that coconut milk/oil is an antibacterial, anti-inflammatory, antimicrobial and supports bone health.
Before the recipes start, there is a break down to tell you what pages to look for what ails you. Immune boosters, stress reducers, mind enhancers, blood sugar regulators, flexibility promoters, liver boosters, heart strengtheners, skin enrichers, and LDL cholesterol reducers.
If you have a certain condition that you would like to try to treat naturally, I would check this book out! Or even if you just want to make sure you are incorporating healthy foods in to your daily diet.
Read more about the author, Rebecca Katz here.
To see more information on this book, go here.
Add this book to your Goodreads list.
Have you considered changing your diet to help with any health problems you've been experiencing?
**I received this book from Blogging for Books but all opinions are honest and of my own. **