Friday – It seemed like the work day couldn't get more hectic. After work, Chris and I were trying to decide where we wanted to go. It started raining and I was exhausted from busting it all day that I asked if we could settle for Red Robin in Trussville. I just DID NOT feel like driving back downtown again! He was fine with that, so we headed on over and sat at the bar.
Our bar tender was awesome! She was super nice and laid back, and we sort of decided we want to be her friend but we cant be creepers so we might have to become regulars for a little while and feel it out. Ha! Anyways, we ordered some beer and a few appetizers to start the night off.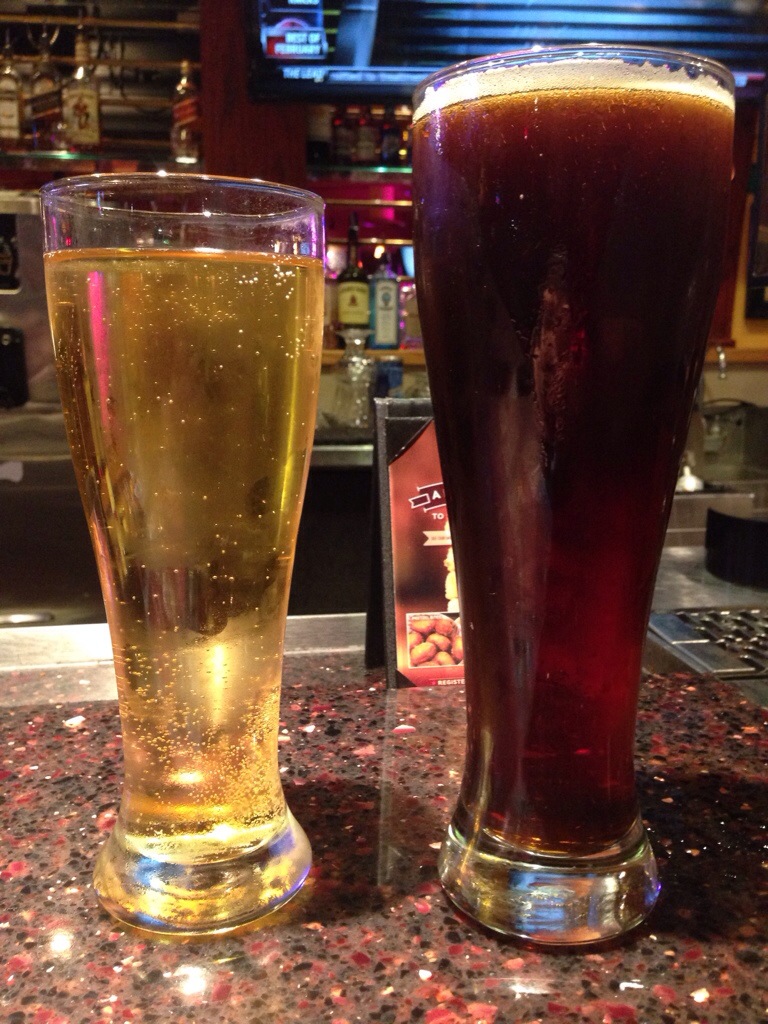 Angry Orchard and Old Black Bear (local brew from Gadsden)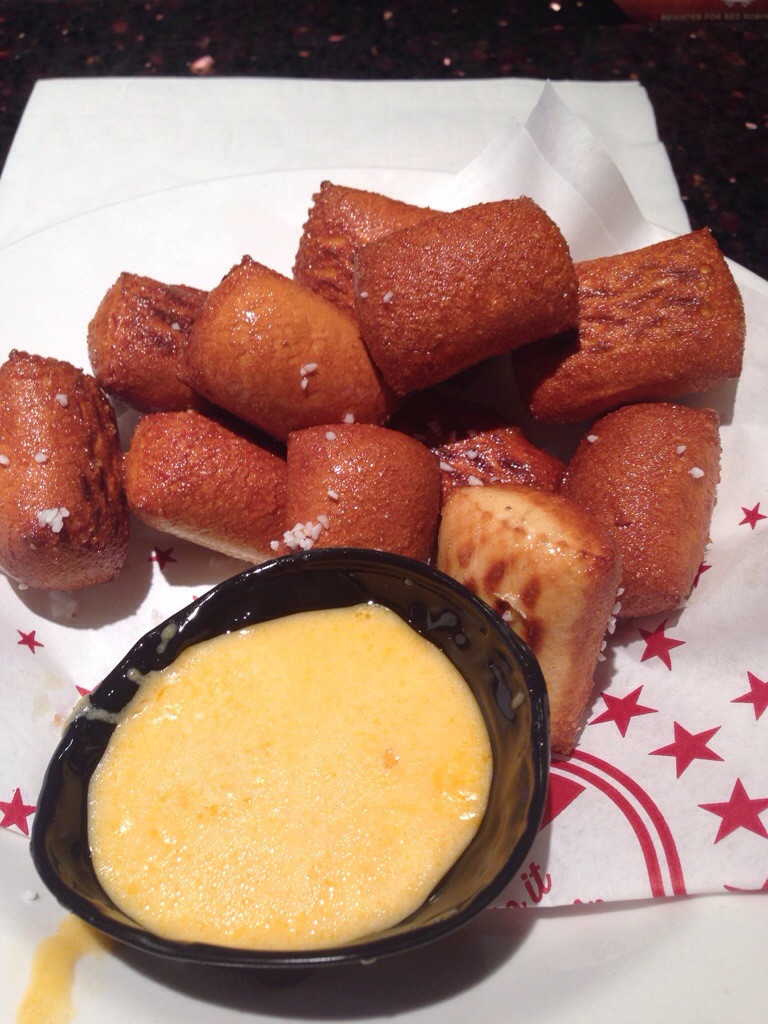 Pretzels and beer cheese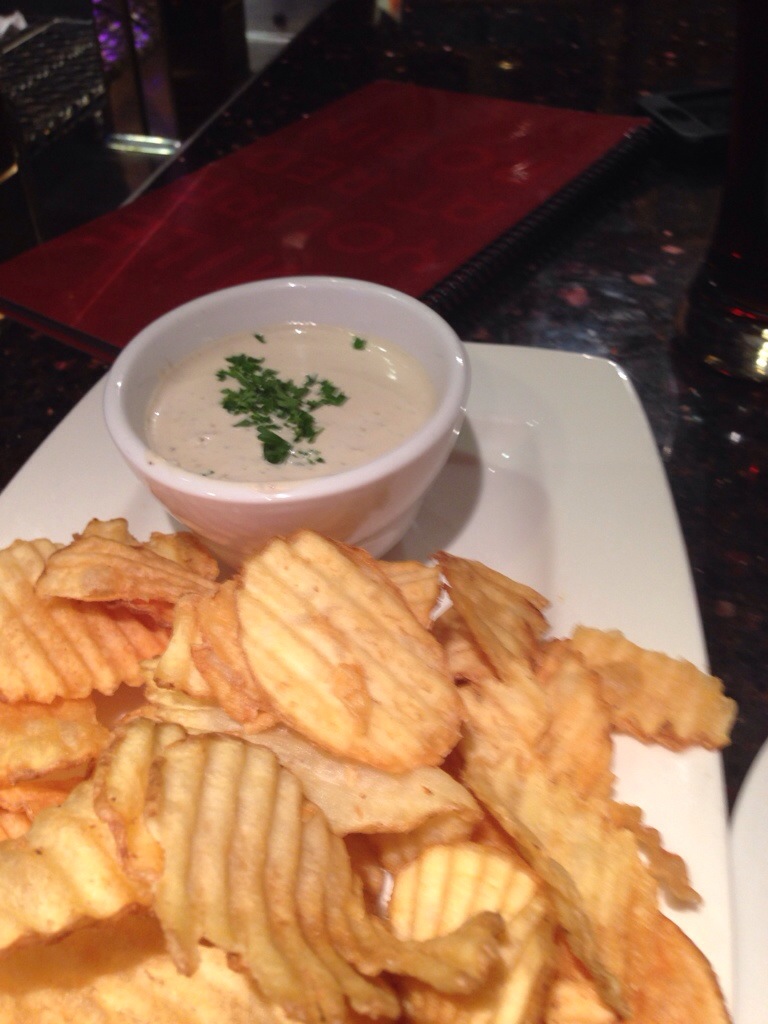 Homemade Chips and French Onion Dip
We snacked on that for awhile and just hung out, and then ordered some dinner. I usually get the Whiskey BBQ burger there, but blue cheese was speaking to me. I love the complexity that it adds to the flavor of a good burger. After we ate, we had hung around a bit longer and our bartender had to make some beer shakes for some people. There was extra left in the blender after she poured the glasses, and she asked us if we wanted to try some with her. HECK YES WE DO!!!!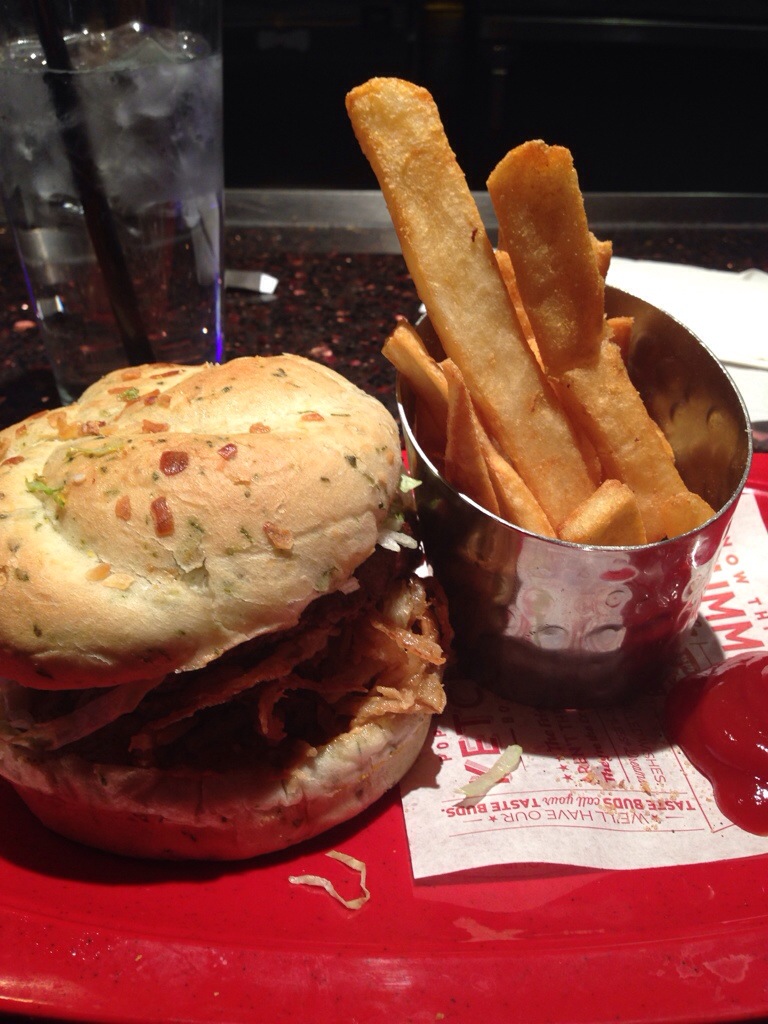 Blue Cheese Burger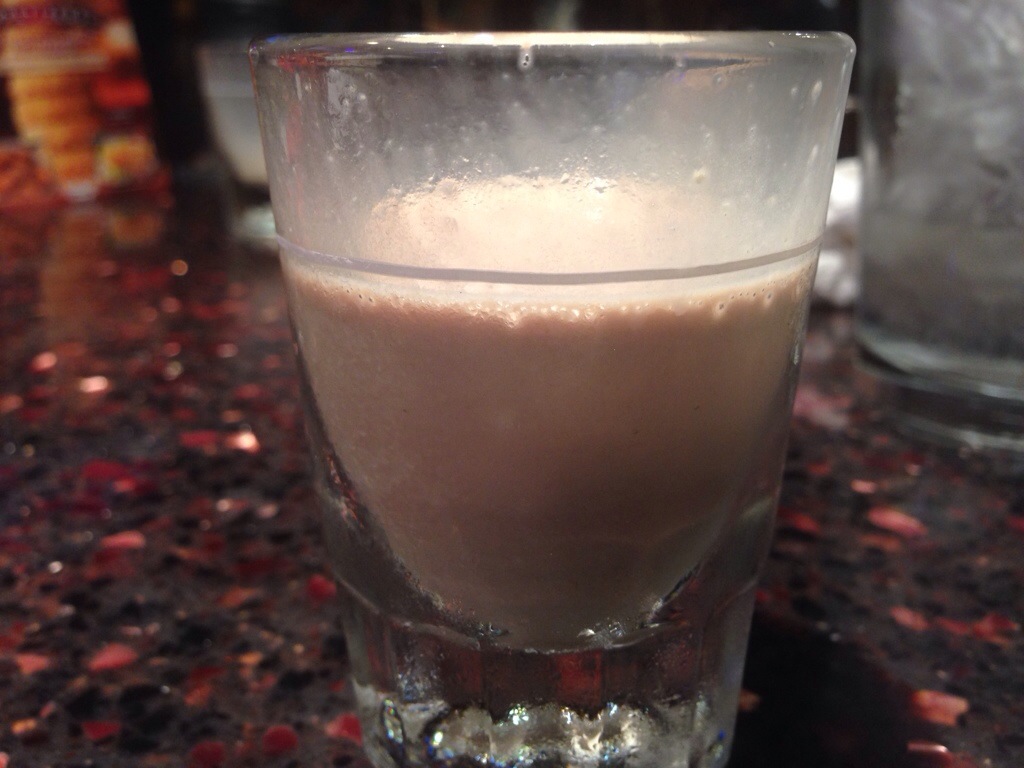 Beer Shake
Red Robin turned out to provide the perfect Friday evening for  us. When we came back home, Because I Said So was on LMN so we watched that. Chris fell asleep, and Georgia Rule came on. I watched that too. Damn you Lifetime!!! Always sucking me in to your movies!
Chris was also sweet enough to go to TJ Maxx with me before we went to dinner to see if they still had my shoes. You guys….BOTH pairs of Michael Kors shoes that I wanted were still there!!!!! It was meant to be! A TJ Maxx miracle! We also got Gracie a new dog bed and she was SOOOOO excited when she came back in to her room and saw it sitting there for her! She has been hamming it up inside that thing all weekend!
Saturday – Saturday morning we caught up on a few of our shows during breakfast. We got ready, and headed over to Chris's parents house. We decided we were going to spend the day with his dad. We went to eat at Baumhower's and shopped the Bargain Hunt in Hoover. I found three Scooby Dvd's and a Tom and Jerry DVD for Cooper for $1 each. I would say Bargain found!
After that, we headed back to his dad's house and just hung out for the rest of the evening chatting. Chris had stopped by our favorite place in Trussville to get beer, Raceway. Yes, the gas station. This particular one has about 25 craft beers on tap that you can purchase by the gallon. They also have the BEST selection of craft bottles and cans. I wasn't really wanting anything, but then I saw that they had the Redd's Strawberry Ale in individual pint cans for $1.79. Seriously?! Yes, please!!! I had been wanting to try this one for awhile, it did not disappoint. I think I found my new beach beer. It is light, refreshing and in a can which means it can go in the pool with me!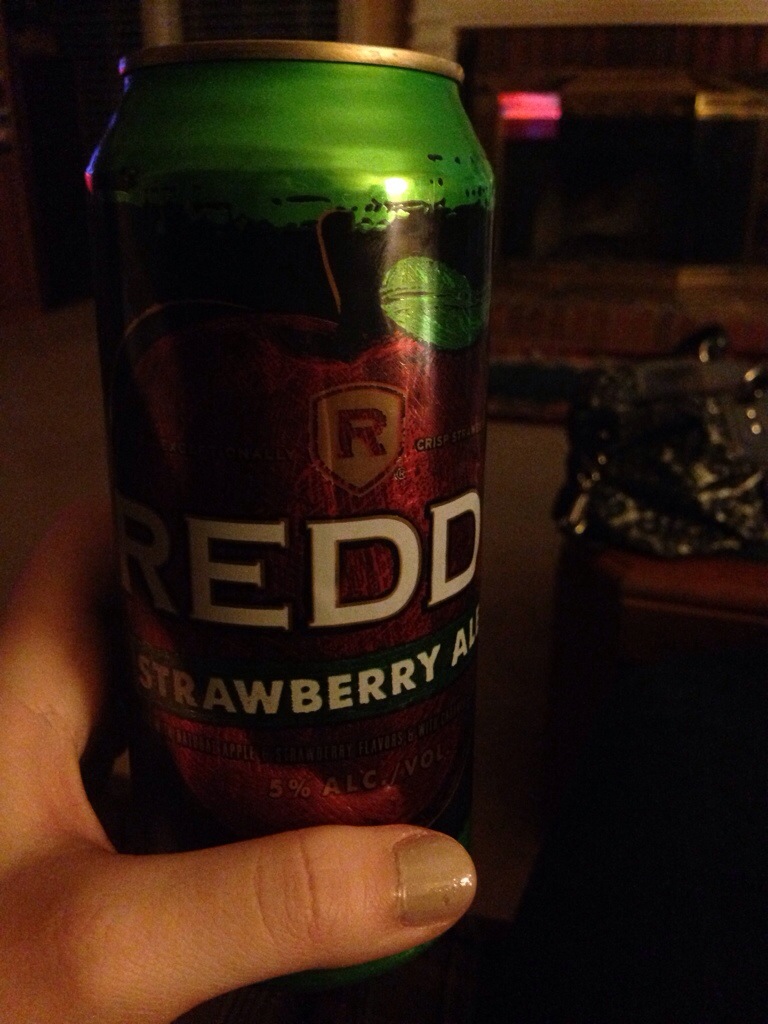 Sunday – I did our meal planning and grocery shopping early, then headed to my sister's house for Cooper's 4th Birthday party! It was dinosaur themed and they had a dinosaur egg hunt! It was so cute! She even hid a golden egg, and three little girls were on the search for it. One of them got it, then the other two started crying hysterically and screaming how they wanted the golden egg! I told my sister that next time she asks me when Chris and I are "going to stop popping out nieces and nephews for her to spoil" to remember that moment and she would have her answer. Haha!
Anyways, my sister is AMAZING at making cakes. She makes the most beautiful cakes! And the best themed cakes ever! Check out the volcano dinosaur cake and the cupcakes she did! Not only are they adorable, but they taste AMAZING!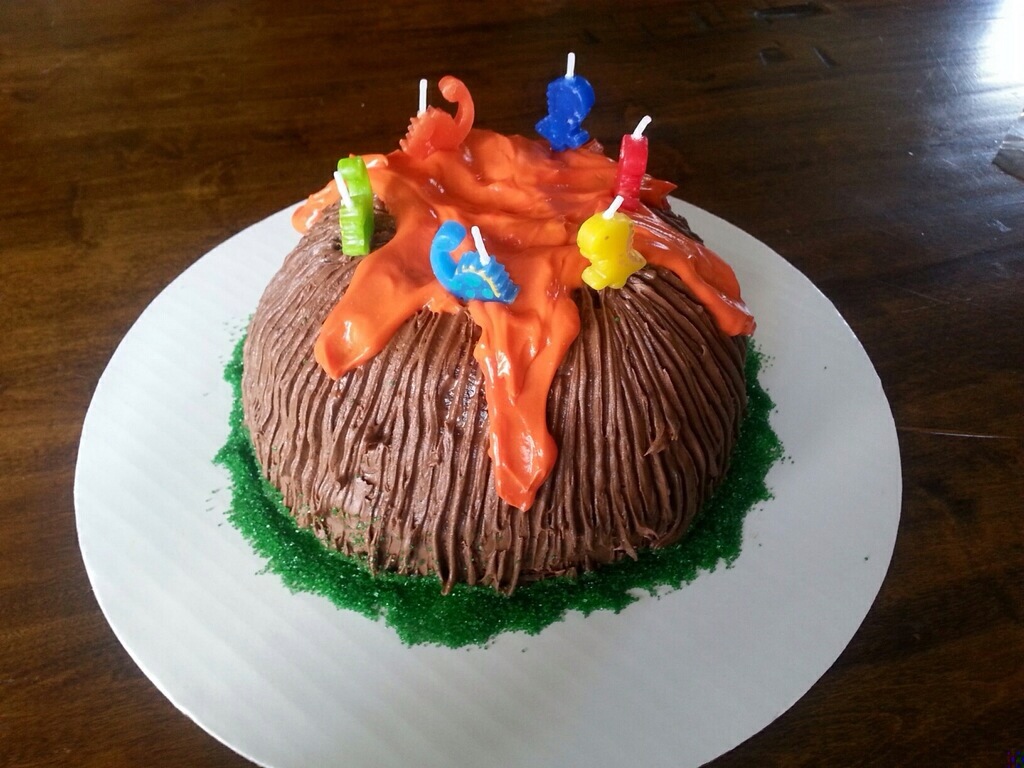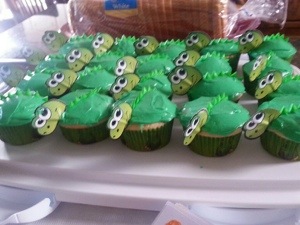 She also had the cutest place cards with fun foods on them!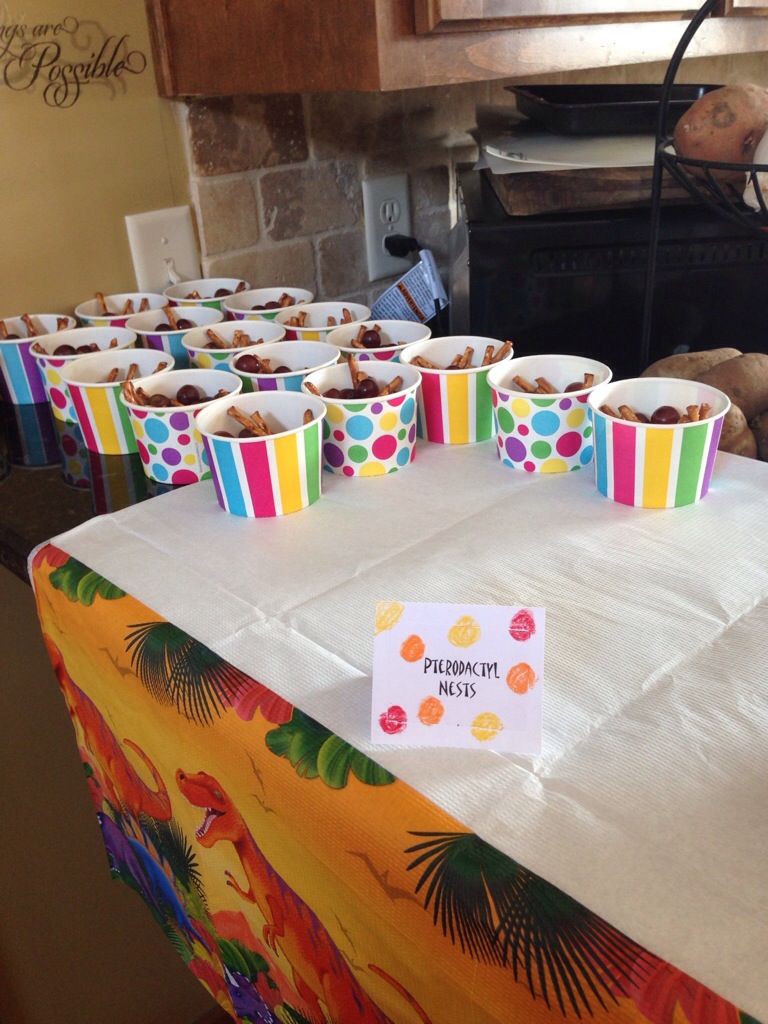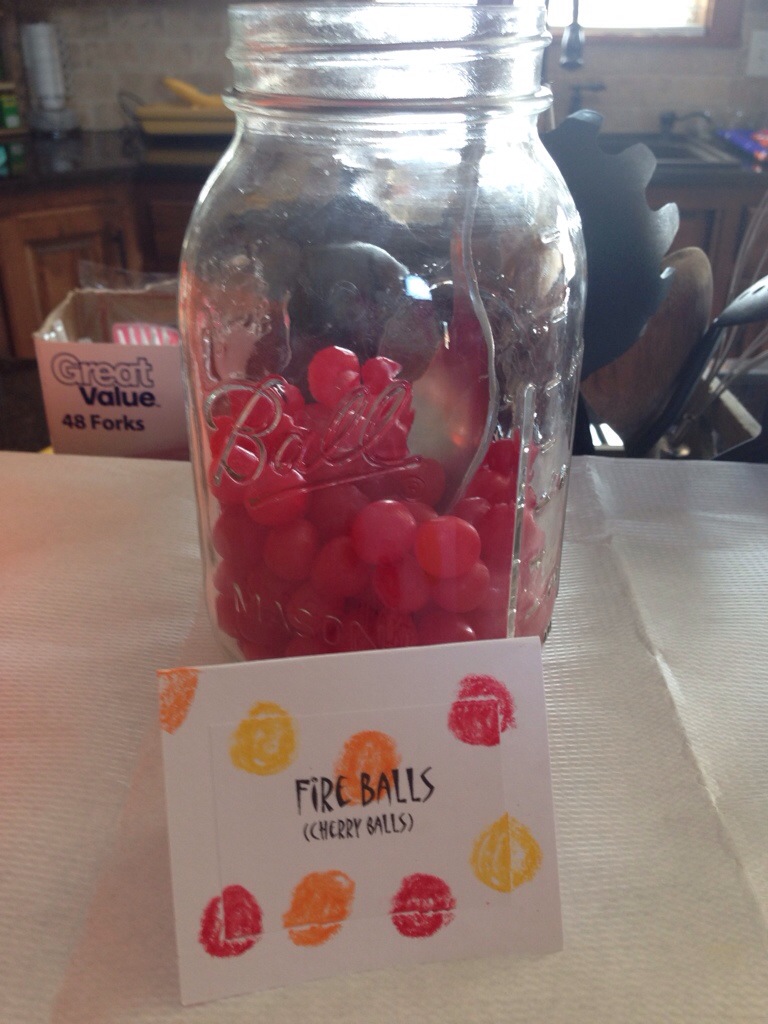 It was fun seeing everyone, and we will be back up there next weekend for Berkley's birthday! She will be eleven!!!!! Three kids all within a month of each other, I told her they are going to break me! Haha!
I also got a little crafty on Sunday. While I was grocery shopping at Target, I saw the cutest sparkly Easter eggs and I thought….hmmmm where can I make these work?! I re-purposed a basket that I wasn't using and am now using it as a center piece on our kitchen table! I love it!
Everyone needs glittery Easter eggs in their life. Just sayin'.
Hope everyone has a great week!