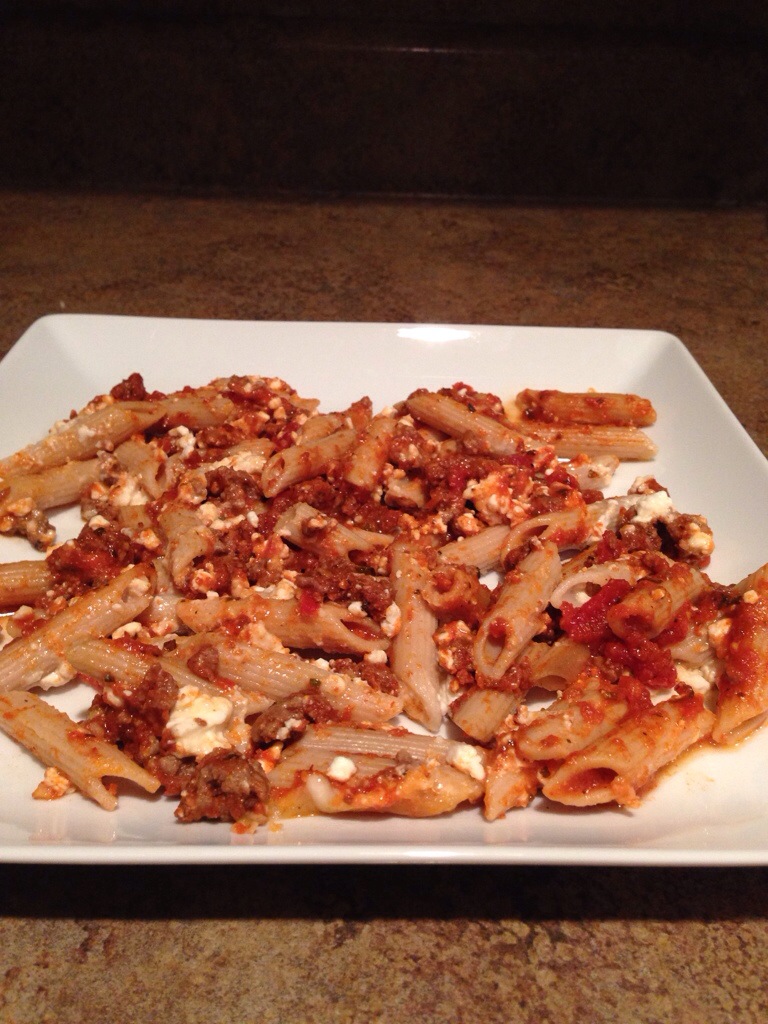 I love Italian food. I grew up eating a lot of it when I was younger. My mom is an amazing cook and would make homemade spaghetti, gnocci, ravioli, fresh breads, her own sauces, her own noodles. Just yum! Pasta might not be super friendly on the waste line though. That is very sad. I have tried taking a few of my favorite recipes and healthying them up the best that I could.
Chris asked for baked ziti last weekend, and it sounded so good! I used wheat noodles instead of white noodles, cottage cheese instead of ricotta and didn't have a "heavy hand" while adding the cheese on top. I think it turned out wonderful, and it allowed us to enjoy one of our favorites without completely killing our diet.
The picture above was the next day reheats, so I spread it out on a plate to help it reheat quicker, I promise it looks prettier than that! I ended up cooking the whole box of noodles so we would have left overs, you could only use half the box and cut the recipe in half. I would have made my own sauce, but I wanted something quick and easy. I have shared my sauce recipe before, you can find it here.
What you need:
1 box whole wheat noodles
1 lb extra lean ground beef (or turkey)
2 jars of your favorite tomato based sauce (or 1 large one if you choose something that comes in a value pack. You want the amount of sauce to serve the same amount as the box of noodles. 1 jar isnt enough for an entire box of noodles)
2 1/2 cups reduced fat cottage cheese (I used the entire container that I got. It is between 2 and 3 cups)
3 tablespoons grated Parmesan cheese
1 egg
Italian seasoning
Oregano
Parsley
Garlic Salt
1/2 cup Italian cheese blend or mozzarella cheese
What you do:
Preheat the oven to 350.
1.Cook your noodles according to box instructions.
2. Brown your ground beef/turkey.
3. Mix together cottage cheese, Parmesan cheese, the egg and sprinkle in some parsley for good measure
3. Spray a baking dish with olive oil spray or Pam  (at least a 9 x 13 if cooking full recipe)
4. Mix the jar sauces with some garlic salt, Italian seasoning, oregano and any other seasonings that you like to use with your sauce. The jar sauces never have enough flavor! Then add your ground beef/turkey to the sauce mix.
5. Layer your baking dish with sauce first, then 1/2 the noodles, then 1/2 cheese mixture, then more sauce, the rest of the noodles, the rest of the cheese, the rest of the sauce then sprinkle the Italian/mozzarella cheese on top.
6. Cover your baking dish with tin foil, and cook in oven for 30 minutes.
So easy. So delicious!
On another note, I have switched up my creamers for coffee lately. My go to all year is Coffe-mate Peppermint Mocha but I have been feeling all the different ones that have come out for Christmas, and the new ones that International Delight makes. Eggnog Latte is always a must around Christmas time, duh! But seriously, have you tried Hot for Cookie?! My goodness. It is heaven in a cup for sure. Go out and find some right now! Your welcome.