As I was driving in this morning, I was thinking about how we really only have about two weeks left before school traffic starts back up. That is insanity! It also makes me realize I need to get my life back together again so that I can make extra time for all the madness again. Also, when I dropped Zoe off at school this morning, she saw one of the older boys who used to be in her class walking in and so she looked at me and said, "No mommy. Walk." A little piece inside me died. She is such a big girl these days. So much so, I ordered her a toddler pillow…and…*gulp*…a potty. Cue the tears.
I kicked the weekend off Friday with lunch at Urban Cookhouse with my old Friday Lunch Club. It had been far too long and was wonderful seeing them again.
Friday evening, we stopped by Chris's parents house for a little bit. On the way home, we grabbed some Publix sushi and I stayed up late trying to get some cleaning done around the house after we got Zoe to bed.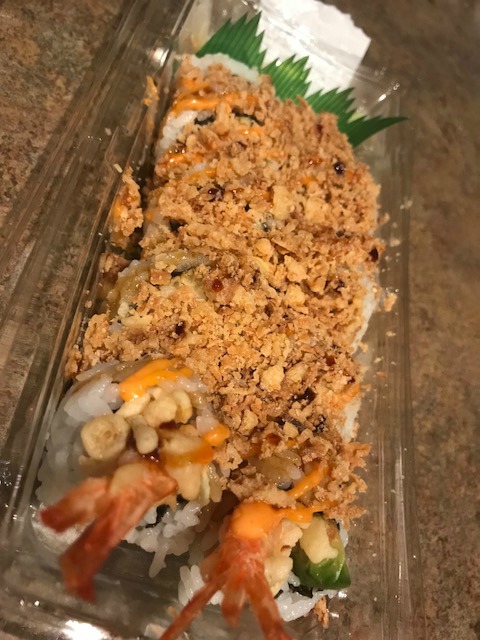 Saturday morning, Zoe and I hit up Target and Publix super early to get snacks and some play-doh for our fun day planned with Laura and her crew! She got to ride in the fun car cart at Publix and was loving every second of it.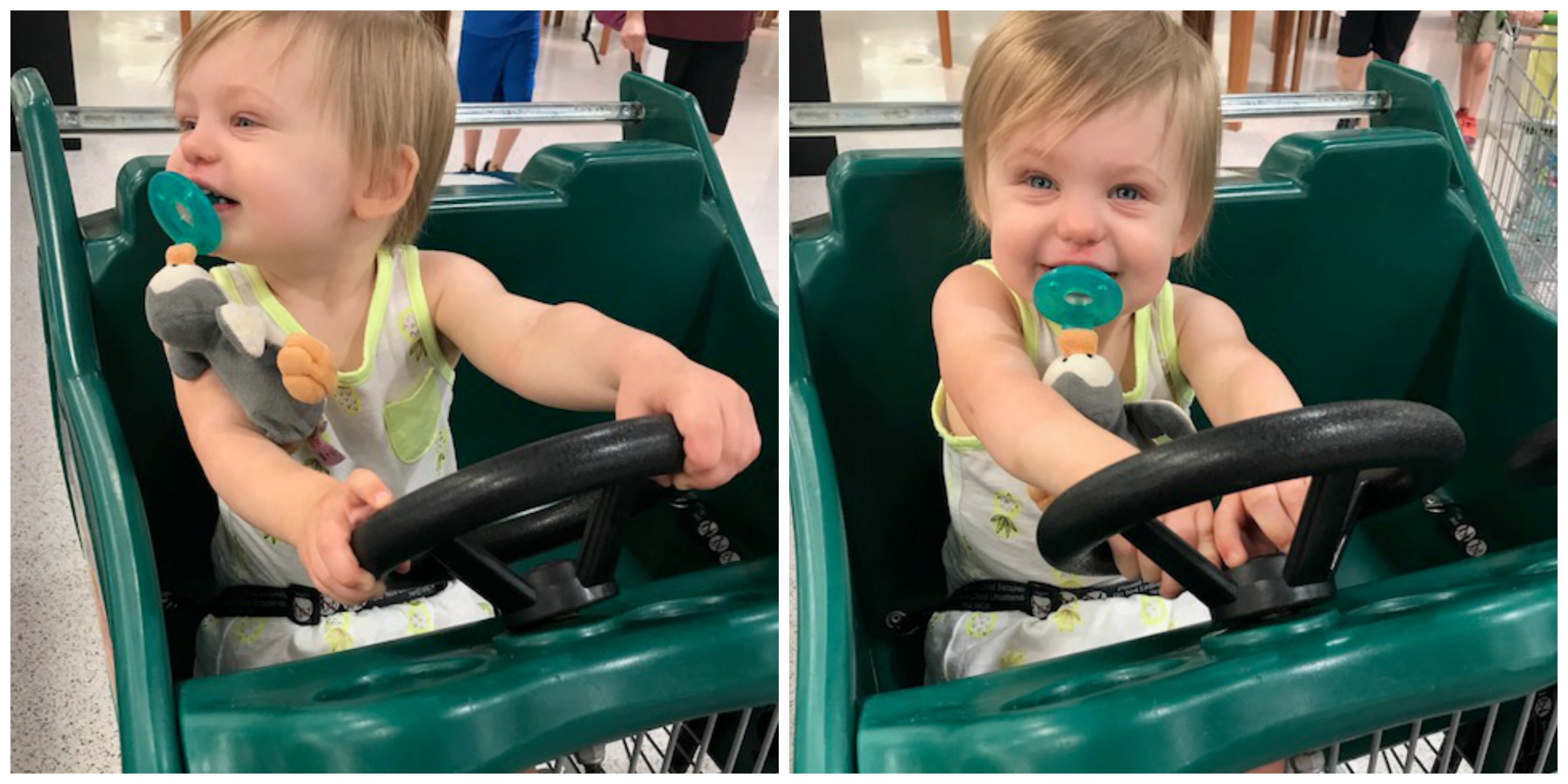 We also picked up a stuffed Bingo to go with her Rolly, who she has to carry around everywhere.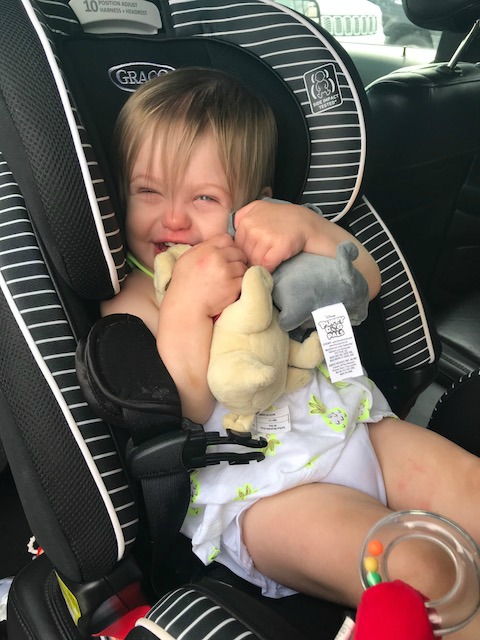 I just barely beat Laura back to my house. They were coming over to hang out and watch Tomorrowland with us. Which obviously needs to be an annual thing for them to come over now, because we had so much fun!!!! The kids played together so well! They went down for naps shortly after they got there, so Laura and I made some Frose and enjoyed some jams downstairs with the guys. My one glass may or may not had me feeling pretty damn buzzed.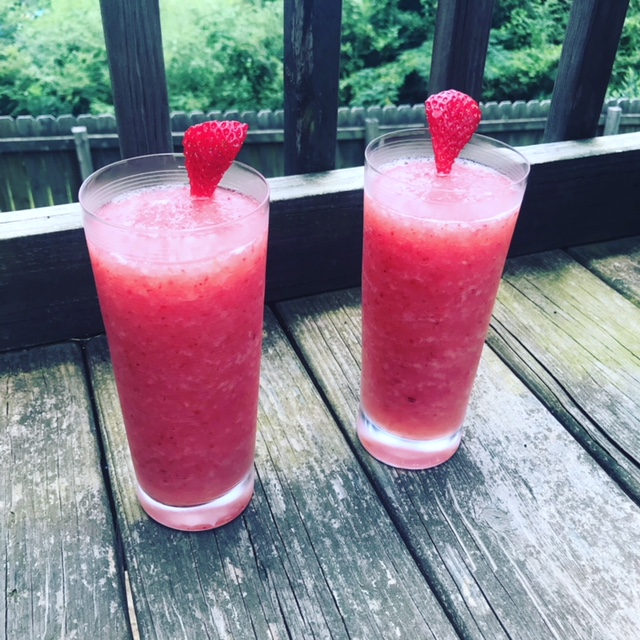 When the kids woke up, we got them a snack and brought them downstairs to dance it out. They loved it so much!!! Chris had it on our projector, and he had his old DJ lights set up. It was like we were right there at the festival!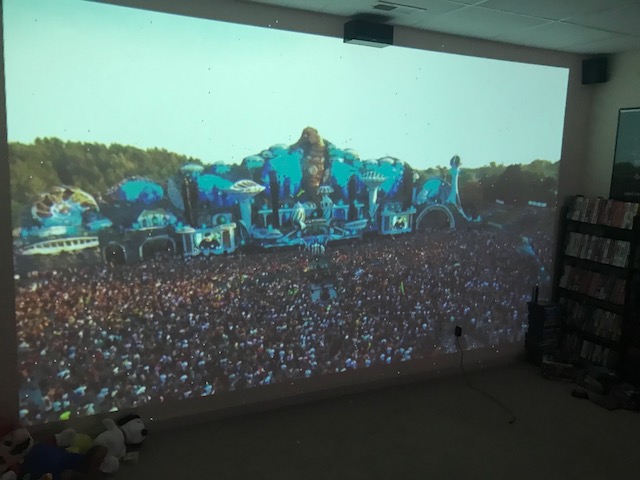 Laura and I decided that we worked up enough of a sweat dancing around with the kiddos, and headed upstairs to let them watch Boss Baby. Look at these two!!! Poor Sheffy. He just wanted to watch the movie….and Zoe kept trying to talk and bother him. Just like how Laura and I are with Chris and B. Then she gave up and put her head on his shoulder. We are saving these pictures for them to look back on when they are married. Because that is obviously going to happen.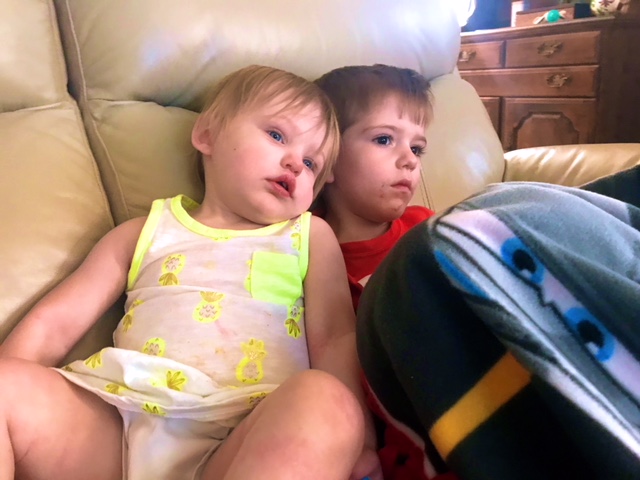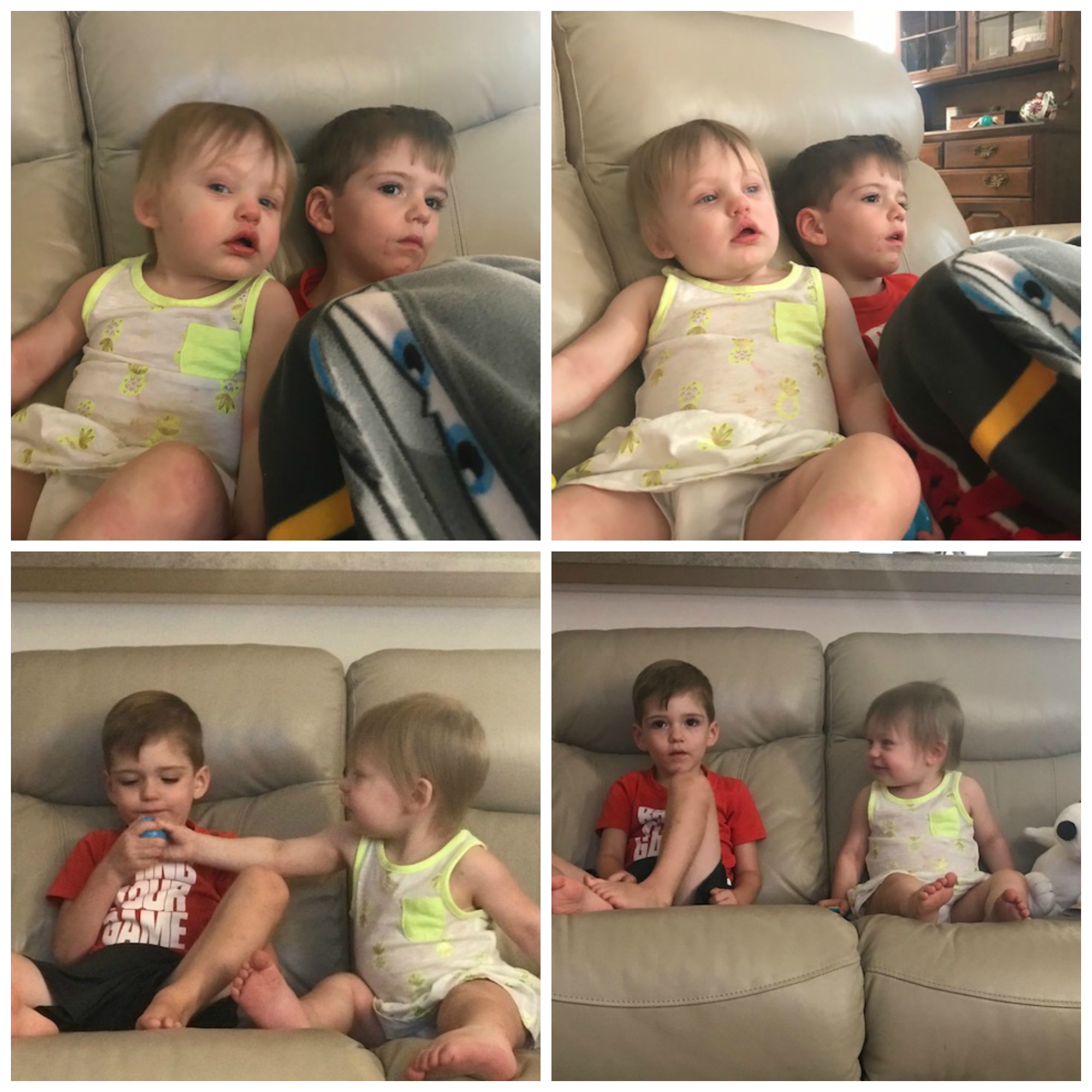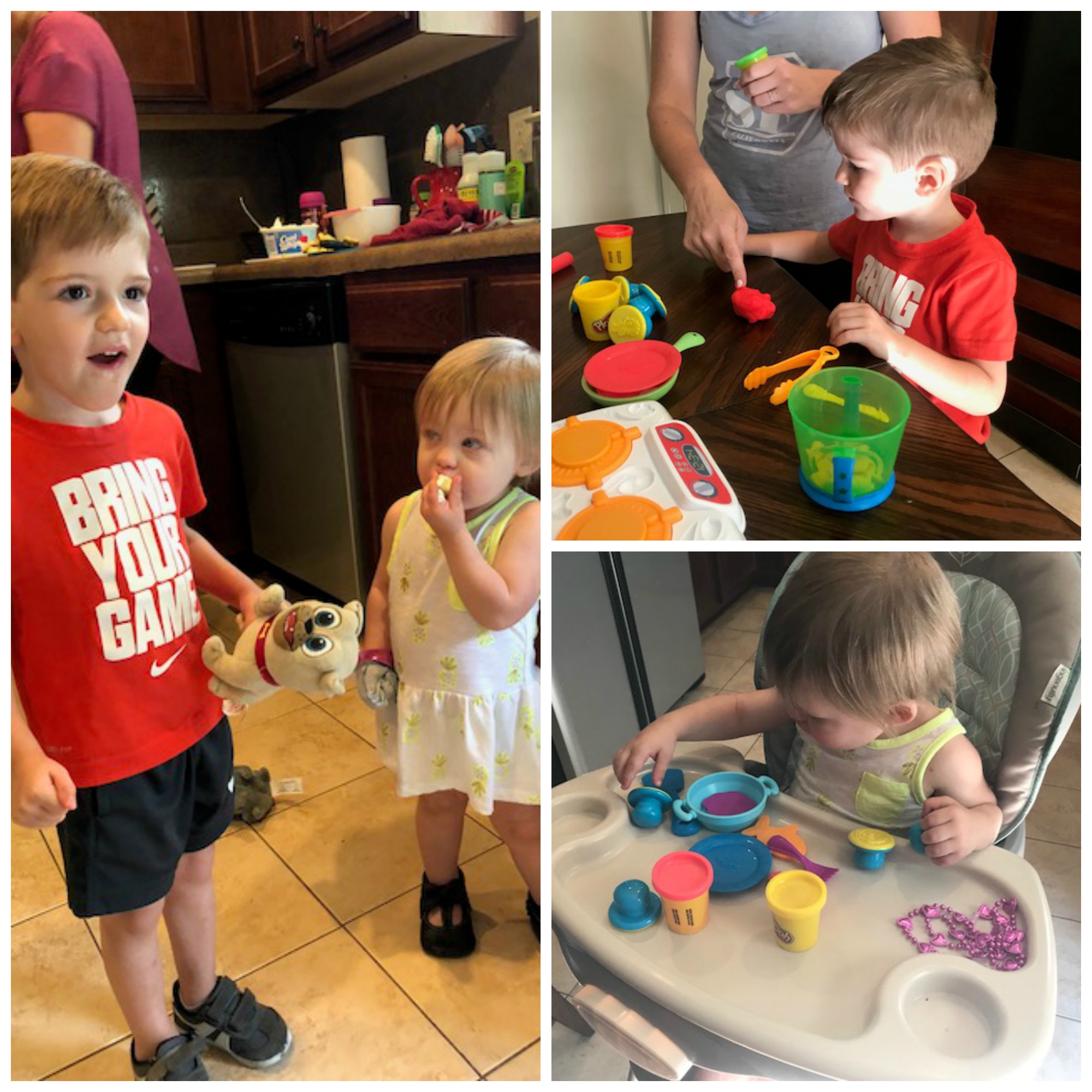 We had such a great time! We even got to introduce them to our favorite local BBQ place! And then proceeded to snack on that BBQ the rest of the weekend because someone ordered way too much!
Sunday morning, my sister came over with one of my nephews and we all went grocery shopping together. It was nice having her at Target with me so that Zoe had some entertainment and I could get everything we needed without making her sit back down in the cart and threatening her life every five seconds. Seriously, why do kids have to do that???? Zoe was on a mission in the toy section to collect as many balls as she could. Somehow I managed to escape only having to purchase the one.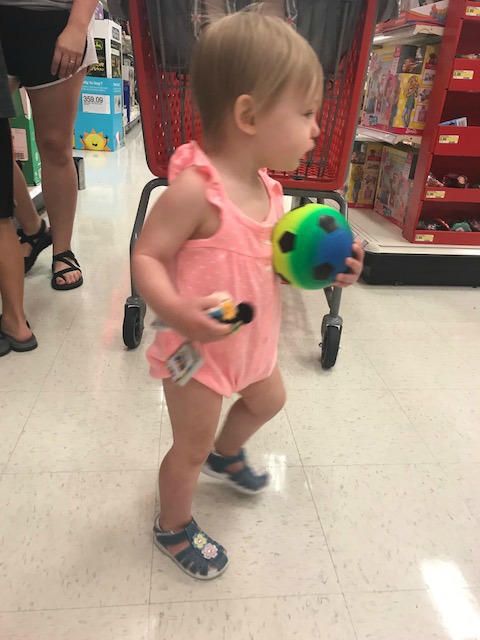 We stopped and got Zoe some new shoes while we were out too. First pair of Nikes! Baby Nikes are the cutest thing ever.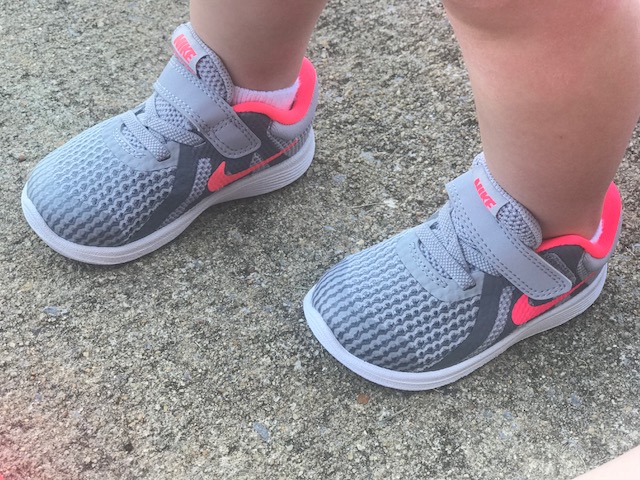 Tracy brought Zoe a Puppy Dog Pals book with all the characters from the show, and she had so much fun playing with them!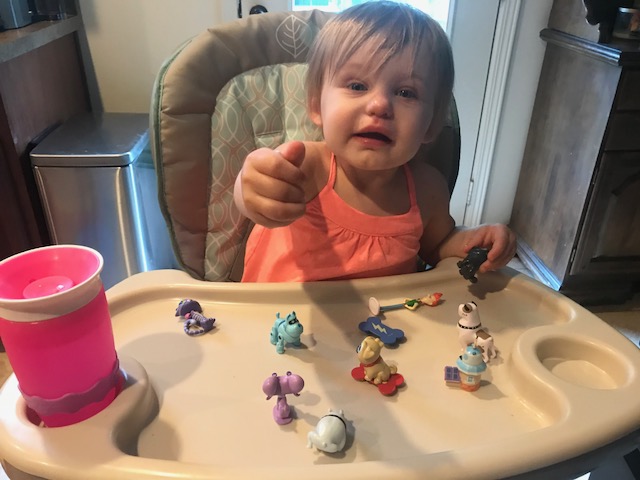 After nap time, Zoe was ready for some bubbles so we headed outside. Of course, she had to chose the largest bow possible for her hair before going out. It lasted about 5 minutes.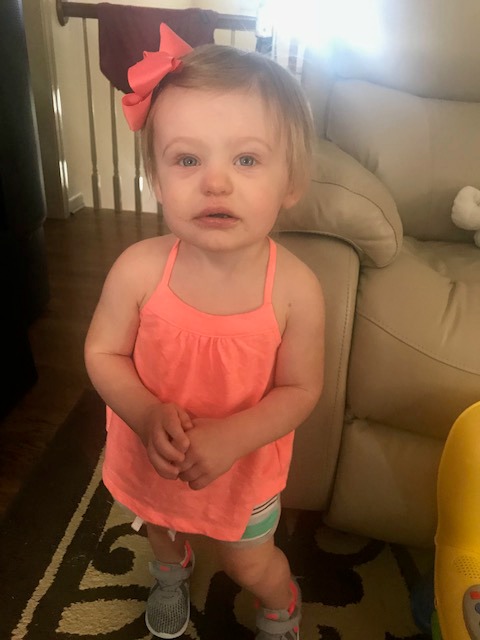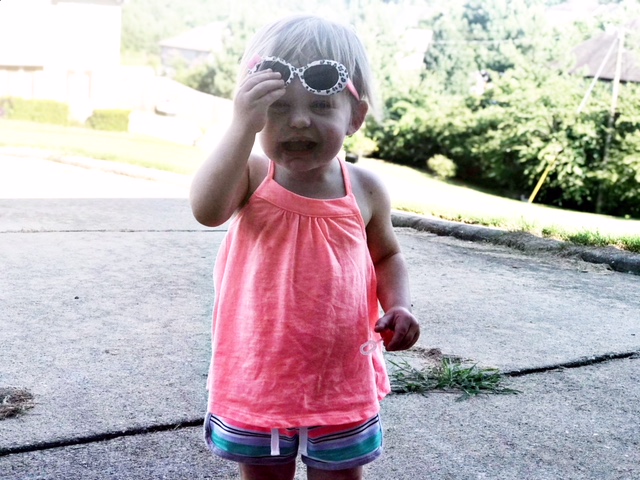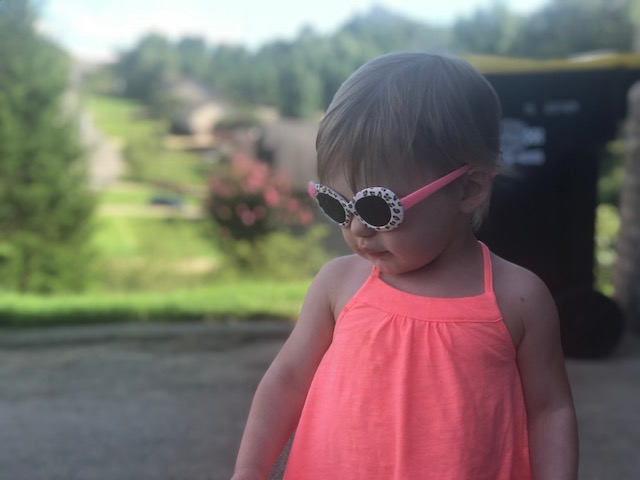 Last night, we had some BBQ with a spinach salad and watched some Blue Bloods, calling it quits pretty early.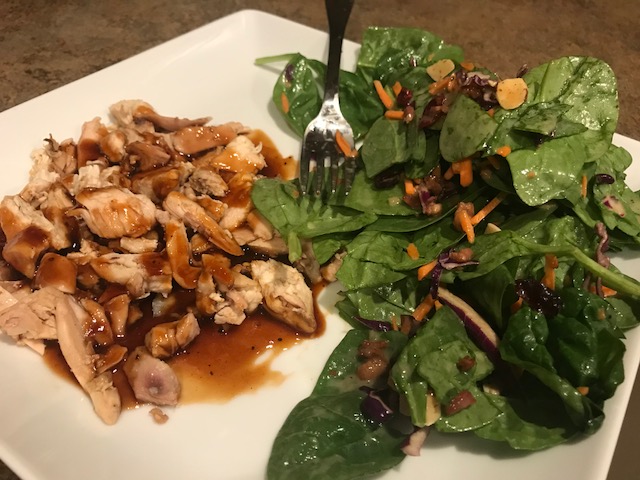 I hope you all had a wonderful weekend! Linking up with Biana.