I wanted to share the greek salad that I threw together this weekend!!! I love cucumber salad, but it isn't quiet filling enough to call it lunch so the beans add in some extra fiber and protein to help out with that. This is a super easy dump and mix recipe.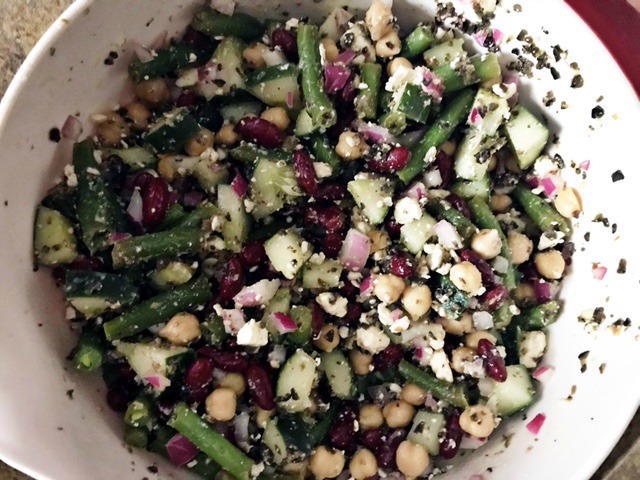 What You Need
1 cucumber, diced
1 container feta cheese
Couple hand fulls of fresh green beans, trimmed and snapped into 1 inch pieces
1 can kidney beans, rinsed and drained
1 can garbanzo beans, rinsed and drained
1/2 purple onion, diced
1/2 can of diced black olives (this is still good if you dont like olives, just omit)
Dressing:
1/4 cup olive oil
1/4 cup red wine vinegar
2 tablespoons lemon juice (I used from a bottle since I always have it on hand)
1/2 tablespoon oregano
1 teaspoon dijon mustard
1/2 teaspoon minced garlic
salt and pepper to taste
What You Do
–Boil water and add in green beans, cook for 3-4 minutes
–While the beans are cooking, mix together your dressing and set aside.
–Add all ingredients to bowl and toss until well mixed. Refrigerate.
Enjoy!!!