Today I wanted to share my Greek Quinoa Salad recipe with you guys! A few of you expressed interest in it yesterday, so here you go! This salad is delicious!!! Now, I am the first to tell you that I was a skeptic of quinoa for the longest time. I had it once or twice, and it just wasn't any good. Well, it wasn't prepared in a good way apparently! I have had it a few times since, and all have been wonderful experiences! If you have mixed feelings about it, give something like this recipe a try!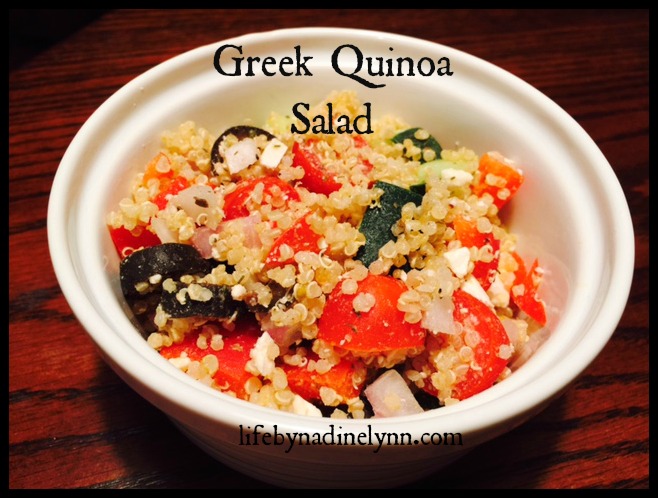 What You Need:
1 cup quinoa
1 and 1/2 cups vegetable broth
1 cucumber – I diced this up with the skin on, but left out the seedy part
8-10 grape tomatoes, halved
1 container of feta cheese (4 ounces)
1 red bell pepper, seeded and diced
1 small red onion, diced (about 1/4 cup to 1/2 cup)
1 small container of sliced black olives, rinsed
For the "dressing"
1/4 cup extra virgin olive oil
1/4 cup red wine vinegar
1 tsp lemon juice
1 tsp honey
1/2 tsp dill
1/2 tsp black pepper
1/2 tsp salt
1/2 tsp oregano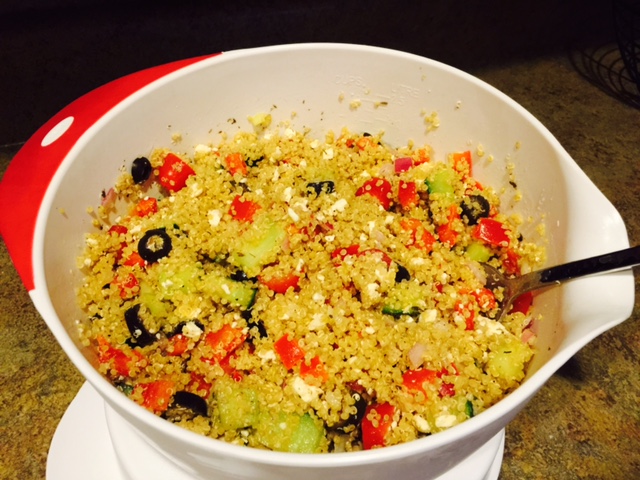 What You Do:
–Boil veggie broth and quinoa on high heat. Once boiling, reduce heat to low, stir and cover with lid and let simmer
–Once the liquid is evaporated, let the quinoa sit for about 5-10 minutes to cool a little
–In a small bowl, combine all of the ingredients for the dressing and mix
–In a large bowl, combine quinoa, veggies and then mix in the dressing
–Refrigerate until ready to serve
I keep this in the refrigerator all week for my lunches, but it would make a great side dish! Especially in the summer since you serve it cooled.
It sure is beautiful with all the colors, isn't it?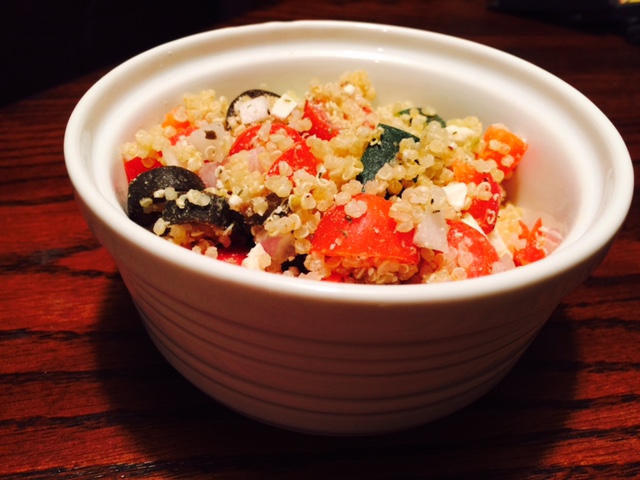 What have you been cooking lately? Do you have a quinoa salad recipe?