Six months. Half a year. How???? You internally roll your eyes when people tell you how quickly the time goes once you have kids, but seriously. They were right! You can't even imagine. It blows my mind to think that six months have gone by since the nurse was tossing Chris some scrubs and everyone was frantically unpacking tools in the operating room for the c section. It has been six months since I stared into those beautiful blue eyes of Zoe's for the first time. Six months since our lives were forever changed.
This month has had some pretty big moments! Zoe is now sitting up completely unassisted, she is not just grabbing but pinching items to hold, she started eating solid foods and we have really settled in to a great schedule.
Nicknames:Little Z, Z, Zoe Bear, Bear, Cheeks, Lovey, Little Miss, Booger Butt, Monkey
Loves: You are still constantly chewing/sucking on your fingers and hand, squealing, smiling, giggling, pulling mommy's hair, and your new favorite thing is sitting up unassisted!!! You sit for long stretches at a time and rarely tumble over. Your favorite toys are your stacking cups, Beat Bo, Minnie Mouse and your crinkly book.
Hates: You still aren't a fan of loud noises, they usually make you cry. You are starting to have some stranger anxiety and get upset when someone else holds you that you do not know.
Milestones: You have changed so much over the last month!!! You are sitting up completely unassisted, you have been eating solid foods (your first was sweet potatoes), you are able to feed yourself sometimes with a spoon, you started sipping water from a 360 cup and a weighted straw cup,
Clothing: We just moved you up to size 3 diapers. You still fit in size 2, but at your doctor appointment last week you were 16 pounds and sort of on the higher end of 2's and lower end of 3's so we went ahead and moved up. For clothes you have a few 3-6 pieces that you still fit in to, most of your stuff is 6 month or 6-9 months.
Feeding: You are still on a similar schedule from last month. You wake up and go to bed a little earlier than before. You take 5.5 ounces around 530am, 800am, 1130am, 2pm, 530pm and 7pm. You go down for your morning nap around 800-830am and your afternoon nap after your 2pm bottle. You usually go down for bed after your 630-700 pm bottle and sleep through the night. Your 1100-1130 feeding is where we have introduced solid foods so we have been doing a smaller bottle and offering you food and a straw cup with water first.
Looks: Your eyes and hair have stayed the same color this past month. Most people say you look like your daddy with my eyes.
Things I want to remember from this month…
The way you growl as communication. Sometimes it makes me laugh so hard, which makes you giggle too!
How sweet you are when you lean in and "kiss" your stuffed animals.
The way you smile when your daddy or I walks in to a room.
How high you can jump in your bouncer!!! Sometimes you really get going in there.
You have started dancing to music when you are seated. Mostly rocking back and forth. It is the cutest thing ever.
You really like Bruno Mars. Anytime one of his songs comes on, you always have a big smile on your face. I think you favorite is Uptown Funk.
You are really in to reading books. You like to chew on them and you pat the pictures each time I turn a page.
You are super ticklish under your arms, around your neck and sometimes on your belly. You giggle and giggle and giggle when I blow raspberries on your belly.
You love your cousins. Christopher and Cooper spent a few days with us since they have been out of school and you get so excited to see them!!! You love to have Cooper read to you. You tried to tickle his neck when he was reading and it was the sweetest thing! Christopher picked you up and held you for the first time and you loved laughing at him when he said "yeah" to you in your face.
After you take your bottles before your naps or bedtime, sometimes you pucker your lips and stretch out and look away like….ok I am through, time for sleep. So cute!!!
You really want to crawl. When you are on your belly, you scoot your legs and butt a little but don't really get anywhere. Then you get frustrated and start squealing and sometimes crying and you lay your head on the ground in defeat. I know it is just a matter of time before you are mobile!!!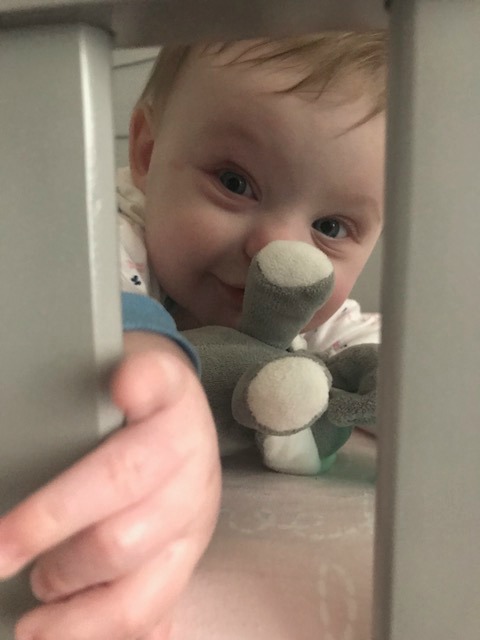 The monthly pictures are getting harder to take!!! I will share some outtakes at the end.