A few weeks ago I posted about how I am no longer making excuses. A big inspiration for my revelation is from receiving the book The No More Excuses Diet by Maria Kang. I am sure you have heard of her, right? The inspirational picture of her with her three boys went viral last year!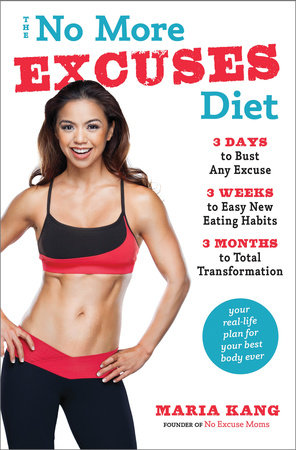 Before you roll your eyes and close out of this post thinking you have no desire to read about a fitness book…hear me out. This is more than a fitness book, it is a lifestyle book. Maria shares her story about how she struggled with her weight and how hard she worked to get where she is all while balancing real life. Her approach isn't mind blowing, but sometimes you need to hear what you already know. She sets up a program and a three step cycle of nutrition and fitness that you can follow for the rest of your life. I hate that the word "diet" is in the title, because it is so much more than a "diet."
The program includes three phases that you can repeat over and over in achieving your goals. The phases are SPEED, STRIVE and SCORE. The book includes illustrated work out pictures, several different charts and a real plan to achieve any goal…whether it is losing weight, running a 5K, etc. I appreciate Maria's fresh approach to the whole topic. She has lots of great tips and encourages you every step of the way without filling your head with useless fluff.
My favorite section of the book is chapter 7. It talks about 80% of your efforts, food. She breaks down a macro-nutrients plan explaining why you should be getting a certain amount of protein/carbs/fat. She puts portions in terms you can understand and suggests some ideal daily meal plans.
I highly suggest this book if you are looking for motivation to make a change in your life.
You can read more about the book and author here.
Disclosure: I received this book from Blogging for Books for this review. All opinions are my own.
I am linking up with Stephanie and Jana for the Show Us Your Books link up! Read any good books lately?