It is time for another installment of SHIT CHRIS SAYS!!!!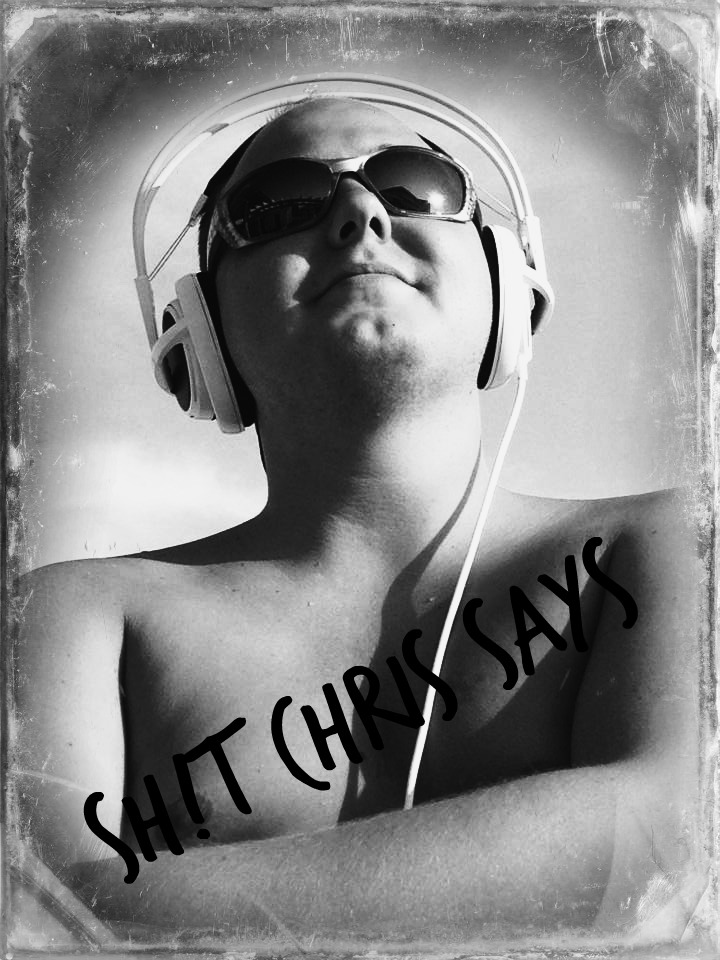 Me: Did you see my post today? It was another Shit Chris Says.
Chris: Yeah, I was kind of disappointed. I have said way better shit over the last few months and your post should have been much longer.
Me: Ummmm I can't post most of that shit on the internet!!! Most of the time my response to your shenanigans is "What is wrong with you!?!?!?!" My internet friends would question my life choices.
Mac is barking incessantly outside and Chris pauses the TV show we are watching and says, "Can you bring Adolf Barkler inside please?!?!?!"
A Just Fab shoe commercial comes on and Chris's response to a pair of shoes goes a little something like this…."Those are ho-ho-rrendous."
We decide to start watching Season 2 of Bloodline. The recap from the first season is on.
Chris: Basically we didn't need to watch that entire first season, we could have gotten everything we needed to know in that recap. Literally nothing else happened.
Me: So do you not want to watch the second season?
Chris: Oh no, we are going to watch it. And get disappointed wasting 12 hours of our lives.
Andrea did a fun little how well do you know the mr post awhile back and when I was reading her post, I started answering the questions for Chris in my head. Thought I would share it with you all and I will report back with how many I got right!
1.  He's sitting in front of the TV, what is on? We have shows that we watch together, but when I come home from work he is usually watching reruns of The League, Rules of Engagement, Two and a Half Men or football in the fall.
2.  You're out to eat; what kind of dressing does he get on his salad? Ranch
3.  What's one food he doesn't like? Olives
4.  You go out to eat and have a drink; what does he order? Either an IPA ,  scotch ale or Kentucky bourbon beer, or some type of bourbon and coke.
5.  Where did he go to high school? I know the answer to this question but I am not going to share it for all the internet to see. Gotta respect his privacy.
6.  What is his nickname for you? We don't really have nicknames for each other. Sometimes we refer to each other as baby, but usually that is in text or me babying him when he doesn't feel good.

7.  If he was to collect anything, what would it be? Together we collect video games and have a pretty dope collection!!! He also has a collection of Amiibos and random computer things.
8.  What would he eat every day if he could? Hmmmm his favorite foods are lasagna, chicken Parmesan, and pork medallions. Though I don't know that he would want them every day!
9.  What is his favorite cereal? I have never seen him eat cereal the entire time I have known him. He is  more of a bacon, sausage, eggs and biscuits kind of guy.
10. What would he never wear? Probably an Auburn shirt! Gross.
11. What is his favorite sports team? Alabama ROLL TIDE!
12. Who did he vote for? Not Obama!!!
13. Who is his best friend? I would like to say me.. But he would probably say Jay or John. Or Mac, our dog. LOL!
14. What do you do that bothers him? He doesn't like to hear food crunching sounds so anything crunchy annoys the shit out of  him. No matter how politely I chew. Also, my indecisiveness drives him batty. Sorry!
15. What is his heritage? Hmmm Irish? Some other stuff too.
16. You bake him a cake for his birthday; what kind of cake? Cookie Cake! But I get that from the American Cookie Company.

17. Did he play sports in high school? No, he was a gamer. He won lots of awards with that!! I think he played basketball a little bit in middle school though?
18. What could he spend hours doing? Messing around on the computer, listening to music and TV binging.
 19. How does he make you feel special? He is always pushing and encouraging me to try to be better as far as life goals go. He is also very thoughtful when it comes to birthday and Christmas cards and presents.  

20. What is one unique talent he has? I have literally witnessed him in a random break dancing competition in a club in Atlanta one night when we were out and it was pretty epic! He is also a fabulous DJ, even if he has hung up his headphones professionally.