Favorite Song: Another good one I found while watching The Vampire Diaries! Blossom by Noah Gundersen. It is a super chill song. Sort of reminds me of Matt Nathanson or The Fray, give it a listen.

Favorite Recipe: Laura shared some recipes that she is doing for Whole 30 in her post on Tuesday. I can't wait to try this chili! Bonus points for being a crock pot recipe.
Favorite Workout: I have been switching it up like crazy this week and I stumbled across the 30 Day Fat Burn workouts. They are usually between 10-15 minutes so I pick a few each day for a well balanced sweat. This was my favorite. I work out my arms a lot, at least twice a week and damn did I feel the burn on this one!

Favorite Home Products: I have switched three of my main home product purchases for more natural options. These have all been repurchased now so I thought it would be a good time to share with you because they are totally worth it! They are all available at Target and the Meyer Clean Day products are 5% off with Cartwheel! (I am not being paid to say that, I just like to save money!)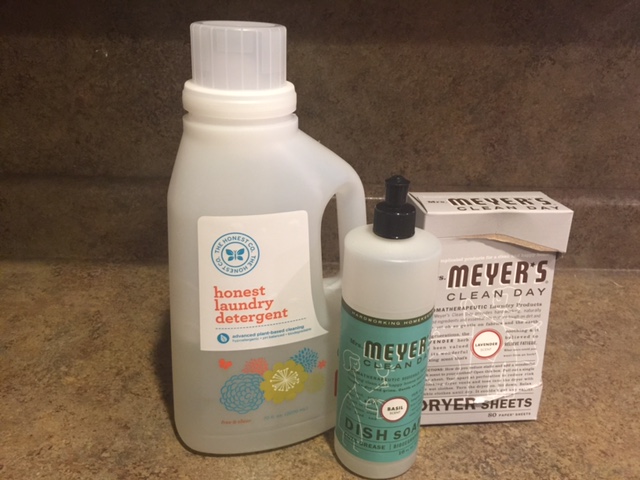 Meyer's Clean Day Dish Soap – I have the basil scent in this and I love it! Basil sounded a little weird to me, but trust me.
Meyer's Dryer Sheets – I grabbed the lavender ones of these and OMG they smell amazing!!! You can walk past our laundry area and smell them just sitting in the box. Chris and I both have sensitive skin and this is the only scented thing I have found that hasn't driven either of us crazy. Did you know that conventional dryer sheets are one of the most toxic things in your house?
The Honest Company Laundry Detergent – I have unscented and I think that is the only kind you can get? Either way, this stuff has been amazing and I will never go back to Tide. This is HE safe and great for sensitive skin and allergies.
Favorite Lust:I want to get a piece of furniture for our master bath to put my make up and jewelry on to stay more organized.I know that sometimes TJ Maxx and those types of stores have some cute ones for $200 or less so I might have to keep an eye out there as well. Which style do you like best? The first and last one really aren't priced that terrible for a piece of furniture. The middle one would be too big, but I like the idea of all different colored drawers/doors.
Favorite Pins:
I would love for my pantry to look like this!
Where have these been all my life??? There is nothing I hate more than banging around trying to get the right pan. Why is it never on top? That pin will take you to a whole collection of organizing hacks.
Favorite Links:
—50 Things Millennials Have Never Heard versus 50 Things Millennials Know that Gen X Doesn't I relate more with Gen X than the Millennials more often than not. I think it is a fine line on which age actually starts and finishes with each generation. I read different things.
–So many people have asked me what Whole 30 even is. Here you go.
–What giving up dairy can do for people is amazing. I feel like a lot of us don't even realize we have a problem with dairy, grains, etc until we give them up.
–Have you seen the new product that Fitbit is launching this year??? I am in love!!!
Favorite Funnies:
This weekend is hopefully going to be full of cleaning, organizing, purging and avoiding the shit out of all of the foods I would normally consume. Don't expect to hate me for burger and beer porn on Monday, it wont be happening around here. I know you are shocked, pick that jaw up off the ground and go have yourself a fabulous weekend!!!
Linking up with Amanda, obviously.