Normally on Mondays you come to my blog preparing yourself for food porn. Well not this Monday my friends. You see, this weekend I continued on with my Whole 30 journey and I managed to not hate life. Imagine that!
So you might be asking yourself, why Whole 30? The obvious answer is because it is healthy. Because it detoxes and resets your body. I might shed a few pounds. There is a chance I have a food allergy and this might shine light on that. All of those answers are part of the reason. But I like to be real with you guys. The real reason why I am doing Whole 30 is to prove to myself that I can. To prove that food doesn't control me.
I have a 40×40 list. You can see it up there below my title. It is still a project in the works as I have been adding on to it for the last year. Well, this weekend….I added Whole 30 to the list. You see, I wanted it on there last year when I started my list. It was the very first thing that came to mind (after Disney). The truth is, I didn't have faith in myself that I could ever do it.
My mind has really started to change over the last year or so. Sure, I have been regularly waking up at 4:35 am five days a week for my workouts the past two and a half years. But working out was never really a problem for me. It has always been food. It probably will always be food. But something has changed in my mind.
I can be good Monday through Friday morning but then Friday at lunch I will go with friends. Friday night I will come home and snack on pizza or nachos. Saturday we hit up World of Beer where I have two or three beers then we are off to for a burger and fries. Sunday I am making cheesy pasta or chicken fingers and fries. It's pretty much been that way since I came home from the beach this summer.
Everything is ok in moderation, right? The thing with moderation for me though, is that it is hard to walk the line. There is always that gray area. Say Tuesday I am really not wanting what I brought for lunch. I had a bad morning and I want to get out of the office so I go down to Jimmy Johns and have a sandwhich and chips. No big deal, it was just one meal. But then I get home that evening and while I am trying to cook our healthy dinner, I am starving and snack on chips and salsa. Wednesday morning while making Chris's lunches, I play the one slice of cheese for his sandwich one slice of cheese for me to eat game. Thursday morning I am tired and swing by Starbucks for a grande nonfat caramel macchiato (my drink of choice.) Annnnnd I have already shared what Friday-Sunday typically look like.
All those little things add up. And for what? Did it make my week better? Did it bring me joy? No. Not really. That is why I need an all or nothing reset. Whole 30 doesn't allow for those foods to even exist. You flat out can't have them.
So my thoughts on Whole 30 after the first full week? I am alive and still positive about my experience. I haven't intentionally tried to cheat. There was one day last week where I was unaware that I was consuming something that had an ingredient I wasn't supposed to have.
On Wednesday I was a little more tired than usual. Some asshole left donuts and brownies in our break room and I wanted to go punch them in the face. So perhaps I was a bit cranky that day. On Thursday evening Chris ate chips and guac in front of me. I was wanting that chip so bad. I even jokingly asked him if it was cheating by just licking the chip. I didn't do it…but that was how bad I wanted it.
Every day that passes by, I feel more and more confident in myself that I can do this. I can go 30 days without sugar, alcohol, grains, legumes, and yes friends….I can even go without cheese.
I would like to give a shout out to Laura who is doing this with me. G-Chatting with her daily about wanting to lick tortilla chips and punch people in the face every time they open a diet coke has been quite helpful.
Amy and Laura are also great hosts on having the #breakupchallenge2016 and answering any questions I have. I wanted to link up with them tomorrow, but it's book day so I am posting this a day early!
Oh, I lied. I did have a burger picture to share with you!!! My turkey burger, roasted potatoes and "ketchup" that I made with compliant ingredients. Boom bitches!!!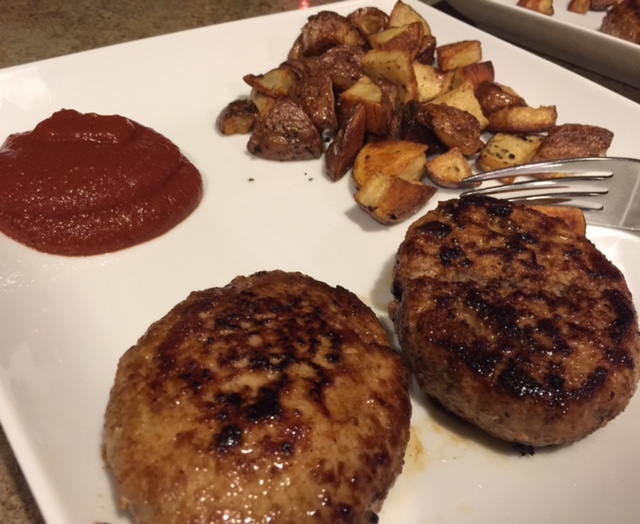 I probably wont link up every week to check in, but I will do a recap post on my thoughts and results at the end of the 30 days. You can follow along with me on Instagram to see some the #whole30 meals I eat! I hope you all have a great week!!!