What's up, mid-October?!?! Crazy, right? This weekend I am so excited because it is my baby shower weekend! My sister and sister-in-law ar emy sweet hosts and I am excited to spend some time with family and close friends. I also have dinner plans tomorrow night with my mom and sister, so fun! I haven't seen my mom in a few months because her work schedule is so crazy so I am excited for that.
Favorite Moments:
–Yesterday, Laura and I went to lunch at Saigon Noodle House. Since I have already tried their pho, I wanted to try one of their other specialty dishes so I ordered the B4. This had marinated grilled pork over vermicelli noodles and topped with egg rolls. SO GOOD! Laura and I also split the chicken spring rolls because they are literally the best I have ever had from anywhere.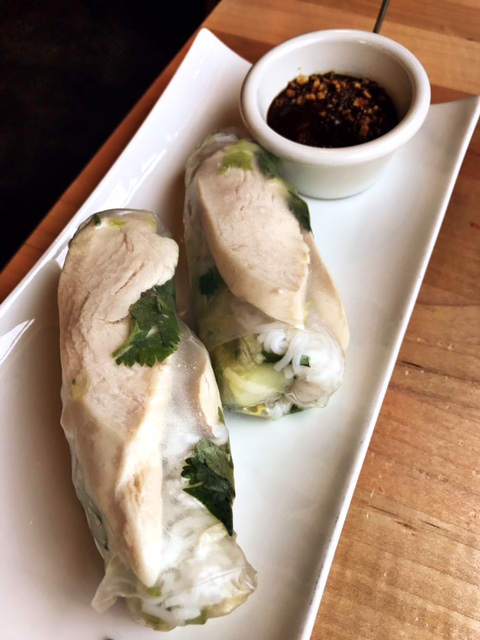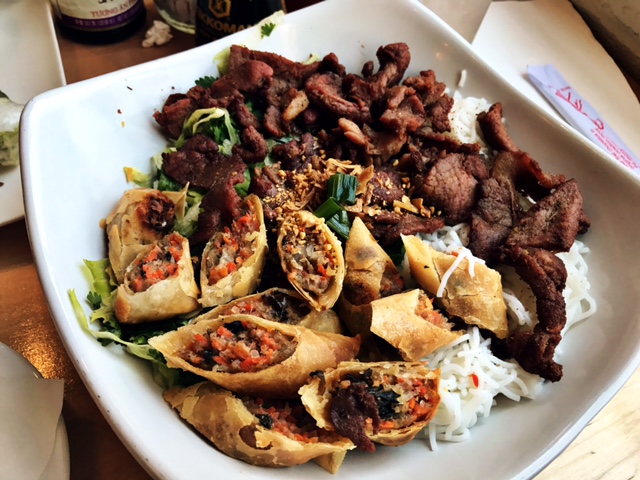 –Getting to work from home today! The AC on our side of our office building has been out for the last three weeks. The replacement units are finally coming in today and my boss told us since even more than just our unit will be down it, would be getting pretty stuffy in there and said we could work from home. Don't have to tell me twice! To be honest, I am more productive at home. I start working two hours earlier and get so much more done because I don't have to listen to other people's noise and conversation in cube world. Also, this guy gets to be my assistant.

Mac does this new thing every night where he goes and sits on the pillows away form us and acts all pouty. Not really sure what the deal is but it is pretty adorable. And pathetic.
Favorite Recipe: I have a few bananas left over this week and am totally trying this simple recipe!
Favorite Fall Treat: I wanted some chocolate last night while I was running errands and I happened upon an end cap of M&Ms. I went to reach for my usual ones and then noticed that they made white butterscotch. YOU GUYS!!! If you like butterscotch at all, do yourself a favor and pick these up. So damn good!
Favorite Lusts: I want to get a few tunic type tops that will fit over my pregnant belly now, and I can hide under after until I get back to my usual size. I can't seem to find any that are bigger than a regular medium. Ugh! Anyone know where to get some cute ones like this…
I am also on the hunt for the perfect nude lip color. What is your favorite?
Favorite Links:
–Sometimes when I walk around Sephora I have no clue what I want. Here are 18 cult products Sephora employees buy themselves.
–Speaking of beauty buys, here are a few perks that you may not know exist at Ulta.
–For those of you without a huge pregnant belly…Amanda and Kate both have great Shopbop sales guides. I believe today is the last day for the sale!
Favorite Funnies:
Linking up with Amanda. I hope you all have a fabulous weekend!!!