I managed to read a lot of books this month!!! A few of them were rather short, so I suppose that helped. Let just jump right on in! Linking up with Steph and Jana.
A small town girl returns home after her husband cheats on her. You get a little love, an old rivalry, a pie shop and a small town murder with big drama.
So, looking at the title and cover of this book I was expecting a little cheese. And it had it's cheesy moments, but honestly? I really just loved the story. This is a cozy mystery, which I find myself a huge sucker for. Look at the Stephanie Plum series and the Java Jive series that I read. This one had a real southern feel to it being based in a small Georgia town. I think that parts of the  book were overwritten as far as the imagery goes…but overall it was cute. There is also a little magic, which I actually liked.
Bottom Line: If you love cozy mysteries or southern stories, grab it! It is a series and I feel like I might be in it for the long haul.
When Lane discovers her family's secrets, she runs far away. She returns several years later when her cousin goes missing, forcing her to face those secrets again. 
What a messed up family!!! I sort of had an idea from the beginning what the secrets were and who was behind Allegra going missing. That didn't take away from the story though. These are some damaged, imperfect characters and sometimes, I just want that in a book. you know? You get some depth that way and an interesting story.
Bottom Line: If you like dysfunctional families and difficult situations, then this would be right up your alley. It could be a trigger for others, so make sure you read the full synopsis before diving in. I would recommend the book.
**I received a copy of The Roanoke Girls from Blogging for Books in exchange for my honest review. All opinions are of my own.**
Kate has a secret, her husband is offered a job in Luxembourg and she decides this would be the great fresh start that she needs. Or is it? Another American Couple arrives and her secret is now threatened.
I picked this up after Laura raved about it last month. I did this one via audiobook and I will say, it was a little hard to follow that way with all the time jumping. Could have been a non-issue in book format. You find out bits of Kate's secret early on, and more and more of it comes together as the book goes on. I was a little shocked at some of the twists and how much lying and deception there is throughout the entire book. It makes you question everything in your own life and what you think you know about people.
Bottom Line: This book kept me interested the entire time and I really enjoyed it. I would recommend it if you are looking for something good to read.
I didn't know who Felicia Day was before I listened to this book. It sounded interesting and I was looking for something carefree to "read." (I did this on audiobook, the only way I can really read nonfiction and not get bored.) It was sort of like Felicia was there with me just telling me stories throughout her life.  She is hilarious and a little nerdy, which kind of reminds me of, well, me. And she lived in Alabama for awhile which is pretty cool.
Bottom Line: I got a little bored a few times and sort of tuned out, but overall it was a pleasant read.
Girls has insufferable boss. Girl wins 69 million dollars in the lottery. Girl decides to not quit and see what it takes for her boss to fire her.

This book was so cute and I am so glad that I requested it!!! I think we have all had that boss that we wish we could just pay back a little karma to, no? I literally laughed out loud at some of the things that Kiersten does to Cole throughout the book. This is a romance book, but it isn't overly racy. You get a nice, slow build and this author is known for her playfulness and happily ever after.
Bottom Line: If you have ever had an insufferable boss, or you just want a laugh. This is for you! So cute! When I was half way through it, I texted Kristen and told her to go request it immediately.
**I received a copy of 69 Million Things I Hate About You from Netgalley in exchange for my honest review. All opinions are of my own.**
I knew when I looked at the title of this book, there would be a lot of Christian references in it. To be honest, I am just looking for a way to get motivated to work out and get back on the healthy train again and I never really thought about looking at it from a spirituality point of view. I went back and forth from liking this book and feeling like she was getting a little preachy. I think some of the things that she said that I already know, really hit home  hearing her say it. Like, setting goals and sticking to them. She said, if you lost one pound a week, next year at this time you would be 50 pounds lighter. I just sat there and thought…wow…..she's right.
I appreciated the stories from her childhood, Full House, and her struggles. But don't read this book thinking it is more of a memoir, because it isn't. Also, the recipes in this book are ridiculous. I think we all know how to make tacos, no?
Bottom Line: I would be hesitant to recommend this book to just anybody. I think if you are Christian and wanting to lose weight, you would appreciate it more than someone who isn't as spiritual. For me, I didn't take much from the book and I honestly skipped over some parts.
Big Bang Theory is one of my absolute favorite shows, so I knew I wanted to listen to this on audiobook. Kunnal himself narrates and he is just as hilarious as you want him to be. He shared stories from his childhood, college years, dating, a little bit about Big Bang and ended with how he met his wife and their wedding.
Bottom Line: If you are a fan of Big Bang Theory and want to learn more about Kunal's life, this is a fun read. Highly recommend the audiobook version.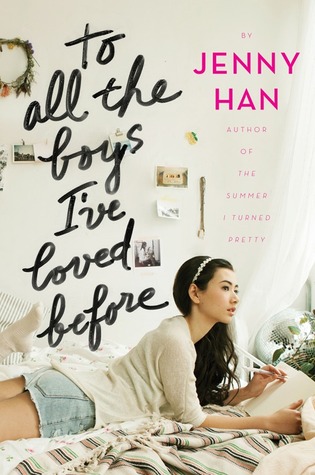 Lara Jean keeps the love letters that she has written to all of her crushes in a box her mother gave her. Somehow the letters get sent, and her personal life is forever changed.

This was such a cute YA read. While it was light and fluffy, I felt like the characters are a little more complex than your typical YA book. I won't give anything away if you haven't read it, but there was a character that I was rooting for the whole time and was happy at the end of the book. There are two more books in this series, and I hope to read those soon!
Bottom Line: Read it if you are looking for a cute YA or need a break from darker subject matter.
I think Ellen is hilarious and I enjoyed listening to her read this on audiobook. I really liked what she said about being proud of how old you are and that you made it another year. And also about just being yourself. I felt like I wanted a little more from this book? It was kind of short and some of the chapters were very sparse.
Bottom Line:  If you are an Ellen fan, go ahead! This is a really short audiobook, just over three hours. I borrowed it from my library…probably wouldn't pay for it.
Always by Sarah Jio
Kailey is engaged to the perfect man, but runs into her now homeless first love. Now she must chose who her heart really belongs to.
Bottom Line: I am going to be very honest and say that I did not finish this book. The writing was really choppy for me, and I don't like being spoon fed while I am reading. I feel like the premise was good, but the writing fell short. I didn't really feel anything from the characters and life is too short to finish a book you are not enjoying.
**I received a copy of Always from Netgalley in exchange for my honest review. All opinions are of my own.**
Currently Reading
Sting by Sandra Brown