Sharing the bacon pasta recipe with you here today!!!! I think that this is a great base recipe, and you could totally add in some veggies like peas or asparagus if you wanted….or swap out the bacon for pancetta or prosciutto. Next time I am going to try pancetta. My favorite thing is that you literally cook everything in one large skillet. Less dishes makes me very happy.
Side note – You could also halve this recipe if you don't want to have too much leftover. Why do I always feel like I am cooking for twenty people when I make pasta???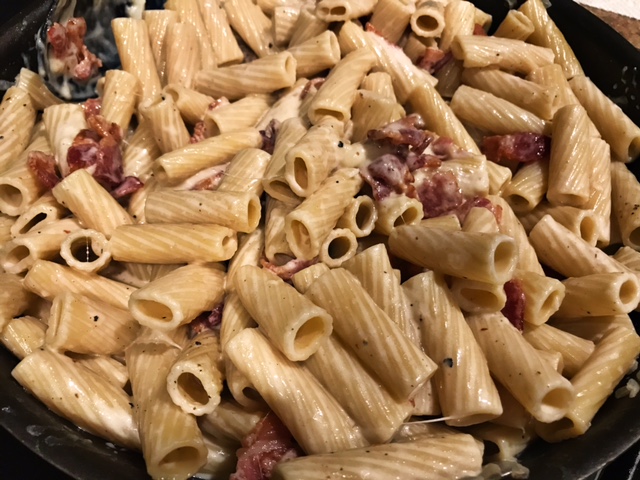 What You Need
16 ounce box of rigatoni pasta
8-10 slices of thick bacon
1/2 yellow onion, finely diced
3 cloves minced garlic
4 cups chicken broth
1 cup heavy cream
6 or 8 ounce package of shredded Parmesan cheese
3 teaspoons arrow root powder or cornstarch
fresh parsley, chopped for garnish (optional)
2 tablespoons of reserved bacon grease
What You Do
-Chop bacon and cook in a large skillet until crisp. Set aside and drain pan, reserving two tablespoons of the grease for flavor in the pan to cook the onions.
-Cook onions until soft and browning. Stir in garlic.
-Add pasta, chicken brother and salt/pepper to taste. Let the broth boil, then cover and cook noodles for 12-15 minutes, depending on how firm you like them. You want to stir the noodles two or three times while cooking.
–Stir in cornstarch/arrowroot powder, heavy cream and cheese. Stir until it has thickened and cheese is melted. Stir in bacon.
–Serve immediately with parsley sprinkled on top.
Enjoy!