Zoe,
A week ago you turned five months old. Five months. I don't even know how that is possible. Yet here we are. I have to say, your doctor was right. The four to sixth month age has been my favorite so far! You are discovering and learning new things all the time. Your personality is coming out more and more. I think we finally have you on somewhat of a schedule. *crosses fingers* And this month has been filled with smiles and giggles and squeals. Sqealing is your new favorite.
Nicknames:Little Z, Z, Zoe Bear, Bear, Cheeks, Lovey, Little Miss
Loves: Chewing on your fingers, squealing, smiling, giggling, pulling mommy's hair, your O-Ball, Mickey Mouse and Sophia the First, "standing," bouncing in your jumper and laying on your activity mat.
Hates: Naps. You are still fighting most of your naps like crazy!!! Can mommy have them then, please??? You also don't like to hear yelling. I took you to your cousin's baseball game and every time someone shouted, you had a complete breakdown. We had to leave early. You better get over that before football season my love. We are Bama fans and we are loud.
Milestones: You pretty much can grab anything that you want these days. You can sit up unassisted by us, with your hands on the seat in front of you to balance yourself. You have held your bottle alone a few times. Not only are you rolling without any issues, you also move a lot when you roll. This past month you started sleeping in your crib in your own room. I think it was harder on me than you. It only took about 3 or 4 nights and you had it all figured out.
Clothing: You are still wearing size 2 diapers and either 3-6 or 6 month clothing. A few 6-9 month things as well.
Feeding: I think we are finally on a feeding/sleeping schedule. You take 5 ounces around 630am, 800am, 1130am, 2pm, 530pm and 7pm. You go down for your morning nap around 830-900am and your afternoon nap after your 2pm bottle. You usually go down for bed after your 630-700 pm bottle and sleep until 630am the next morning.
Looks: Your eyes have stayed the same light blue this past month, and your hair has gotten even lighter. I have noticed that you are losing your baby hair.
Things I want to remember from this month…
–The way your eyes light up and you smile so big and proud when you roll over onto your tummy.
–How you sleep on your side with your arm bent up around your head for hours.
–The way you smile, open your mouth and close your eyes when I lean down for a kiss.
–How you smile when I say bless you when you sneeze.
–The way you run your little hand up and down your bottle when you are tired.
–The way you reach up grab my cheek and mouth, or pat my face. Especially when you are feeding.
–Your giggle and how when you get really excited you snort laugh.
–How excited you get when I "stand" you on my lap. You squeal and bounce on your legs so much!
–How obsessed you are with the "Zoe" door sign that your Aunt Tracy made you. After every nap and diaper change you see it and want to go over and for me to say the letters out loud and point to them for you.
–When we stand near the refrigerator you look at all the pictures of your cousins and then I say "where's daddy" and you put your tiny little hand on his picture and just stare and smile. You also like to look at your sonogram picture of baby Zoe in mommy's tummy.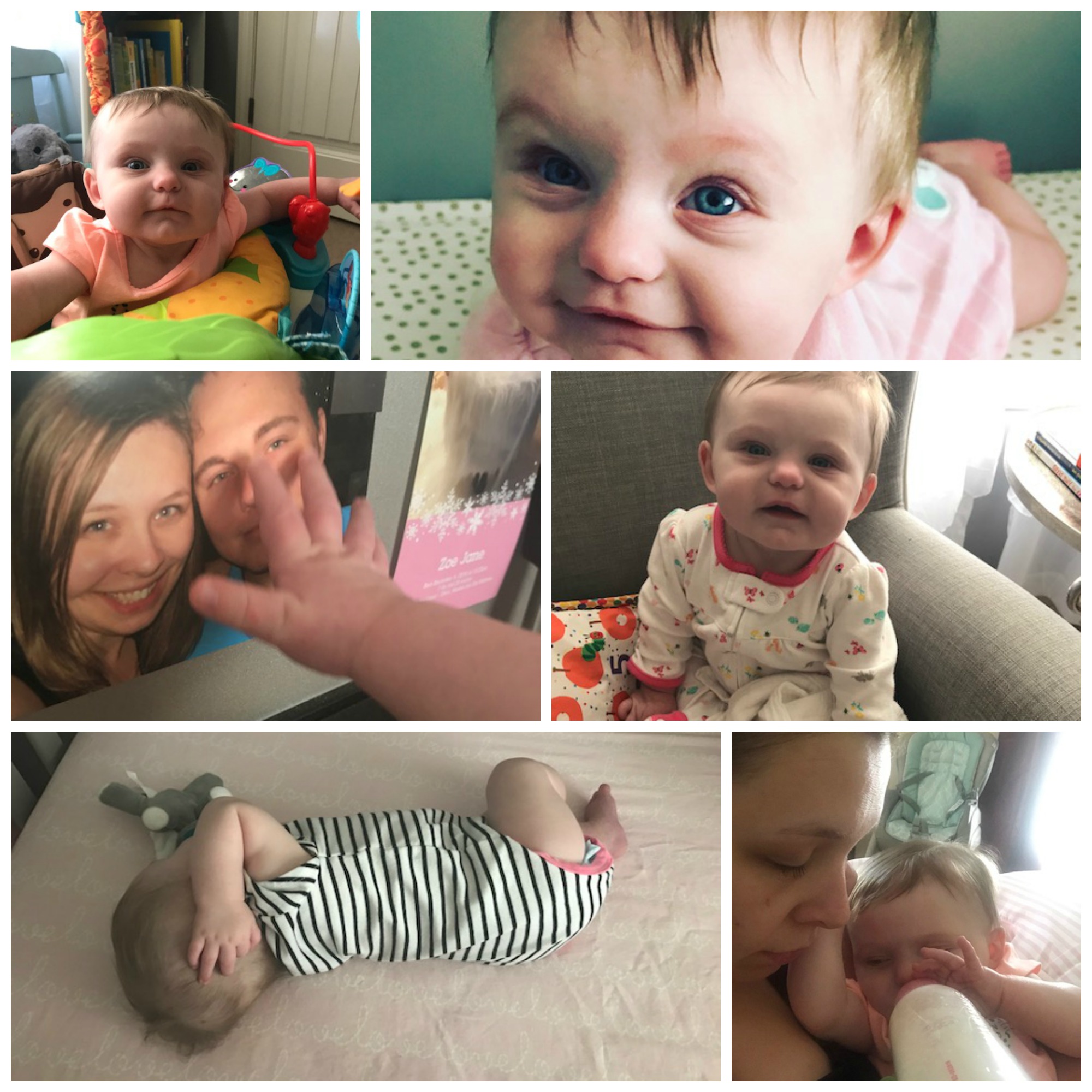 And now for some comparisons!