So I finally pulled the trigger on a beauty subscription box!!! I have read hundreds of posts about Ipsy and Birchbox but about 50% of the stuff people were getting, I cared nothing about. And really, who needs a new make up bag every single month?? I would rather that bag be another product instead, you know? One day I was flipping through Allure and saw that they had a Sample Society Box. I had never seen this before!!!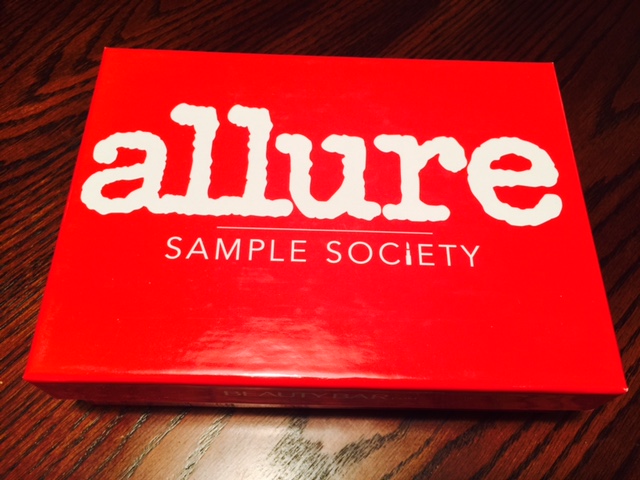 Before I go on, I want to say that I am writing this post on my own. I found this box in my magazine that I have a subscription to, I paid for the box on my own and am not getting compensated for this post. I just wanted to share about another subscription box that is out there because I love to talk about all things beauty! 
What's the Deal: For $15 a month, Allure sends you 5 deluxe size beauty samples, a mini magazine about the samples and a $10 off your $50 purchase on beautybar.com. I figured that was a decent deal for 5 deluxe samples!
My Initial Thoughts: I was excited to see the brands and items I got. Bumble and Bumble Invisible Hairdresser Oil has been on my list to try forever now. As was Marc Jacobs perfume and I love Benefits stuff! But then I looked at the sizes of everything. I thought these were supposed to be deluxe sized samples??? These are tiny!!! I can see pictures of previous boxes and this one looks sparse compared to others. Though, there are 6 samples instead of 5, so maybe that is how they made up for the smaller samples?
Also, I want to note that they did not include the mini magazine in my box. I am assuming this is an over site on their end. I better get one next month though, damnit! So what I am telling you about these products is from my experience, as I didn't have much to go by other than what is written on the packages. Get your shit together, Allure.
What I Got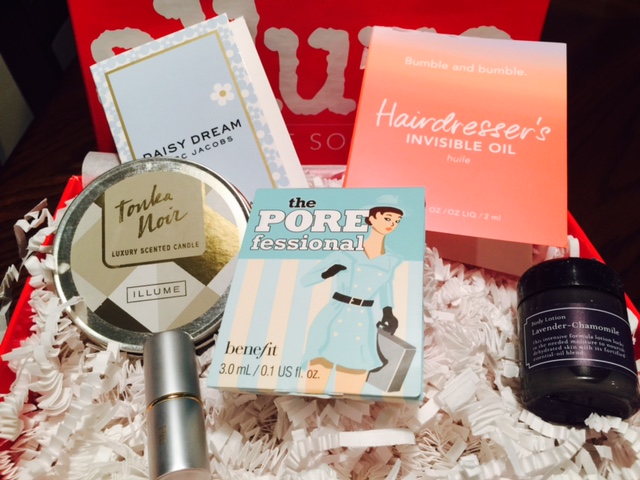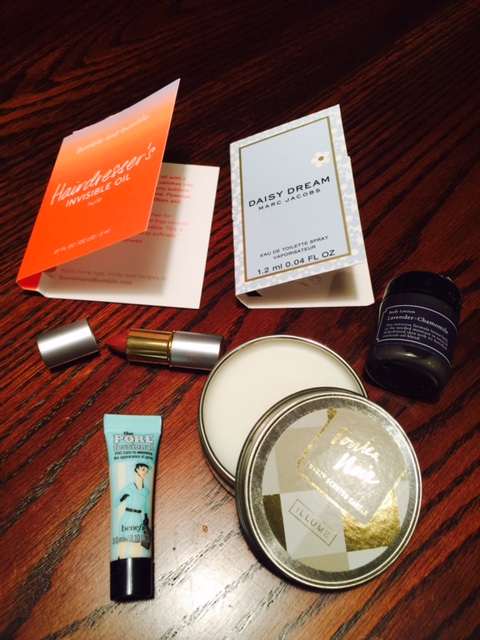 Bumble and Bumble Invisible Hairdresser Oil
I have had several people recommend this product to me, it has been on my list to try forever. I have the finest of fine hair. Normally I stay away from most styling products, especially if it has the word oil in it because hello….my hair doesn't take much to get oily on its own because of how thin it is! I am here to tell you that I have used this twice and it does not make my hair oily in the least bit!! I was shocked!
Should you get it: Very impressed and I would purchase the full size. I also have confidence to go ahead and try other products from this company.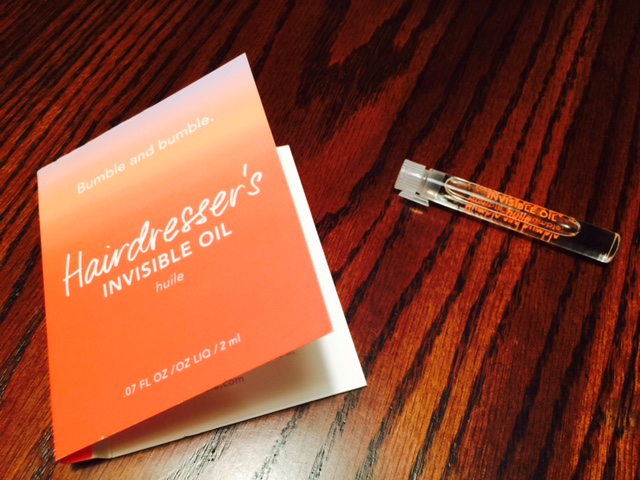 Benefits Porefessional
I love Benefit's products, and I have received several samples of things like their mascaras, highlighters, stay put concealer, etc that I have enjoyed. This one has that silicone feeling that a lot of make up primers have. It goes on smooth, and you can use it under make up as a primer….or you can use it over your make up. I haven't tried it over yet, but I have tried it under twice. I feel like it makes a decent primer, but I am not 100% convinced yet. My face has been acting a little crazy lately, so I dont blame the product.
Should you get it: Sephora sales a $10 sample size of this, and I would probably get that first before buying the larger one.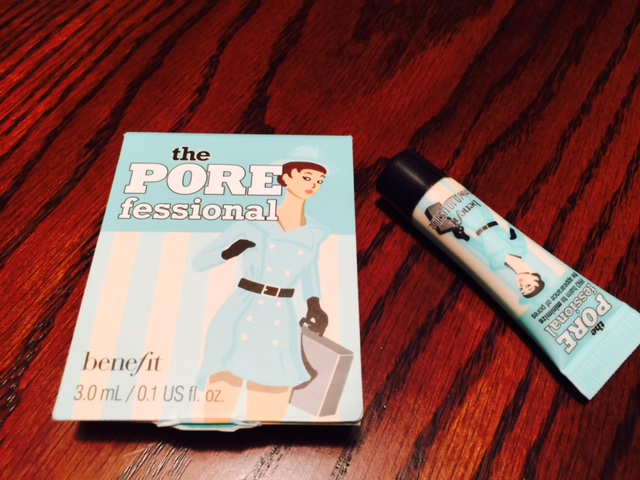 Marc Jacob's Daisy Dream
This Marc Jacob scent reminds me of a sunflower perfume I used to wear in high school, only more sophisticated. I rather enjoyed it, though I don't think I would want a big bottle of it. Chris was highly allergic to this one though, so I am going to be giving away the remainder of my sample to my mom or my sister.
Should you get it: If you like floral scented perfumes and aren't sensitive to scents, I think this is a decent option.
Mt Sapola Lavender Chamomile Body Lotion
This lotion smells exactly like you would think, Lavender and Chamomile. It goes on smooth, absorbs quickly, and didn't leave any weird or oily residue behind like some lotions do. The scent is just so calming, I really enjoyed it. Unfortunately, it is such a tiny sample that I didn't want to put it all over my body and use it all up in one use. I have just been using it on my hands in the evenings and really do like it.
Should you get it: While I do like it, there are plenty of other lotions out there. If I saw this in the store, I would consider it for purchase but I wont be going out of my way to look for it.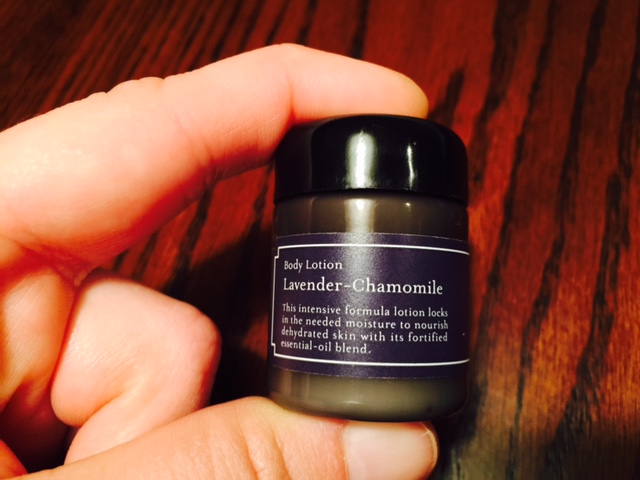 Jane Iredale Rio Just Kissed Lip Plumper
Rio is a rosy brownish color, which isn't usually my first choice but I did like it. The formula is supposed to be both moisturizing and plumping. I have a suspicion that the plumping is supposed to be subtle because I didn't feel a tingle like I do with some lip products that claim to plump. My lips don't really need plumping so I didn't notice any added benefit for me there. I did like the formula though. It went on smooth and was a little hydrating, it didn't dry me out like some.
Should you get it: I think this is a great color if you are looking for a rosy brown. Past that? There are plenty of drugstore brands that I liked better. For me it is a pass.
Illume Tonka Noir Luxury Scented Candle Tin
This candle has a really pleasant scent. I like that it is in a tin and the size would make a great travel candle. You can smell hints of vanilla, sandalwood, mandarin, rose and jasmine. For this little tin….it really works well. I lit it on our fireplace in our living room and the whole open area of my house smelled wonderful after about 10 minutes of burning. We let it burn for about 2 hours and there is still plenty left. I liked that this was a soy candle, and I googled the brand and they seem to be a decent price point.
Should you get it: I would most definitely get this scent again and try others from this brand.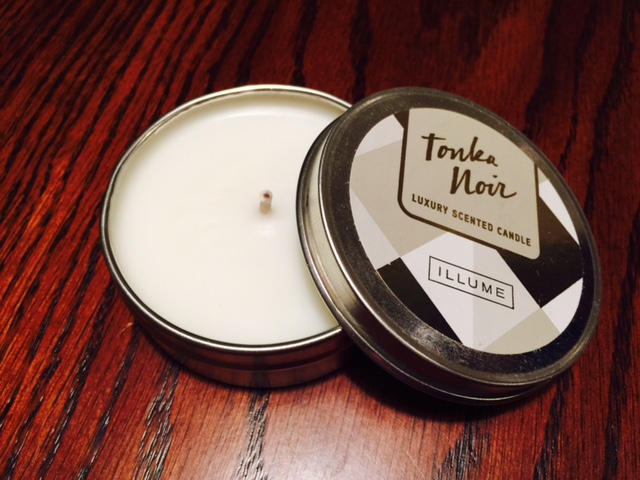 Have you heard of the Allure Sample Society box? Have you tried any of the above mentioned products? Would you consider getting a subscription to this?