What a weekend you guys! I feel like it was just Friday, but apparently not. I am not even sure where all my time went this weekend to be honest. Work has been insane lately, and I even worked a few hours on Saturday night after Zoe went to bed to get myself in a better position for today. Not sure that it did much good, but at least I tried. This weekend we ate a lot of delicious food, got caught up on a little TV, and chased Zoe around. Girlfriend has some energy!!! I also made some headway in our guest room getting things cleared out. I want to paint in there ASAP.
Friday started off with lunch at Real and Rosemary with
Laura.
I love the delicious, healthy options that they offer!!!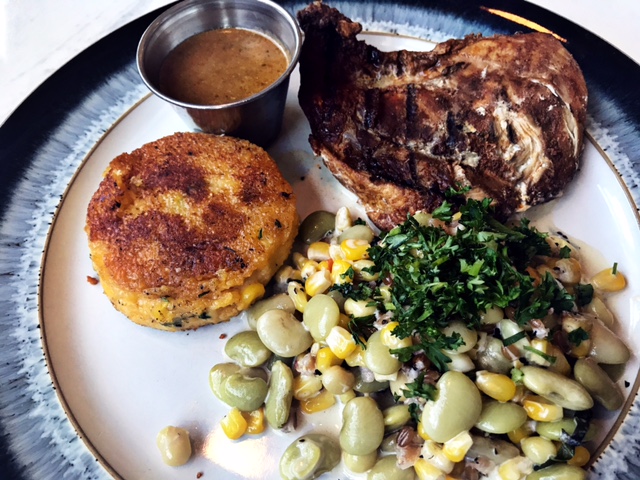 Saturday, we were up and out early to look at a few houses and stopped by Parish for lunch. I have been wanting to go to Parish since they opened a few years ago. Why have I never been??? Zoe and I split a platter with chicken tenders and crab cakes and we all shared some Back Forty Truck Stop Honey Onion Rings too. Everything was delicious and our service was amazing. I hope that we can go back again soon! That evening we ordered Landmark to go and Chris went and got it. I had their burger, fries and corn nuggets. They have the best burgers and BBQ for being a little hole in the wall place near us!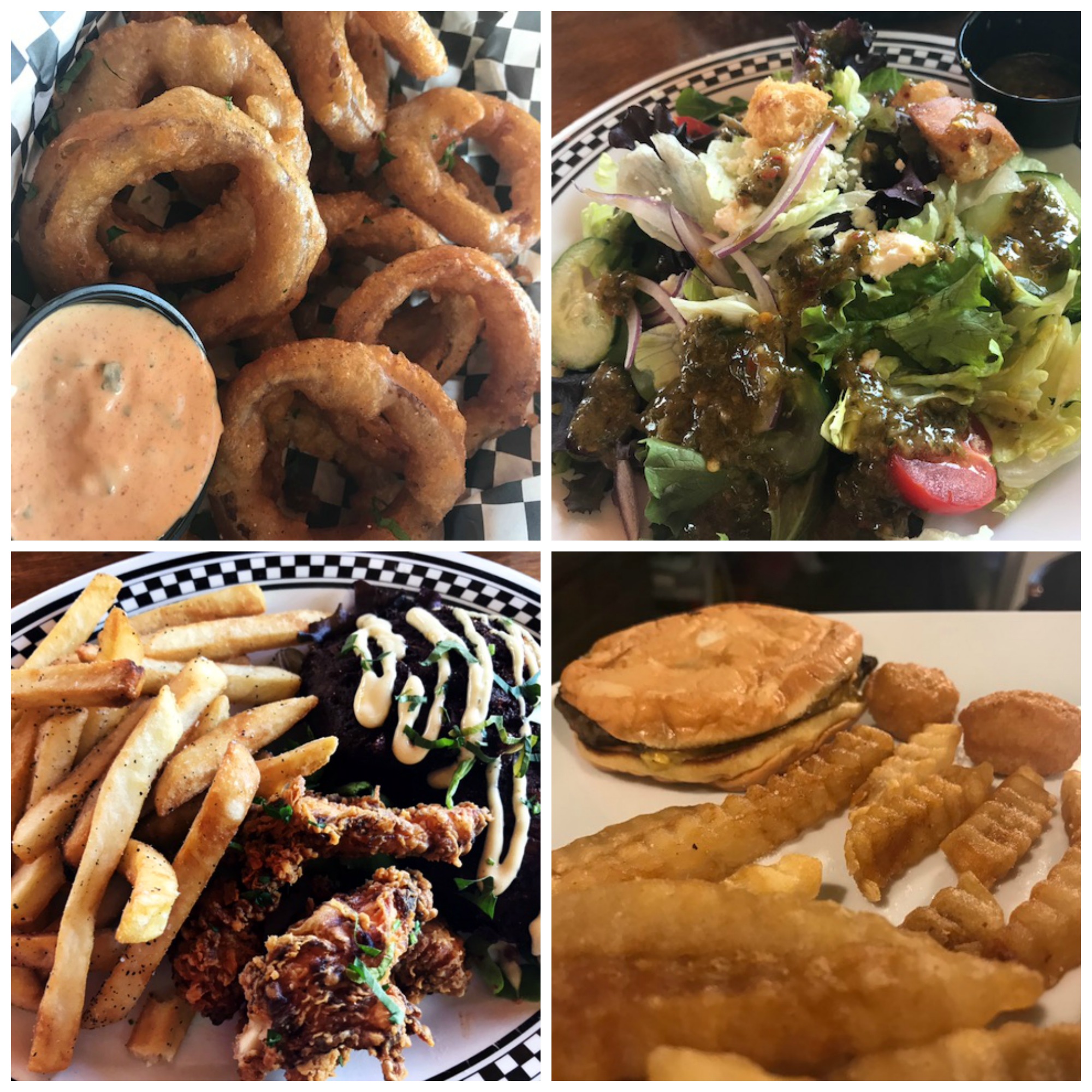 My sister and oldest nephew came over Sunday and we headed to Target to get some grocery shopping done. We also stopped by Best Buy and Michael's while we were out…and I maybe stopped and got a diet Cherry Limeade on the way home. Again. Yum. Zoe worked on her fashion blogger pose. She nailed it. She also walked around Target pushing around one of those popper toys that is totally annoying. My sister let her do it. LOL. And of course, like any good sister does, she bought the noisy thing for my kid. And Zoe is so excited about it, she pushed it around the house all afternoon. Who are we to deny her happiness.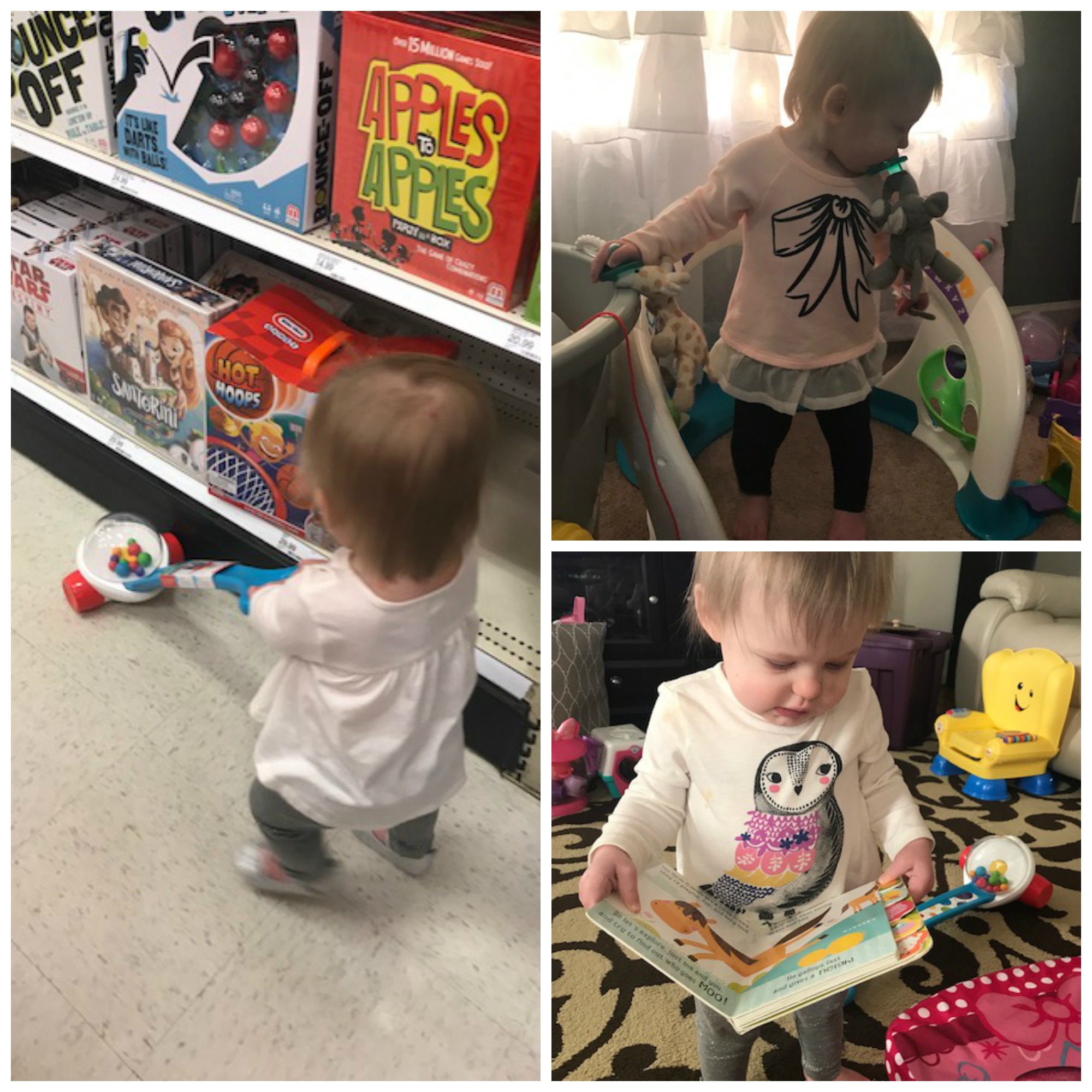 I am also linking up with the
Blended Blog
to share some of my beauty favorites!!!
1. Eyelash Curler Yes or No?  Yes, every day.
2. Favorite Nail Shade? 95% of the time I chose some version of pink.
3. Favorite Lipstick Shade? Pink again.
4. Blow Dry or Air Dry your hair? I let my hair air dry as long as I can, and then blast it with the blow dryer to finish it off close to the time I need to leave.
5. Artificial Nails: Yes or No? Never. I have never worn artificial nails.
6. Foundation: Yes or No? Yes, my go to is usually Estee Double Wear. I want to try the new Bobbi Brown though, anyone tried it yet?
7. Hair Up or Hair Down? Most of the time it is straight and down. I wear my hair up a lot at home and pretty much on Sundays, as that is my no wash day if we don't have anything major going on.
8. Bar Soap or Body Wash? Body wash.
9. Bath or Shower? shower
10. Favorite Body lotion?
That is a loaded question, because I use different ones on different body parts and different times of the year. I recently fell in love with the
Brazilian Bum Bum Cream
. Have you tried it? It smells SOOOO amazing!!!! And my legs are so soft after using it. My favorite hand cream is
Working Hands.
Does wonders for my dry, cracked skin in the winter. Plus it is inexpensive and found at Target! And lastly, my old stand by is
Vitamin E from The Body Shop
for all over greatness. I have been using that for years.
11. Do you wear perfume? Is so, favorite scent?
Yes. Right now I have been wearing a lot of
Elizabeth and James Nirvana Bourbon
. I have the roller ball and will purchase the full size when I am out. Love it! I also like
Chanel Coco Madmoiselle
, and I want to try one of the Jo Malone ones. I am on a quest for my new signature scent since they no longer make mine. I tend to like warm, sexy, spicy scents over floral or fruity.
12. Do you shave your legs everyday? No, every other day in the summer. A couple times a week in the winter. And by a couple I mean once or twice lol. My skin is far too sensitive for every single day.
13. Favorite Lip Balm?
  I swear by
Vaseline Rosy Lips
. It is $1.89 at Target, gives my lips the slightest shade of pink and feels amazing on!! I can put it on before bed and wake up with it still on my lips in the morning. I cant say that for anything else. Not even higher end stuff I have tried. Plus, it smells good.  Just do it. Trust me.
14. How old were you when you first started wearing make-up? Maybe my freshmen year of high school. I am sure I wore some lip gloss in middle school, but I don't remember buying make up until high school. I didn't start wearing foundation on a regular basis until my 20's. I had really great skin in high school and didn't appreciate it near as much as I should have!!!!
I hope you all had a wonderful weekend!!! What beauty products are you loving right now?
Linking up with
Biana
too!