Don't you love waking up on the first day of work for the week and think "It's not Monday!!!!!" Such a great feeling! Let's get right to the recap, shall we?
Friday – I got to work super early Friday morning, so I got to leave work early. It was so nice not sitting in the horrible Friday night long weekend traffic. I got home and finished my book, "Attachments" and because I was feeling bad about having to miss my work out that morning…I totally got my work out in too!
Saturday – In the morning I cleaned the house and did some laundry and Chris cut the front yard. I then went shopping for a little while to the Outlets at Grand River and around Trussville. Afterwards, Chris and I had a date night. We went to The Southern Kitchen for dinner. This restaurant is located in Birmingham's new Uptown District. The restaurant probably deserves a post of it's own, but here is a mini version…
The inside: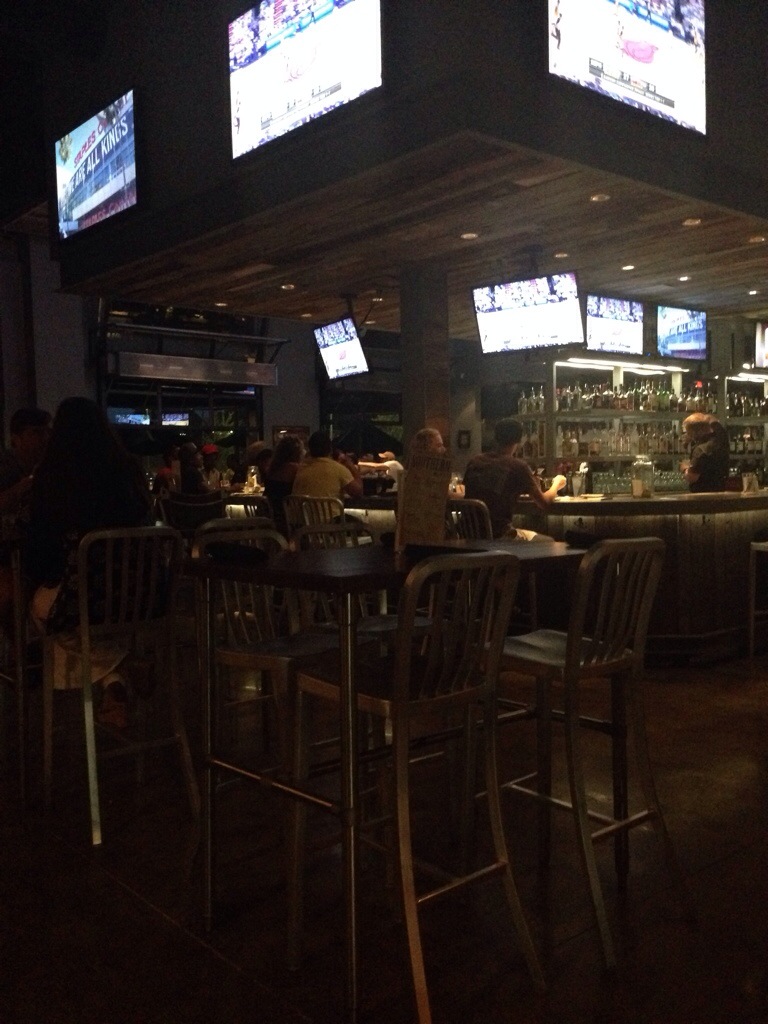 The Menu: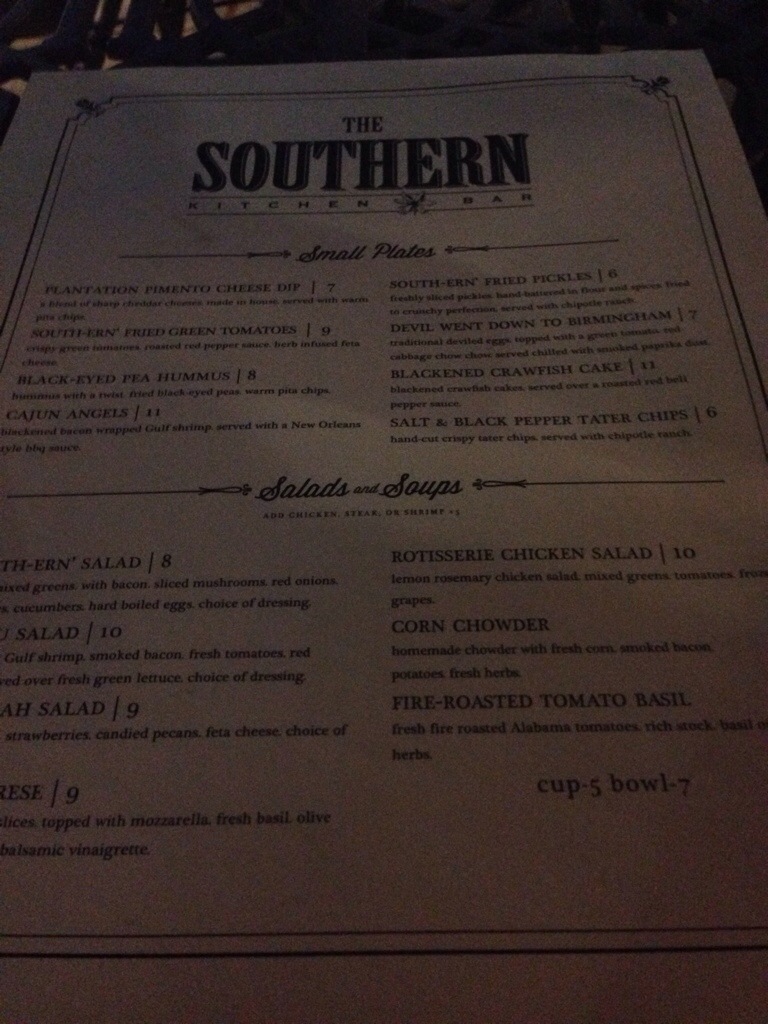 The Patio: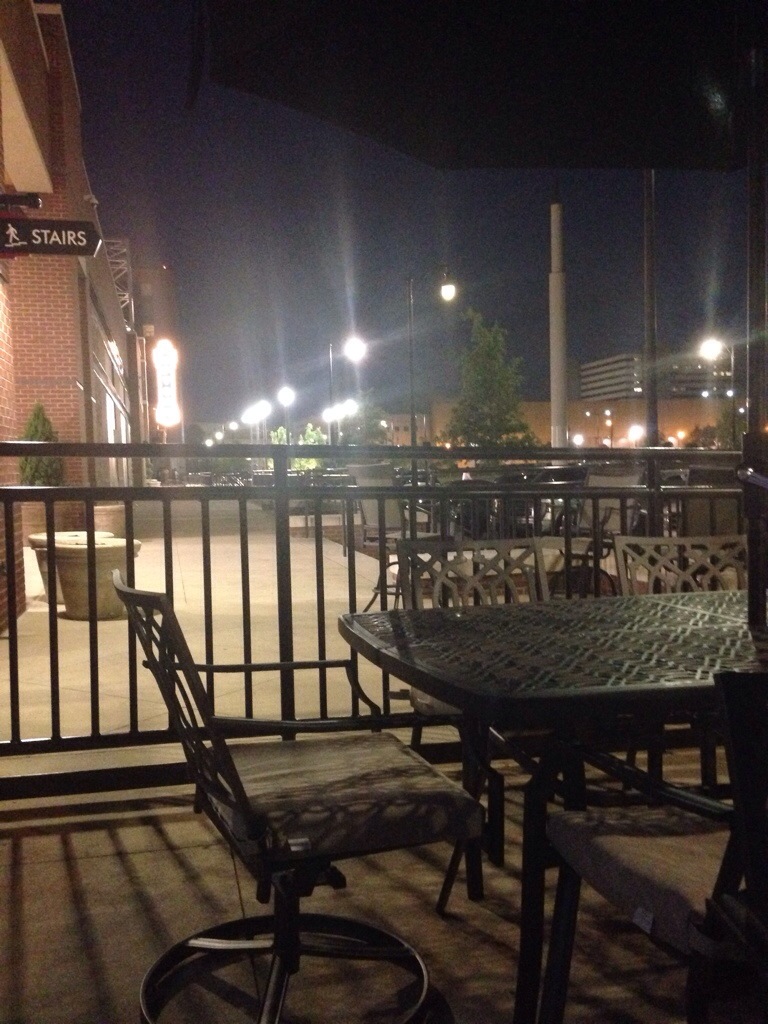 The Food: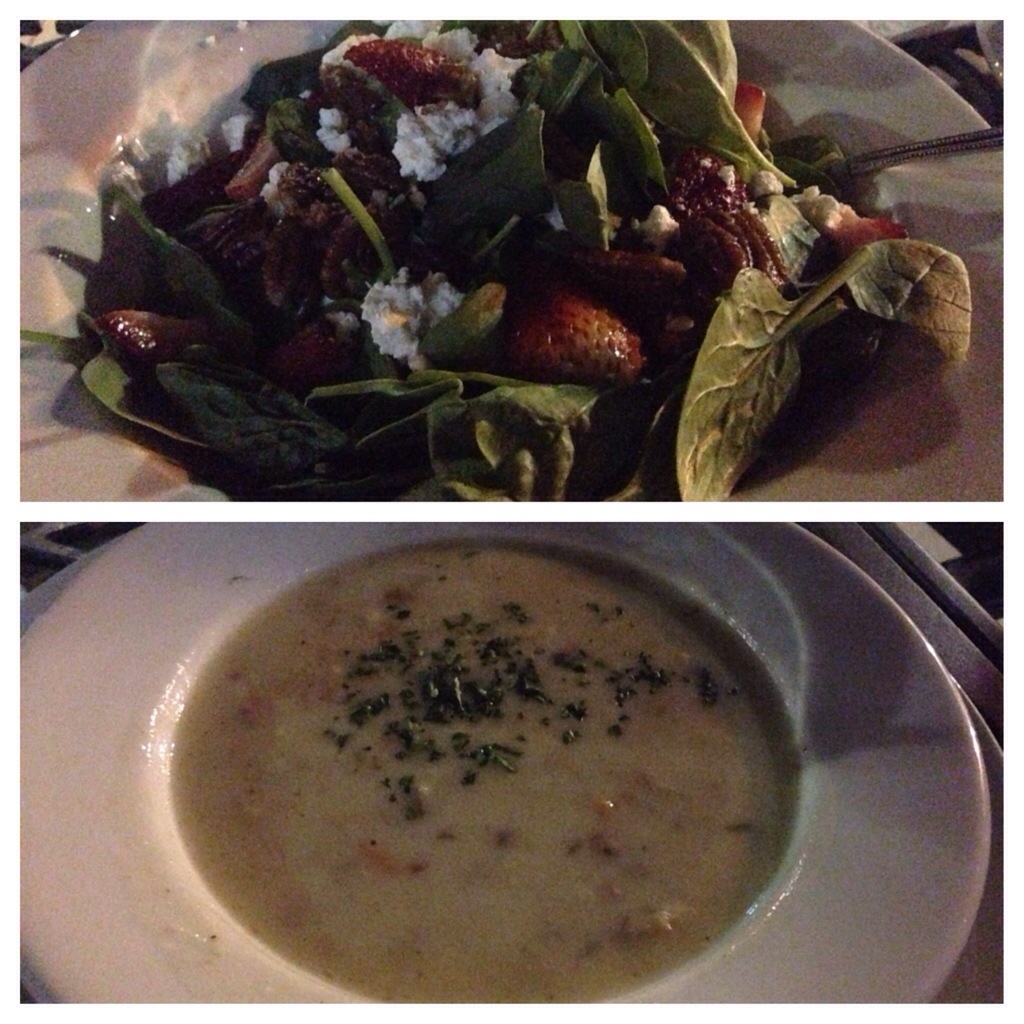 We sat outside on the patio, as it was a bit loud inside the restaurant. We only had to wait about 5 minutes for a table, which isn't bad for a Saturday night in Birmingham. I assume it is because it was Memorial Day weekend and a lot of people were out of town.
Chris ordered the Blackened Grouper with a side of Macaroni and Cheese and I ordered the Savannah Salad (spinach, strawberries, pecans with balsamic dressing) and a cup of Corn Chowder. Both of our meals were great! That was the best corn chowder I have EVER had. There were several more things on the menu that I would love to try, like the Jackson Burger that has pimento cheese and a Brioche bun with hand cut jalapeno honey fries or the Ribeye Macaroni and Cheese that has blackened ribeye, conecuh sausage, and smoked gouda with green tomato relish . We will certainly be back!
After dinner, Chris drove me to see the light tunnels. Neither of us had seen them at night and it was on my list of things to do in Birmingham! There are three tunnels total, these are two of them. I took the pictures while the car was moving, so bare with me…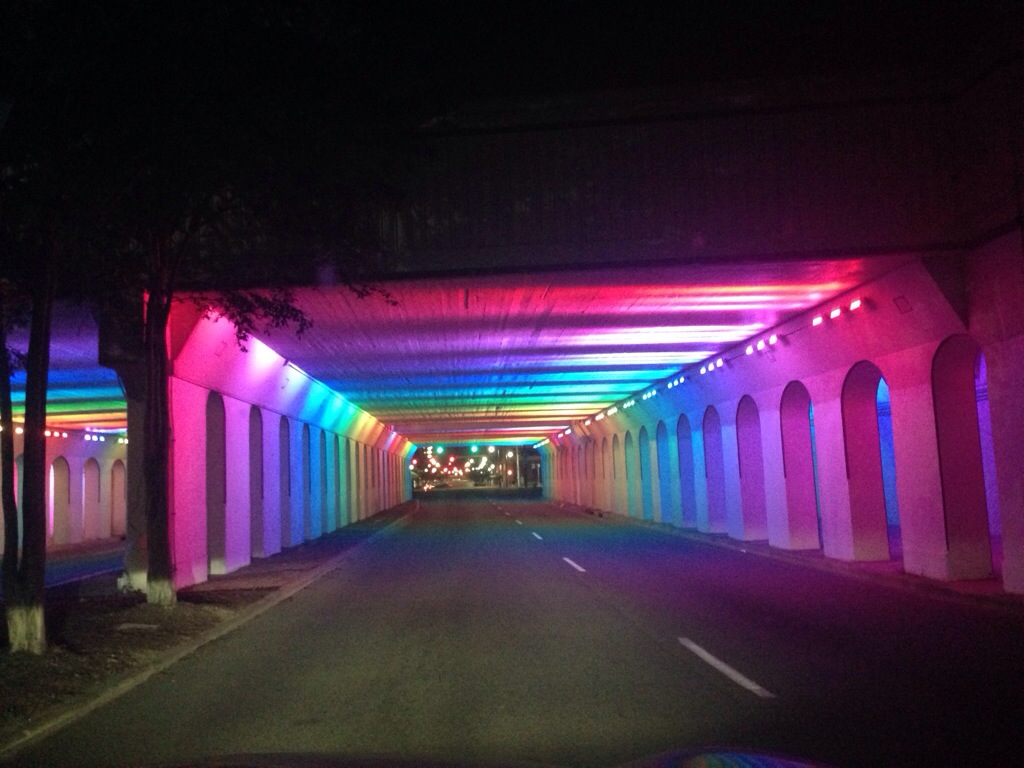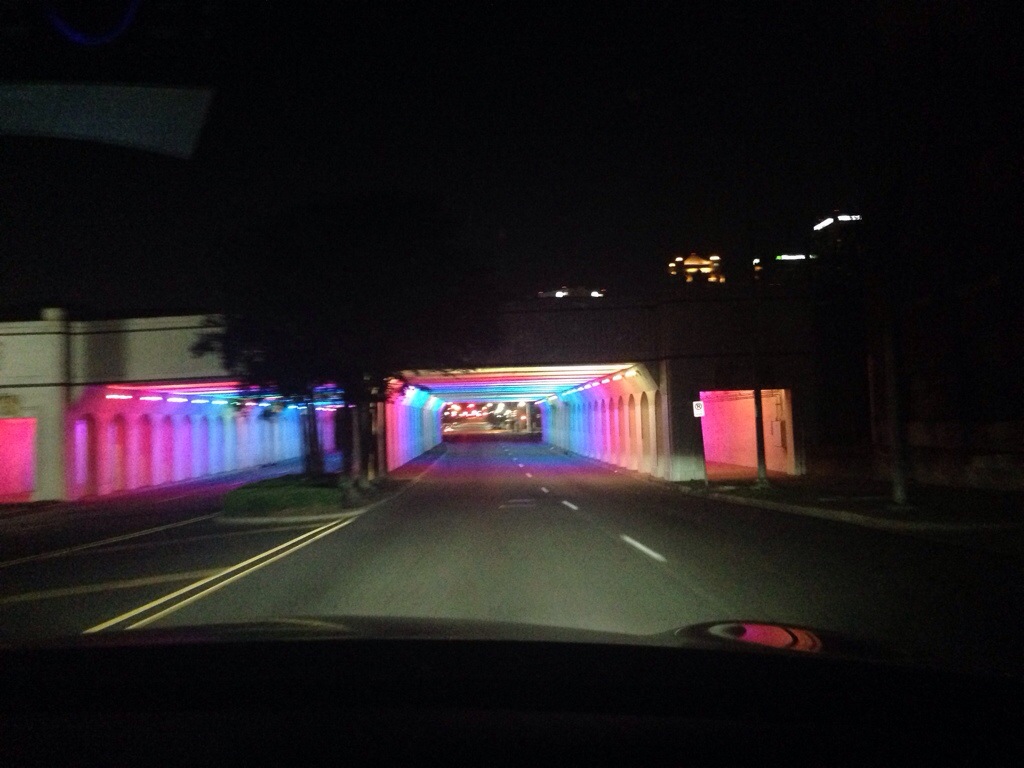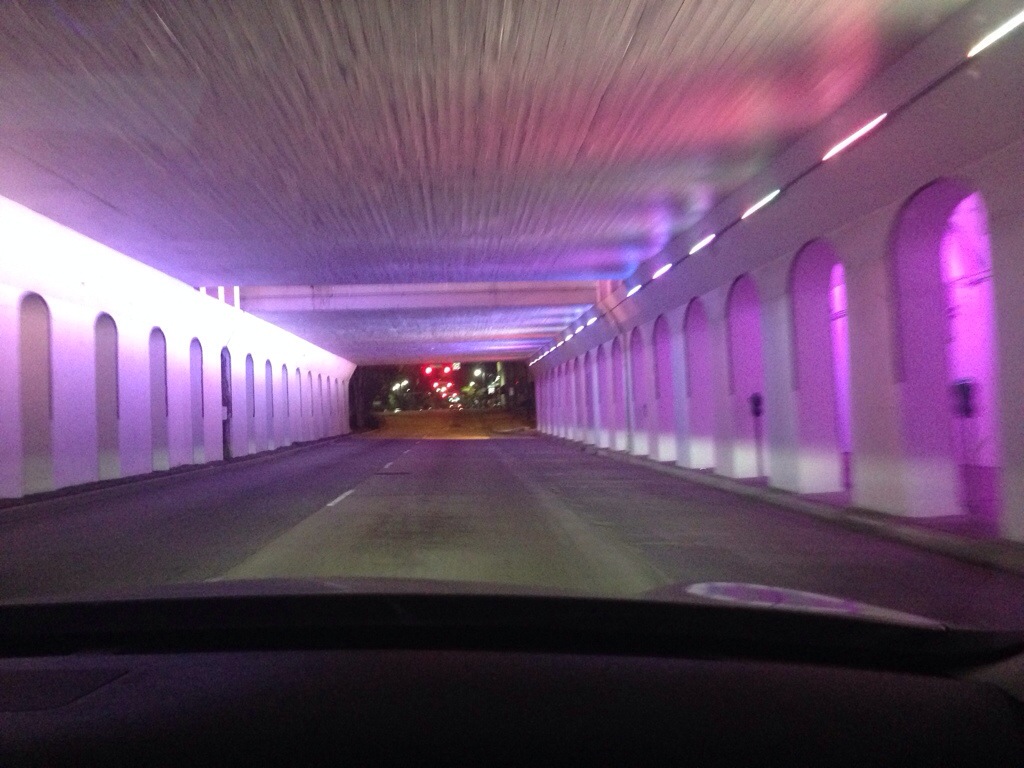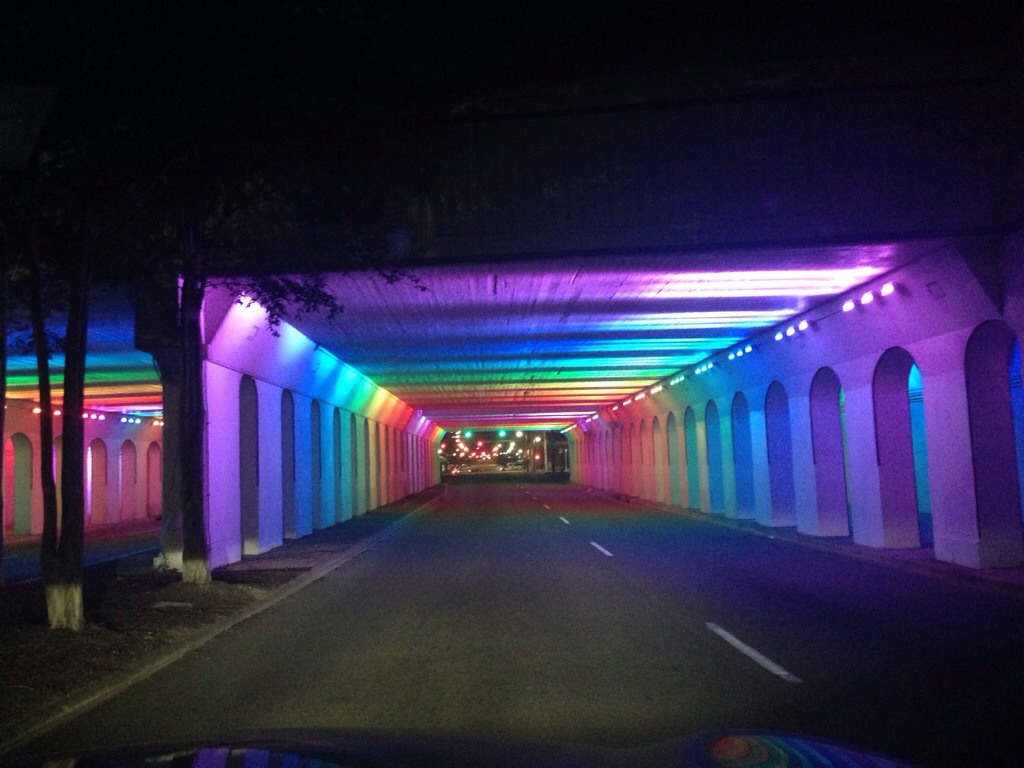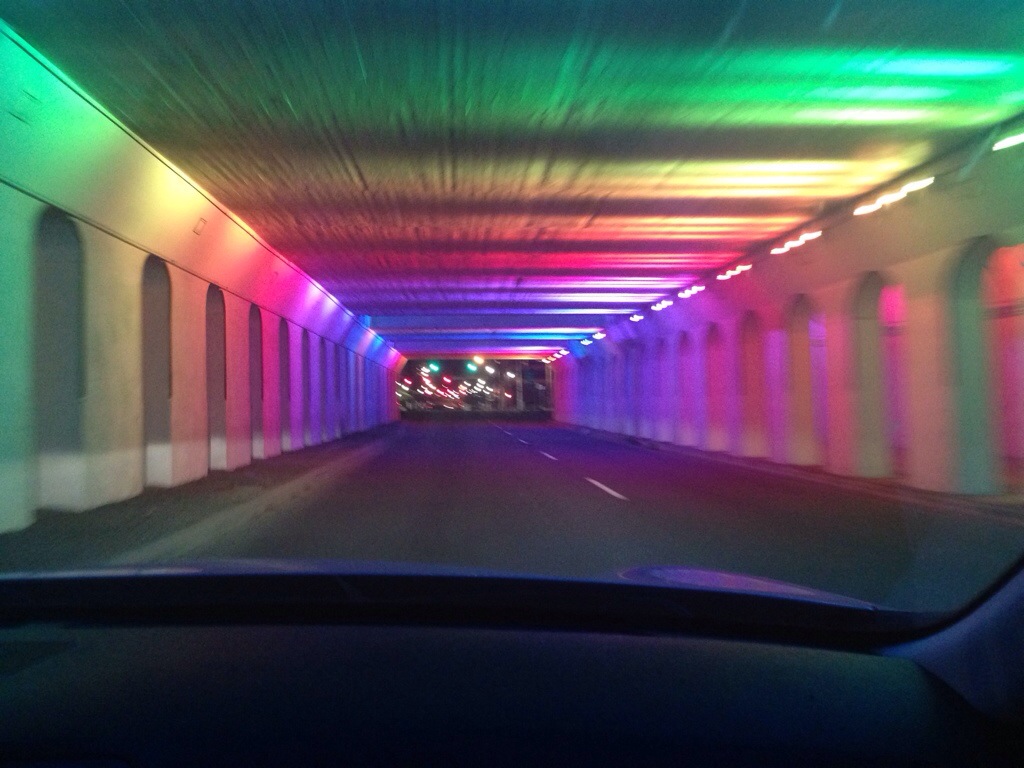 This is the outside of the Baron's stadium at Region's Field. So pretty! So fun!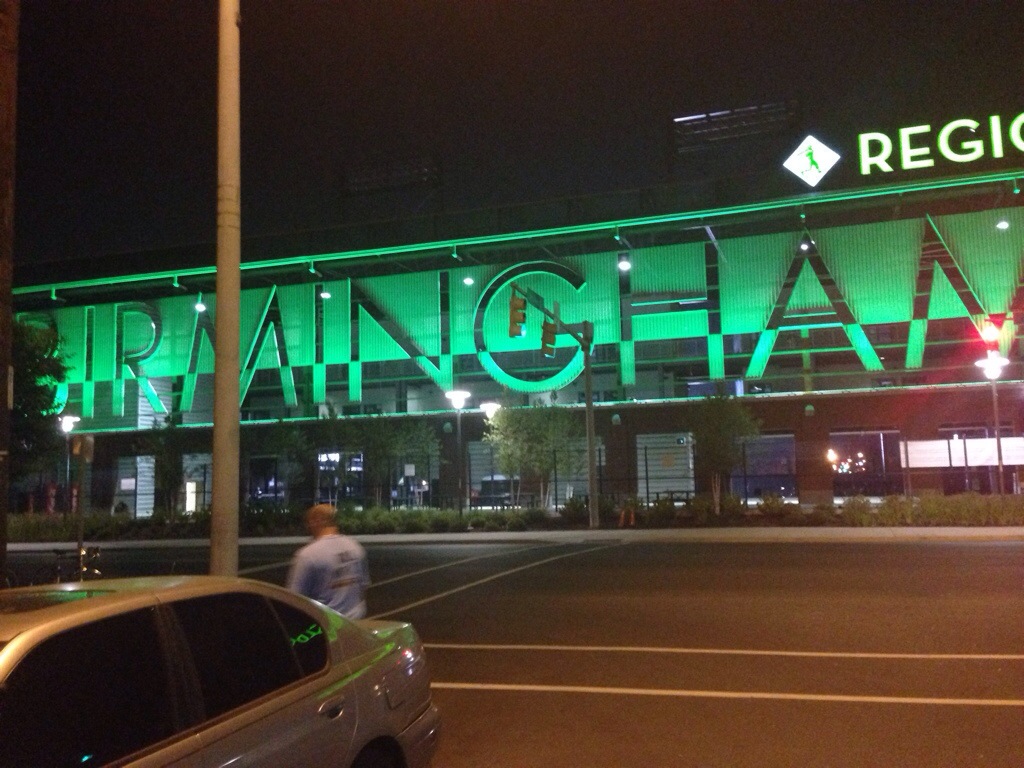 Sunday – Olivia declared Sunday morning playtime. Look at that face!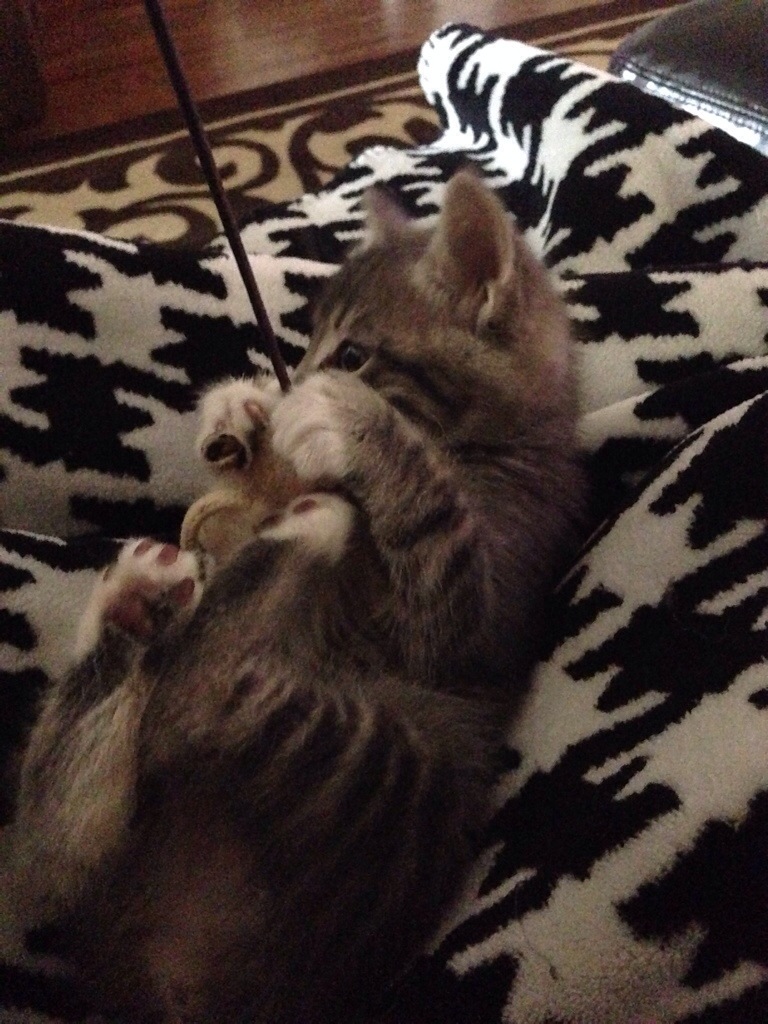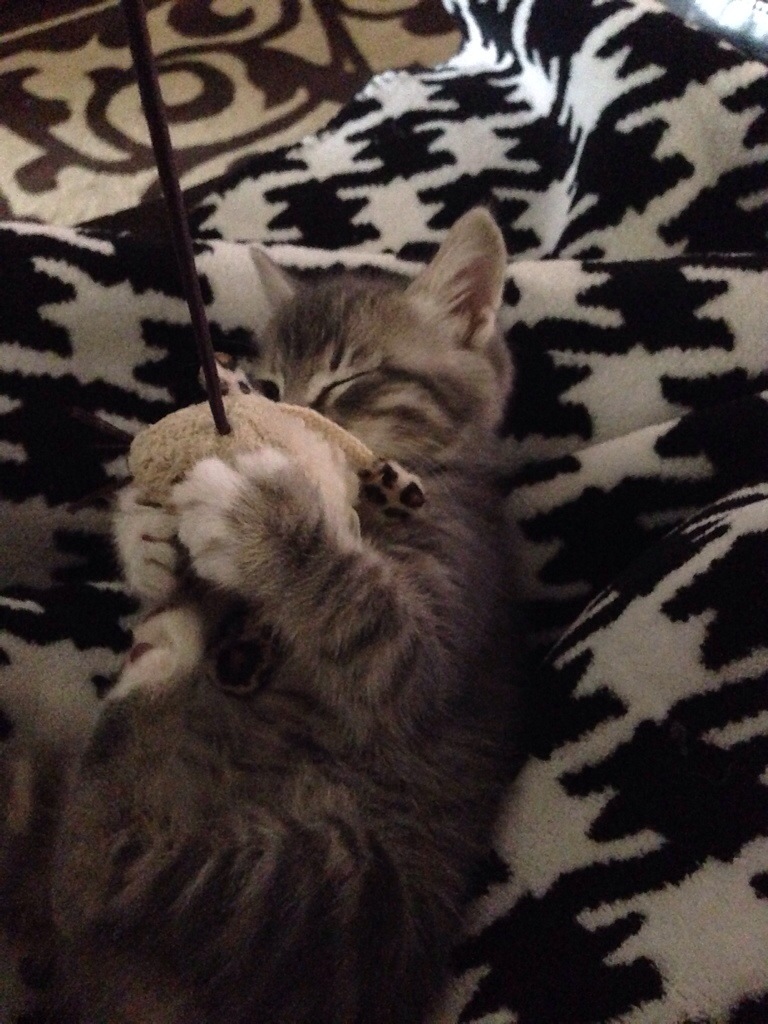 I did the meal planning and grocery shopping, then headed over to my mom's for dinner. My sister, her husband and two of their kids came as well as two of my step sisters. It was great to see everyone and the food was excellent.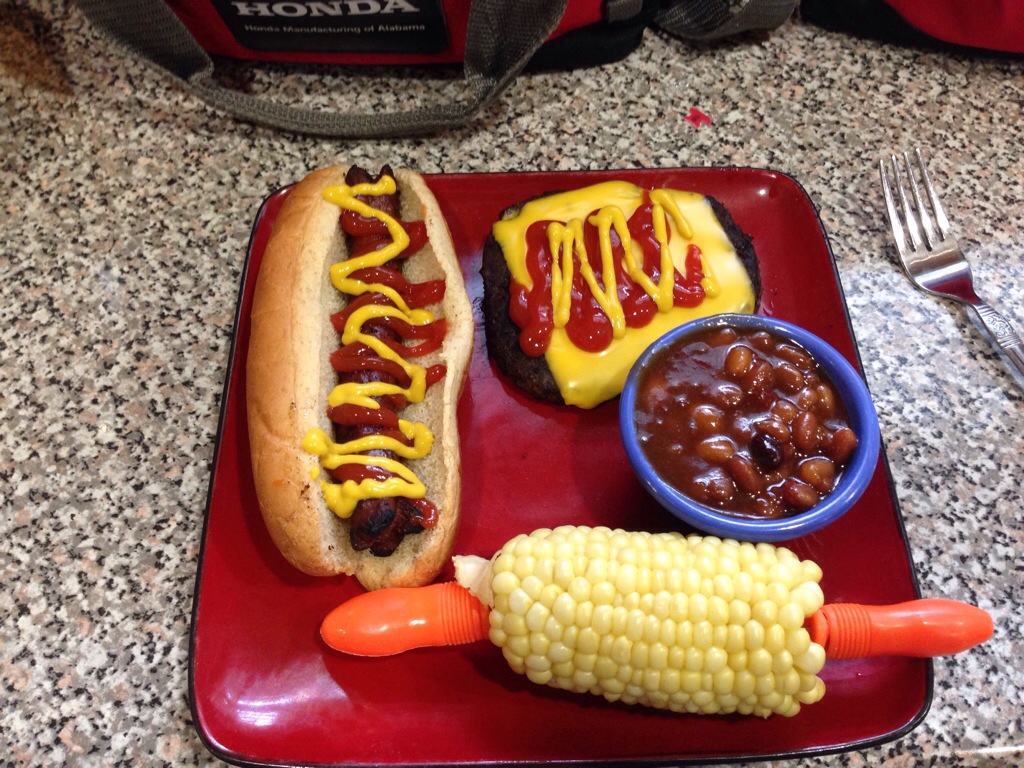 Monday – Since we were blessed with a third day this weekend, I was NOT going to let it go to waste!!! I did two loads of laundry, cleaned the shit out of the inside of my car as well as Chris's, washed the outside of mine, came in and did my leg work out then bathed Gracie.
There was also lots of furball shenanigans. I looked outside to see Mac sitting on the table. WTF? I guess since he the mayor of the backyard, he can see more perched upon the table? Such a cutie. A weirdo…but totally cute!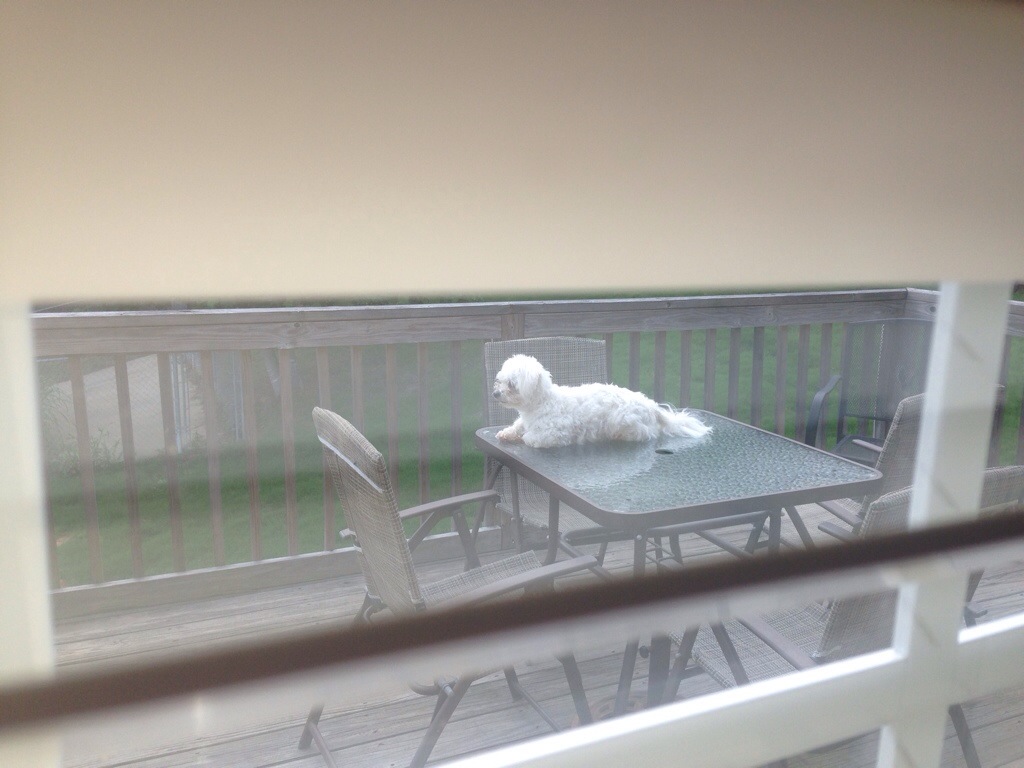 Olivia fell asleep while attempting to crawl half way up the couch.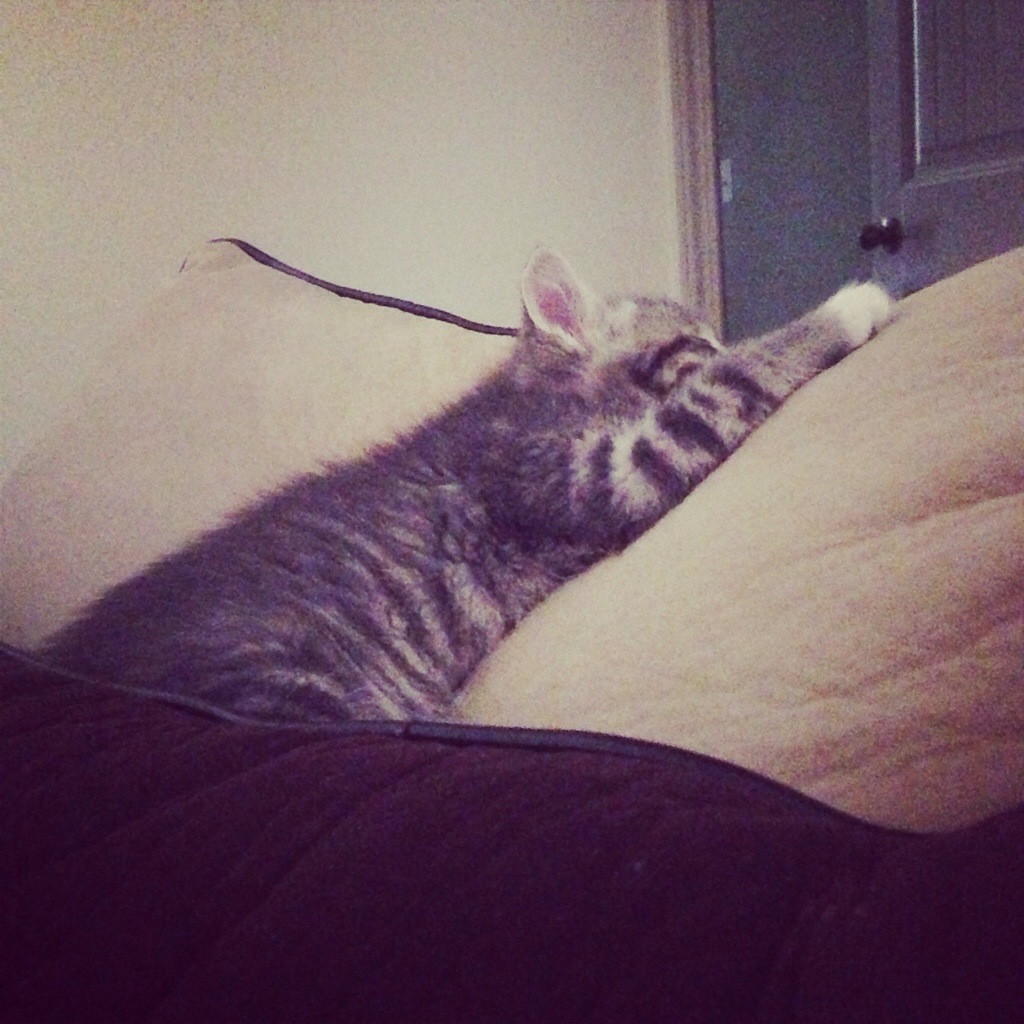 I bought grapes while I was at the store, but I can never find any organic grapes around these parts. My sister suggested that I take a large bowl, dump about a half a cup of vinegar and about 9 cups of water and let them sit for a few minutes. Afterwards, I rinsed them again with water and drained it. You guys, all the waxy crap was completely gone and they tasted AMAZING!!!! I guess you could do that with other fruits as well to get rid of the nasty pesticides and other crap that is on them!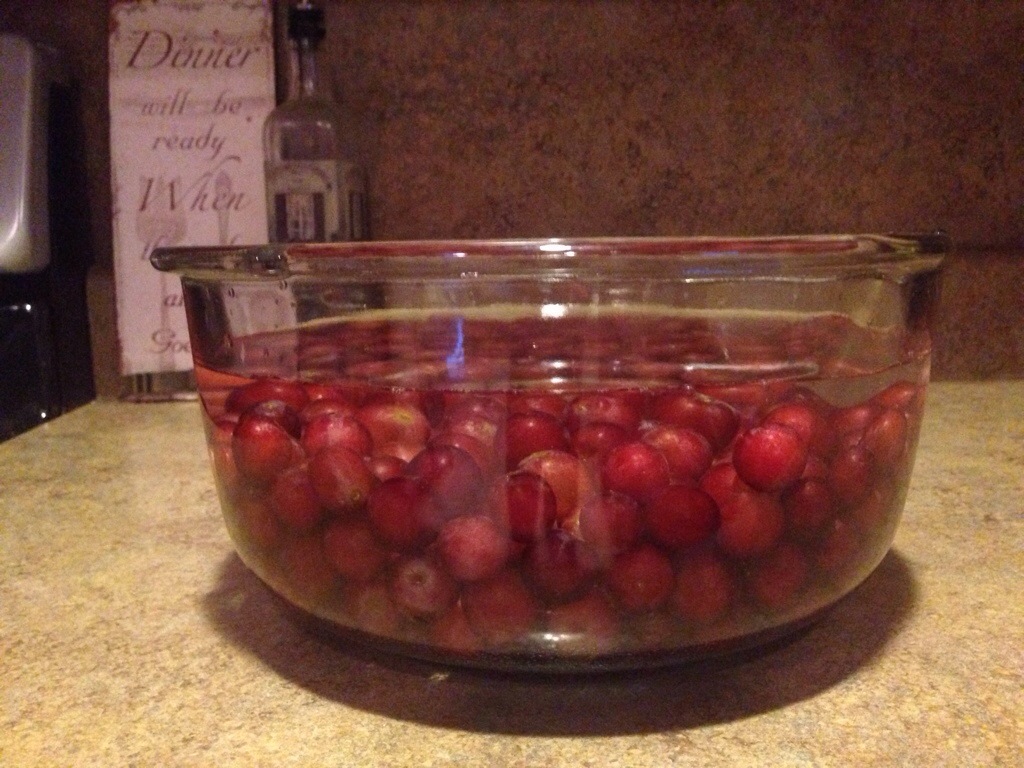 And I leave you with this: Olivia hiding out in the blankets.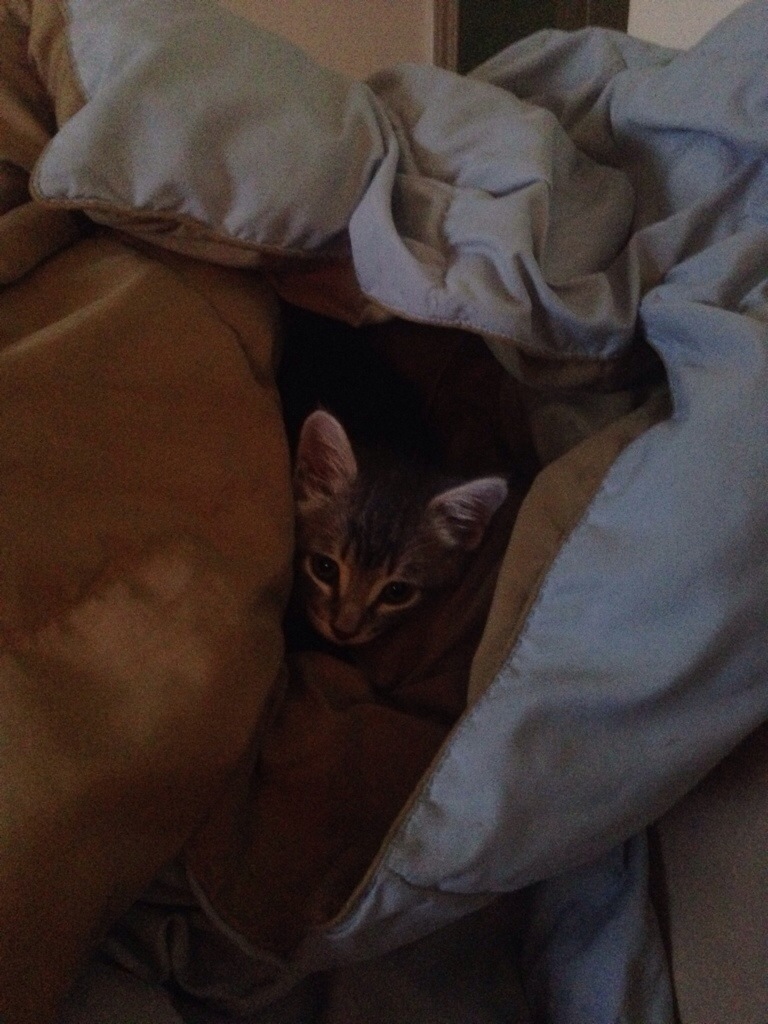 Have a great week! It is already Tuesday, we got this!!!!!