I have been wanting to write this post for awhile now. Last year, my hair was at it's worst. I was overdue for a cut and I mostly neglected it. Sure, I might have bought a salon brand shampoo and conditioner, and I was using a protection spray (that wasn't doing a thing). But other than that, I didn't really care. I spent my time and focus on my skincare.
Fast forward a few months into the pandemic, and I couldn't take it anymore! My ends were so dry, brittle and felt crispy almost. My hair just looked so dull and it was falling out so much more than usual. I decided to start all over with my products, slowly incorporating new things in one at a time to ensure they were working and serving a purpose.
Let's talk about my hair type before we jump in to the products, as I want to be completely transparent. I know not everything works for everybody. I have very fine, thin hair. Some people have thin hair, but a lot of it. That isn't me, my ponytails are very small, what I see on like 1/3 of someone else. Also, my hair is mostly straight, every now and then it has random waves, but I tend to straighten it if I am leaving the house to smooth it. It is also frizzy if left untreated with anything, as I live in a very humid climate. My hair was super long when I started this regime, I got two healthy at the shoulder cuts since, and it is below my shoulders again now. I also had my hair professionally colored once in the last 2 years, back at the end of June.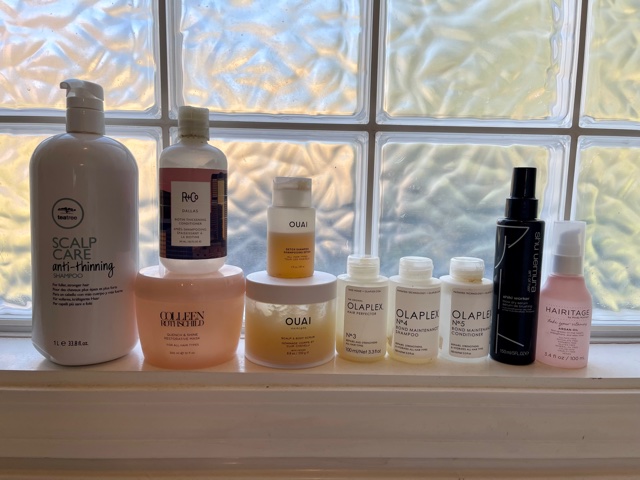 This is my line up of products! I don't use them all every day, I am going to give you an idea of what I use them for, and my frequency.
Paul Mitchell Scalp Care Anti-Thinning Shampoo – I truly believe that healthy hair starts with a healthy scalp. Enter this shampoo. This is what I use most days in the shower. Chris uses this also. It is refreshing and smells like a spa. I feel like it cleans my hair really well, but doesn't strip it. I pair this with either the R & Co Dallas Conditioner or the Colleen Rothschild Mask.
R & Co Dallas Thickening Conditioner – This conditioner has biotin in it and smells amazing. I love the way my hair looks and feels when I use this. It definitely adds some bounce and shine into my flat, thin hair without weighing it down at all. A little goes a long way, this bottle has lasted me quite a long time.
Colleen Rothschild Quench & Shine Restorative Mask – I absolutely love this stuff. Again, it smells great and doesn't weigh done my hair. I love that you can use this either as an every day conditioner, or leave it on as a mask while you are shaving or whatever. This was one of the first products I tried and noticed an immediate difference in the feel and texture of my hair. An auto-repurchase for me. A little goes a long way. I got one container to last about a year. (Because I do switch it up with a few other things.)
Ouai Scalp and Body Scrub – When I tell you that this stuff smells amazing!!!! This is one of my favorite products to use for the smell alone. But it is also great at getting rid of any build up on your scalp from style products or dry shampoo. It is cool that it doubles as a body scrub if you are into multi-tasking products. I use this or the detox shampoo about once a week, so this is getting used one or two times a month, the container lasts forever.
Ouai Detox Shampoo – Again, Ouai products smell amazing…and this is no different. I use this or the Scalp Scrub once a week, so once or twice a month. This instantly gets rid of any product build up with apple cider vinegar. I always get it in the set with the dry shampoo, because why not?? Their dry shampoo smells amazing and works great too, though I rarely use a dry shampoo. I workout 5 days a week, so I am washing my hair at least 5 days a week and don't really need it.
Olaplex 3, Olaplex 4 Shampoo and Olaplex 5 Conditioner – I have been using this stuff for a long time, but never consistently until this past year. I know everyone raves about it, but it is for good reason. While you could probably get away with just using Olaplex 3 Hair Perfector as a treatment if you don't want to invest in the whole line…..I feel like the line is worth it. I use it once a week, so the bottles last me for a very long time. I usually chose to use the treatment on a day I have a little extra time. I will wet my hair a little at the sink and put it on and do a few tasks like quick clean the bathroom, make myself breakfast, or if I am in a hurry….I will jump in the shower and let it sit for a few minutes while I shave. It is awesome when you can find the whole set like here.
Shu Uemura Shiki Worker Blow Dry Primer – This stuff actually works!!! I used to use It's a 10 Miracle spray that was half the price of this….but I realized that it never really made a difference with my hair if I used it or not. I mean, it did detangle…but that was about it. This stuff is incredible. Not only does it detangle, I feel like it protects, hydrates and smooths as well. My hair looks and feels silky soft when I use this. I like that it is protecting it from the heat of my blow dryer and straightener on the days I use them.
Hairitage Argan Oil – This product is a workhorse for the price! You can grab this at Walmart and it is under $10. Since I do have fine hair, I only use this on the bottom 1/4 of my hair. But I rub it in after I spray it with the Shiki Worker and it helps keep those pesky split ends away. Once I have split ends, I pick at my hair. So this definitely helps! It has a pleasant smell, beautiful packaging, and works great. Such a steal.
Tangle Teezer – I started with the weird shaped Tangle Teezer when it first came out and loved it, but I hated it never had a real handle. I picked up a Wet Brush after that and used it for quite some time….until I realized that Tangle Teezer had come out with some brushes with handles on them. Hands down the BEST detangling brush!!!! Wet Brush bristles had little nubs on each end and they would get caught in my hair and rip it out. I notice they did the same thing to Zoe's hair. Now we both have the Tangle Teezer brush and have never been happier.
Have you tried any of these products? Every now and then, I get sent a new shampoo or conditioner to try out, but I almost always end up giving them to my mom after I use them a few times because I just love these so much. My hair hasn't been this healthy in years.