And we all say Amen!
You guys, Gracie did is not OK with springing forward. This is the series of evens that played out with Gracie when I turned their light on in their room this morning.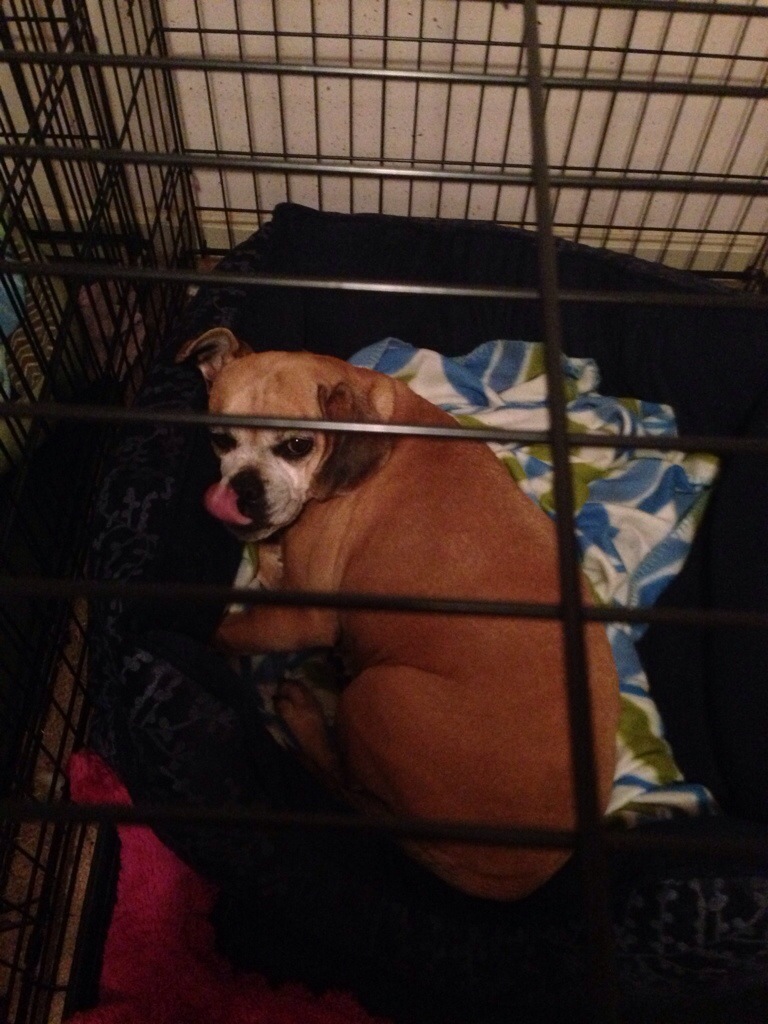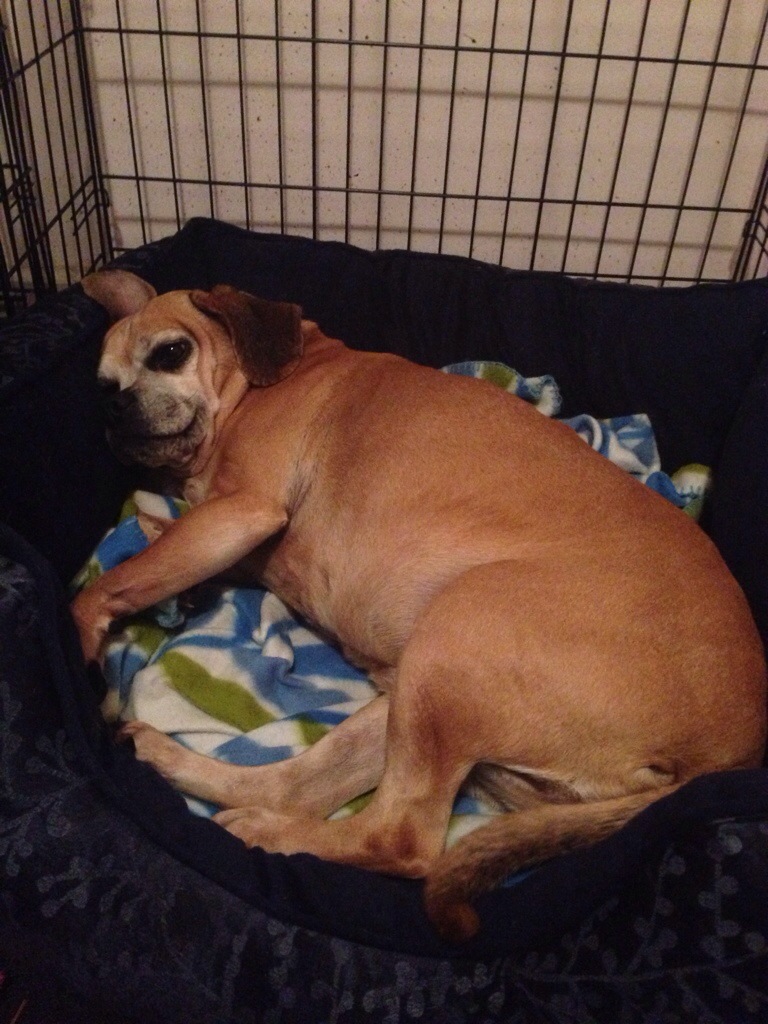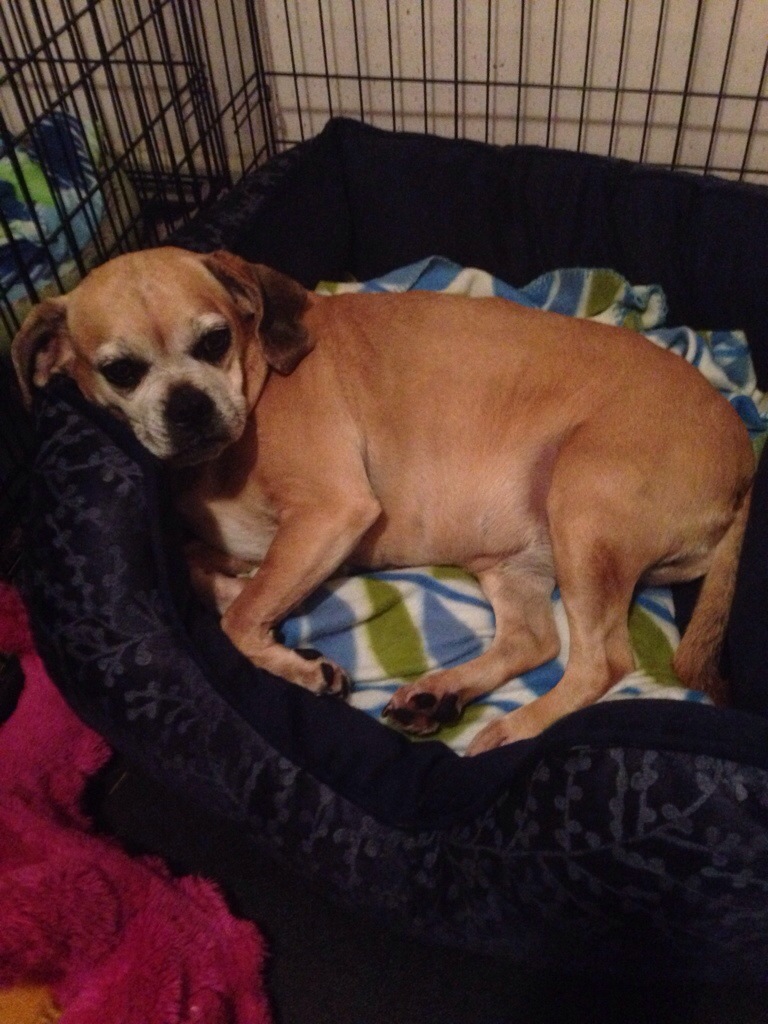 Then I said..come on Gracie…let's go outside and potty! Mac is ready to go! To which she responded….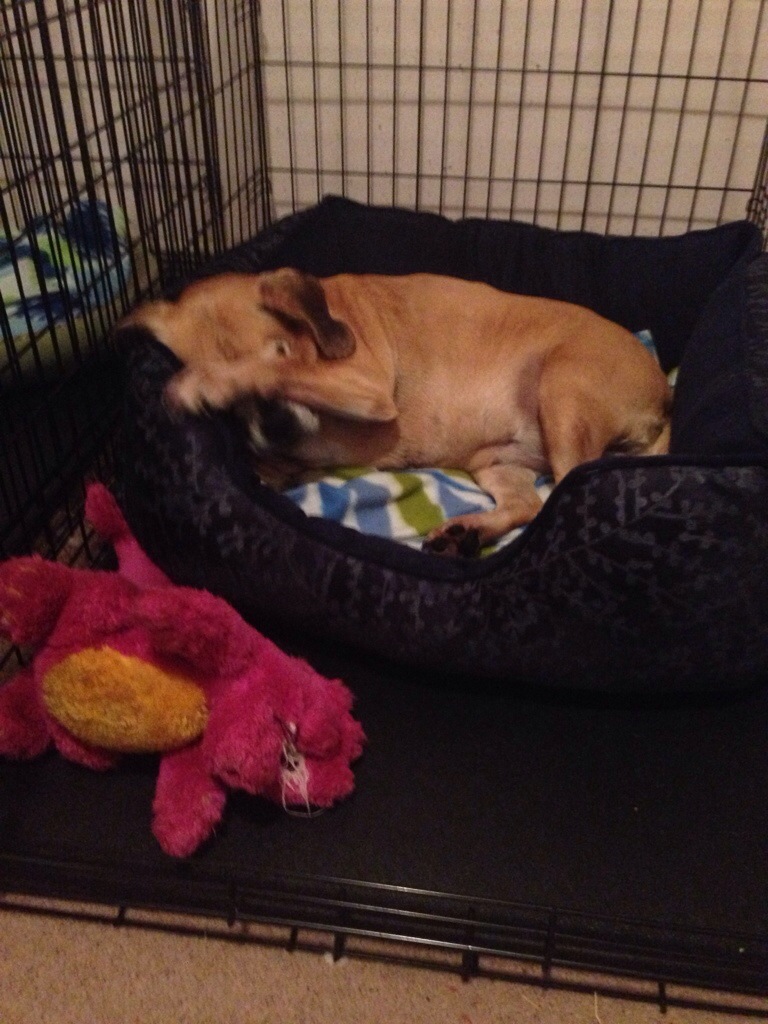 Why yes Gracie, it must be exhausting laying around being adorable all day.
Friday – Friday evening we stayed in and made a frozen pizza and watched some TV. It was nice to just relax and not be anywhere!
Saturday – Saturday morning I made breakfast and we watched some TV. I then cleaned the house and got some laundry started. Some of our friends from Huntsville were in Birmingham for the day, so we decided to meet up with them at World of Beer. After having a beer, the new Back Forty Peach beer which was mighty tasty…I decided that I obviously forgot that I hadn't had lunch and it was after 3:00pm. So we walked down to Mellow Mushroom where I proceeded to order another beer and some pretzels with beer cheese. Holy yum. If you have a Mellow Mushroom near by, you must run over there now for their beer cheese. That shit is amazing!
Sunday – I got up early and meal planned and did our grocery shopping for the week. I then headed up to my sister's house for Berkley's 11th birthday party! She has two pre-teen on her hands now. Oh my! It was great getting to spend some time with my sister, mom and nieces. Cooper and Christopher were there too, but they played outside for the most part.
Cooper is hilarious. He just turned four last weekend and he is all about some shoes and belts. My mom couldn't make his party last weekend so she brought him his present yesterday. He had picked out two pairs of shoes and an outfit last time they had gone shopping so when he opened is present he was like Converse!!!! Nike!!! Yay! I think it is hilarious that he knows what Converse is.
Then my sister was telling us a story about how he does this beach ball/beach body thing with his stomach so she calls him into the kitchen. She was like show grandma and Nadine your beach ball and he goes haha ok. He lifts his shirt up and pokes out his belly as far as he can and goes BEACH BALL! Then my sister says, show them your beach body. He says, "No…I just ate a cupcake I have no beach body." We died laughing then my sister says ago, show them your beach body. Cooper says nope. Then she was like…I will let you play with my phone. Cooper says ok, fine! He lifts his shirt up and sucks in and he has like a 6 pack. We all started saying "Whoa look at that beach body!!!!" Cooper turns red and flips his shirt down real fast. TOO FUNNY!  That kid has some serious muscle for a four year old. He gets picked on by all his older brothers and sisters and I think he is training to fight back early. He wants to take karate.
I forgot to take any pictures, but we did get a few with my mom's phone before she left. I need to get those from her!
And then just like that, the weekend was over. I am pretty sure I certainly noticed that we lost an hour.
And that my friends, is the weekend that was. I hope everyone has a great Monday!