So, Amanda posted Shit that her boy says a while back and then turned it into a link up. I was super excited because Chris says the funniest most random shit all the time and I knew that his words would be blog post gold!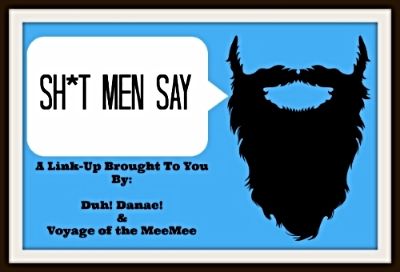 BUT then I realized that if I posted have the shit that he says on here you people would think I was crazy for being married to him and he would probably end up in jail. SO….I had to keep a note on my iPhone of the stuff that I can actually publish that he says. Not near as much material, but let's go with it.
– While we were in Gatlinburg after Christmas, every year there is a Christian group up there. Now I have nothing against Christians, I am one. However, you put thousands of Christian kids together in a touristy area and they will get on your damn nerves!!!! We were walking downtown one day and I think we had all had just about enough of these annoying kids. (They are teenage-aged kids.) There was a table with some items you could buy to support their group. One item caught Chris's attention and it became the joke the rest of the trip. Chris says out loud to all of us, "I am going to buy one of those I heart Christian Boys tshirts and wear it around town. Then let's see what these kids have to say." We all just busted out laughing.
– We were watching Revenge and the episode ends. Some serious shit just went down on the show. I am in a little bit of shock and processing all the events that just took place. Chris looks at me all serious like, and I am prepared for him to discuss what we just saw. He looks dead serious at me and says, "I'm going to need a huge piece of brownie warmed up with ice cream and milk." Then he gets up and walks to the bathroom. Seriously!?!
– Randomly one night, "Do you ever hear your butthole right before you crap on the toilet? It talks to you."
– We were out shopping and we walked past Men's Warehouse. I ask Chris if he wants to look in there for some work clothes. He replies, " They guarantee the way I look….but will they guarantee the way I feel?"
– Chris pre-ordered a game at Game Stop. When you pre-order a game at some of these places, they display the case and take the game out and keep it in a drawer until they can give them to the people who pre-ordered. Chris is all excited to pick up his game and we get inside and he realizes he is getting one that isn't wrapped. He is upset. He says not only to the cashier but posted to the Game Stop Facebook page:
Unwrapping a video game is like undressing a girl for the first time. When I pre-order something, I expect it wrapped.
-We are watching Pretty Little Liars. Chris screams at the TV: "I am ready to stop playing just the tip and get some answers already!!!!"
– This past weekend we hung out with one of Chris's friends that he used to work at a law firm with. They were talking about how that firm was sort of "the bad guys" in most situations. Chris starts talking about a case and says, "There was this plant in one of those western states….I dunno…Minnesota…Wisconsin…something like that. Anyways, the plant was putting out asparagus. Wait. Fuck. Not a fruit. Asbestos. The plant was putting out asbestos."
– Later, with this same friend, we were discussing TV shows that we watch and some of our guilty pleasure ones. Chris and I were talking about how we used to really like Vampire Diaries until The Originals came on and now we like it better. We all agreed the show has gotten to be a little far fetched. Chris says, "Travelers is where they have gone too far. That is stretching it." Joe says, "Really?!?!Travelers is where they have gone too far?! Not witches? Not vampires? Or werewolves?" Then I chimed in and said "Hybrids isn't where they went to far?!?!"
Chris wore this horse head in the car driving around downtown Gatlinburg. He kept sticking his head out the window. People were loosing their shit.
Oh the crazy shit that boys say…and do. I love him and he keeps me entertained on the daily!!! I am so glad I have someone who I can be silly and funny with. I feel like we are both always ourselves and it is wonderful! It makes life A LOT more fun and interesting!