"Doodle bug, no whining!" – What I have said to Gracie about ten times this morning. She is being a little needy and I love it. Doodles is one of her many nick names. It goes well – Gracie Doodles!
Friday – We spent some time with Chris's parents Friday night after work. We stopped by Publix and picked up Filet's for his dad to grill us. Delicious!
Saturday – We hung around the house in the morning. Chris started a new job two weeks ago and he has A LOT of projects he is working on to get their IT department up to snuff, and he spent a lot of the weekend testing out a program to get all the kinks out. So, I cleaned the house, did some laundry and purged some stuff from my closet I no longer wear/need.
Saturday afternoon we grabbed a late lunch, stopped by Best Buy for Chris to get a new iPad case for his work iPad and stopped by GNC because I have been wanting to try Quest bars fooooorrrrrever. Then we headed downtown to World of Beer to meet up with an old friend we haven't seen in at least a year. It was fabulous! We also had a late dinner at Fuego. I was proud of myself and only splurged at lunch and on a beer and a half. I had a taco salad at Fuego, no shell no dressing. Boom.
Sunday – I woke up early to get our grocery shopping done, came back and made Chris and I lunch. Then I headed up to my sister's house for my nephew's birthday party!!! I cant believe he is nine. NINE!!!!! I had such a good time getting to hang out with everyone and I stayed for several hours just chit chatting with my sister, brother in law and one of their friends and my oldest neice after everyone left.
Here is a picture of the birthday boy! Love him! My sister made lego cupcakes. I had none. WILL POWER!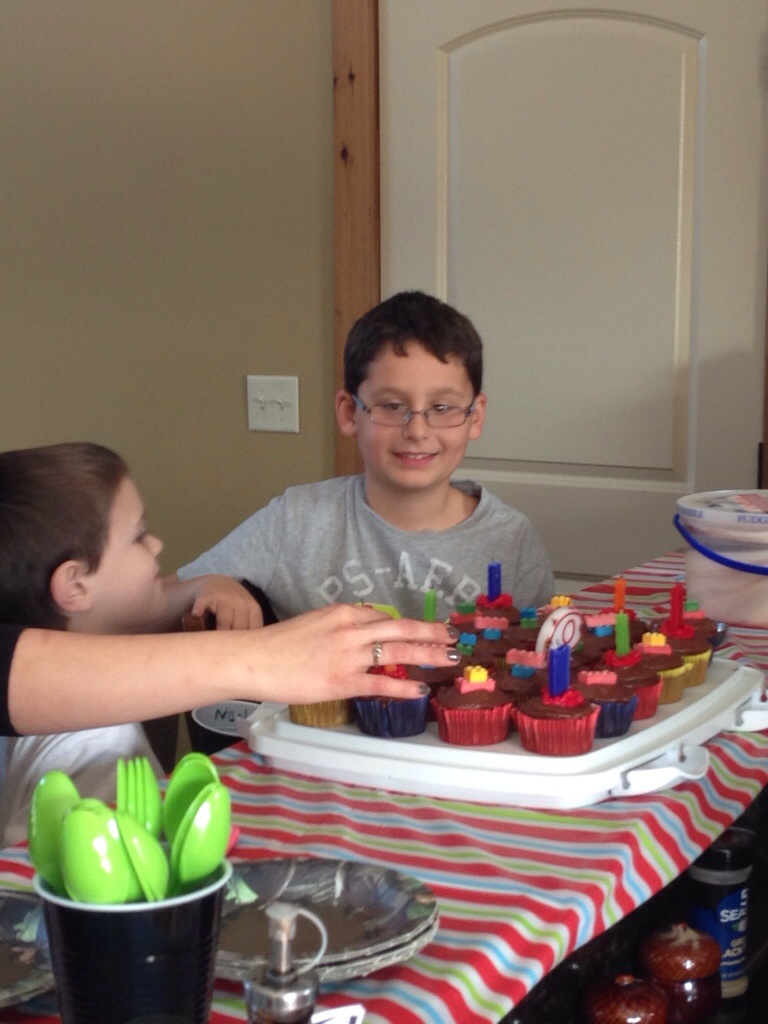 Sunday evening we had dinner and enjoyed a Law and Order SVU marathon.
We are supposed to have some winter weather again tonight and tomorrow night. Crap. Why in the hell cant we just have some normal snow??!?!?! Why does it have to come with freezing rain and a shit ton of ice? I am ready for this stuff to go away and be done with. I am so sad that I cant get excited about snow. Leave it to the south to mess up some snow and winter fun!
I leave you with a picture of two tired little doggies. Apparently it is tough work playing outside in the afternoon.