My empties bag is overflowing! I thought it would be fun to grab all of the ones that are shower related and save the makeup and other skincare for a separate post. All but one of these are found at Target or your favorite drug store, so they are definitely affordable!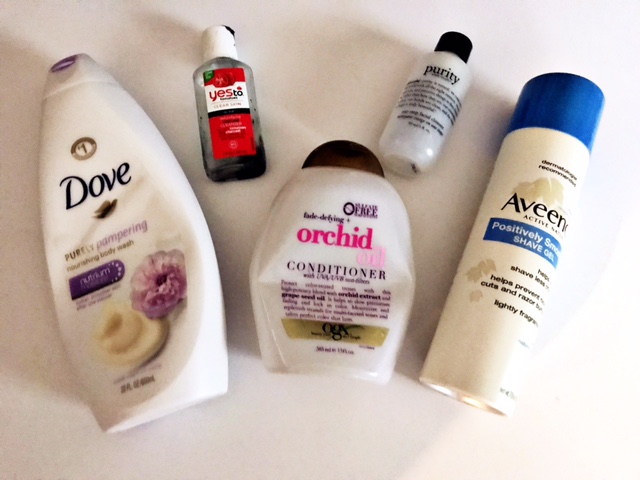 I used to buy all Bath and Body Works shower gels back in the day. I am not really sure why, I guess for the scent and because it was fun to shop there? The ingredients of their stuff leaves lots to be desired though, so I would rather just grab something at Target and not have to buy six bottles at once to get a better deal. I have used a few bottles of this Purely Pampering line from Dove and I love the scent!!! It does a decent job of not stripping away too much moisture.
This is more like a scrub to me. I love love love the scent and use it once or twice a week at night after I wash my face. You can find it at Target or the drugstore for $10 or less and is a solid choice. Not all the Yes to products are a win for me, but this one is!
This is marketed for colored hair. I love the smell and packaging. It is a decent drugstore find that I buy regularly, but interchangeably with other similar options. I like to have one drugstore brand set and one higher end set in my shower that I switch use with.
I have my daily morning holy grail face wash, Murad Time Release Acne Cleanser. I use that ever single day no matter what. At night, after I remove my makeup, I like to use something different. I will use up any free samples or perhaps a drugstore cleanser. I got this one as a gift with purchase and have had it before. It is a decent cleanser, but honestly, there is nothing special about it. I dont even really like the lemony smell that it has. I use it when I get them for free, but I would never seek out to purchase it.
I used Skintimate shave cream for years. I am not really sure why I was ever so loyal to it? It really never did me any favors, that is for sure. Maybe I liked the colorful bottles? Anyways, I picked this up out of desperation to make my shaving experience better. My legs were literally peeling, they were so dry. This is my second or third bottle of the stuff now. I love how smooth it makes my legs feel, and the scent is pleasant and would compliment any body wash/lotion products you plan to use. I have a new go to and will never buy Skintimate again.
So, what shower products are you loving lately? Anything new out there I need to try?