I thought it would be fun to do a baby empties post with all the products I have used on Zoe lately. Honestly, there is so much out there on the market for kids. Factor in sensitive skin, eczema and other things…and it becomes overwhelming. We have tried so many different things in the past 21 months, that I feel we have finally gotten the perfect routine down for minimum issues. Either that, or Zoe has outgrown some of her sensitivities.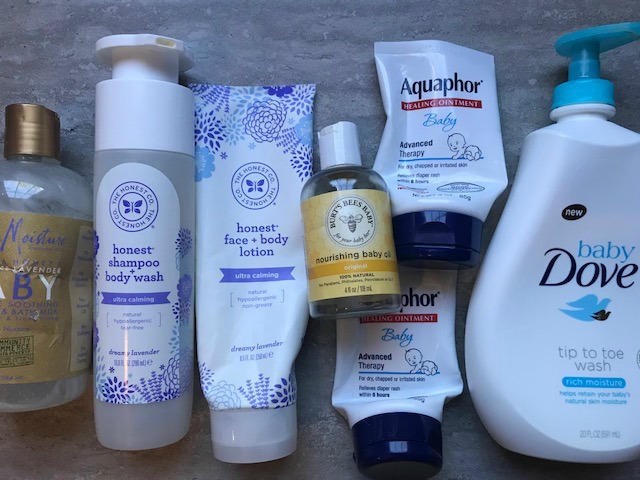 I have been using this stuff as shampoo for Zoe for most of her life. It smells amazing (so much so that Zoe's end of the year book last year had a comment about how the teachers will always remember Zoe smelling of yummy lavender) and is gentle on her sensitive scalp.
I used up both of these, but probably wont buy them again. They were fine, but Zoe's eczema was still an issue when I used these products. I felt like the lotion wasn't moisturizing enough.
Ever since adding this to Zoe's baths at night, we haven't had any issues with her skin getting too dry. It has helped (along with switching her body wash and using lotion) to clear up pretty much all of her eczema as well. This is my third or forth bottle of the stuff. I basically purchase it in bulk from Amazon now.
As you can see, there are two empty bottles of this stuff in the picture….and I have probably used five or six more of them before that. This stuff was recommended by our doctor and is literally the only thing that works on Zoe's skin. It makes her so soft and clears up any issues we have pretty much over night. I use this in the evenings, and a lighter lotion in the mornings before she gets dressed. If we have a flare up of any kind, we use this a few times per day. I cannot recommend this enough!!
After not being super happy with Honest and a few other washes, I decided to try Dove and am SO GLAD that I did!!! I have already repurchased this stuff. Since adding the oil to her bath and then changing to this wash a few weeks later….we have had ZERO eczema flare ups. This stuff smells incredible and makes Zoe's skin so so soft. Definitely our holy grail now.
I forgot to put the box in the picture above, but these things are serious!! Anytime Zoe gets stuffy, I place this in her room each night for a few days. The whole house ends up smelling like it (so you know it is working) and it works so well to help her breath. I only use one pad at a time, even though there are two slots in the plug in. They are strong enough you don't need two at a time. This is the plugin we use with it.