Who doesn't love a Dr Seuss themed breakfast??? So I have a confession to make. I have never made a frittata before. Can you believe it??? I actually hate eggs, but I don't mind them so much when they are cooked in with other things. This was so easy and it turned out delicious!!! I plan to heat it up all week for Chris and I in the mornings as a grab and go breakfast.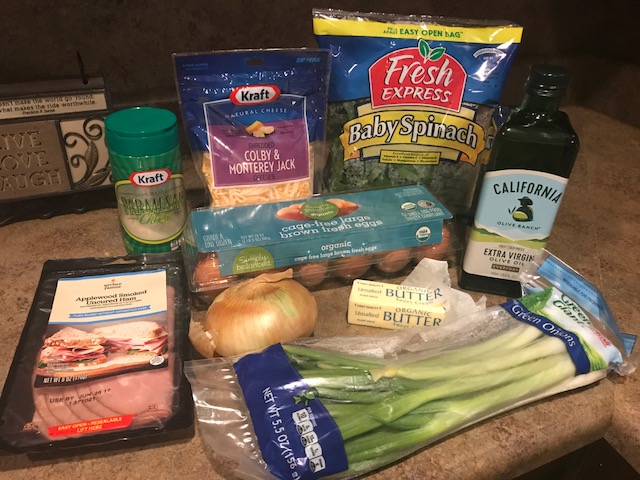 What You Need
1 yellow onion, diced
4 green onions, diced
2 tbsp olive oil
2 tbsp butter
10 large eggs
1 package of Colby and Monterey Jack Cheese
1/4 cup grated Parmesan cheese
1/4 to 1/2 tsp black pepper
6 ounce package (or 6 slices from deli) Applewood Smoked Ham
1 package of baby spinach
What You Do
Preheat oven to 350 degrees
Heat 1 tbsp olive oil and 1 tbsp butter in a large skillet, add yellow onion and green onion and cook for 5 minutes over medium heat.
Add baby spinach and cook another 5 minutes, until wilted.
Drain the onions and spinach in a colander and press out any addition water. (I used the spatula to do this.)
In a large bowl, whisk the 10 eggs. Add in the ham, cheeses and black pepper. Then stir in the onion/spinach mix.
Grease a baking dish with the remaining olive oil and melted butter. Pour mixture in and cook for 25-30 minutes. You want it to be slightly browned, puffed and set. I let it cool around 15 minutes on the counter before serving.
Enjoy!!!!