As most of you know, I am from the north, just outside of Pittsburgh. There are a few things up north that you just cant find around these parts, ham salad is one of them! (See also Snyder of Berlin Chips, Nibble with Gibble, real Italian food, a decent cheese steak, the list goes on.)
I remember when I was younger my mom would take my sister and I in to downtown Greensburg to this little deli store called Anderson's. We would head straight to the back deli counter and order a pound of the ham salad. Then she would pick up fresh baked rolls and some Sweedish red fish and head to the register. Anderson's had the BEST damn ham salad you ever did eat!
Each year after we moved and went home to visit, my grandma would go to Anderson's and pick up ham salad for us to have while we were there. Sometimes we would even fill a cooler with some to take back home with us. Unfortunately, Anderson's closed a few years ago and those days are no more. No one had ham salad like Anderson's. Not no one. (Hangover style)
My sister scoured the internet and stumbled upon a recipe for ham salad out of Greensburg, PA. With a little hope and a whole lot of praying she chopped up some ham we had left over from Christmas and tried to recreate the masterpiece.
Folks,she did it!!!! And then she promptly met me half way between our houses to deliver to me the best lunch I have had in a long time.
I present to you Greensburg, PA style Ham Salad!!!!!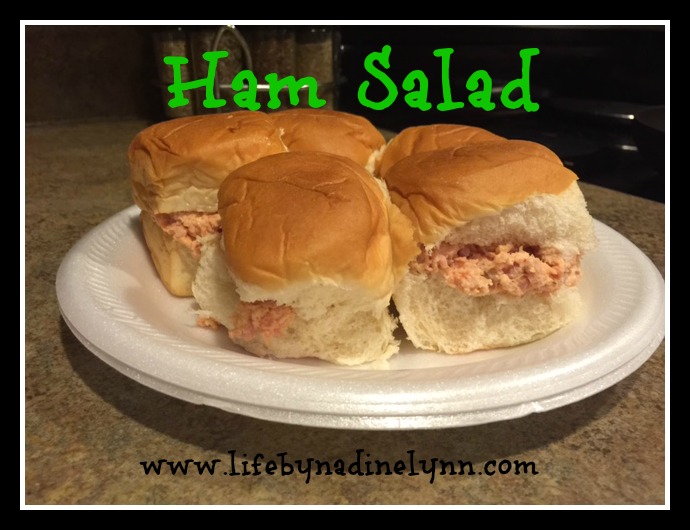 What You Need
1/2 pound ham, coarsely chopped (real ham none of that deli full of water crap, you can get precooked at the store)
2-3 tablespoons of mayonnaise
3-4 tablespoons sweet relish
1-2 tablespoons drained diced pimentos
What You Do
Throw all the ingredients into a food processor and pulse until they're chopped into a rough paste.
Spread that delicious ham salad onto a fresh bun and enjoy!!!! (I prefer Hawaiian Rolls)
I have heard that people also serve this over hard boiled eggs. You do what you want.