Favorite Song: Amanda introduced me to Tritonal last week. I love Blackout!!! I decided to search some of their other songs and really liked Anchor.

Favorite Recipe: I made this Mexican Chicken Soup for lunches this week and it is legit!!! Lots of flavor and it is Whole 30/Paleo approved! It's a crock pot soup, super easy to throw together and forget about it.
Favorite Workout: Do this work out while your shower water is getting warm or while you wait for your water to boil or oven to preheat.
Favorite Lust: The weather is going to start warming up here and it is time to transition in to some spring pieces. I have my eyes on a few things…
Stripe dresses! This one is on sale at JCPenney!
This one would  be perfect for work.
This Lauren Conrad dress is so pretty and feminine! It is less than $50 right now, too!!!
Favorite Links:
–I mentioned on Wednesday that a glass of red wine a night is equivalent to 30 minutes of exercise. Here is an article on hoe to pick a good wine. I can tell you about 25 wonderful beers, but wine? I have one or two that I lean towards but would like to explore more! What is your favorite wine? If you tell me Cupcake I wont believe you! I tried an Angel Food Cake Cupcake wine that tasted like total shit and now I have no trust in that brand. If you swear by another of theirs and thought Angel Food was gross then I might believe you lol.
–Tank top season is just around the corner, tone your arms with these tips!
–There are some cosmetic items that I have had for years and I still use them and everything is fine, but here is a list of when make up "expires." Do you follow this??
–Have you ever done a skin cleanse? This girl shares what she did and her results after two weeks. There are some great habits to take from this article regardless.
Favorite Funnies:
How I felt listening to Me Before You…
When I come home with something bad….
When you are waiting at Starbucks for your coffee the baristas are having a chat with a cute guy instead of making your drink….
Me on Monday mornings….
When you get the last word in…
Leaving the Walmart parking lot…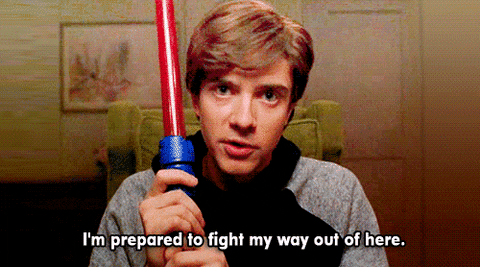 This post is a little late getting out today, sorry about that! You know…life and shit. Not sure what we have going on this weekend, all I know is that the weather is going to be beautiful!!! I hope you all have a fabulous weekend.
Linking up with Amanda.